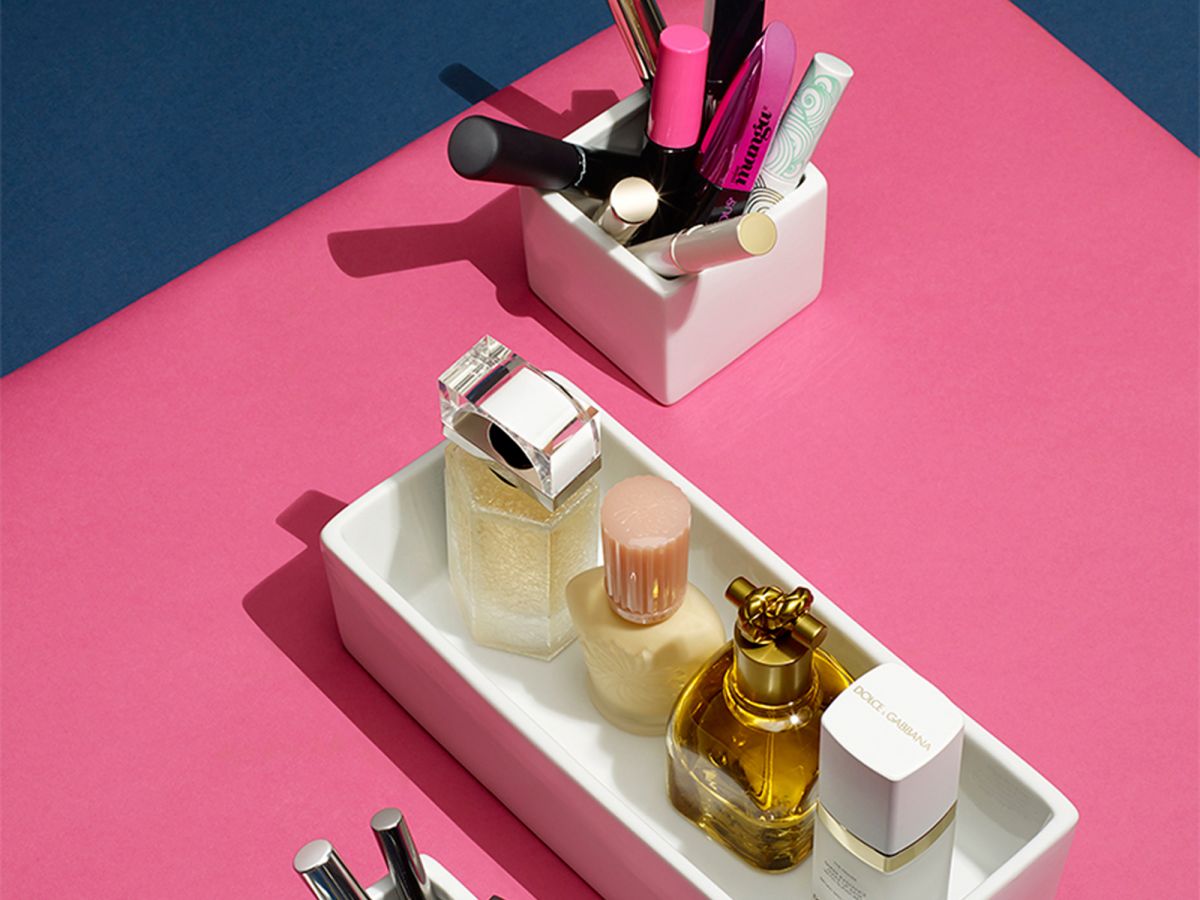 Some call it the smuggest trend on the internet, while others take it as a welcome push to reorganize their personal space. Wherever you fall, there's no getting away from one trending hashtag: #shelfie.
While many of us lustfully pin images of pristine vanities and countertops filled with Byredo perfume bottles and wiped-clean Diptyque candle jars holding clean makeup brushes, our realities are rarely so picture-perfect. If you feel a pang of jealousy when you see a #shelfie post of your dream vanity — then compare it to your endless piles of hair elastics and half used tubes of mascara and lip balm — let us be the first to say, you're not alone.
We've rounded up the most mesmerizing makeup flat-lays and idealistic mirror shelves on Instagram — then paired them with the exact storage product you should buy to make your reality a little closer to the one you love most. But the best part? This picturesque trend will actually help you to get out the door faster and cut down on daily cleaning and stress. Win-win! Our favorites, ahead.
At Refinery29, we're here to help you navigate this overwhelming world of stuff. All of our market picks are independently selected and curated by the editorial team. If you buy something we link to on our site, Refinery29 may earn commission.
A collection of luxe skin care is clearly not meant to be hidden on the backside of your bathroom mirror. Put all your products in small cubbies for easy access.
@tamirajarrel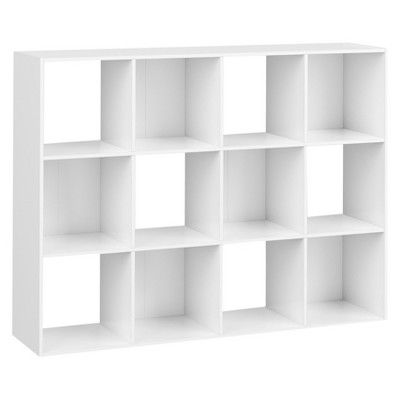 If you have the space in your bathroom or bedroom, consider adding this 12-cubby shelving unit. Lotions, serums, creams, and more can fit in the squares. Plus, if you have extra room, you can mix in some decorative knick-knack or a fun bookend to make it a full work of art.
Room Essentials 12-Cube Organizer Shelf 11″ , $41.99, available at Target
A plastic organizer might seem boring on its own, but when you fill it with your everyday products, it's all of a sudden a great backdrop for a flat-lay. Carnation placement is on you.
@lundaasen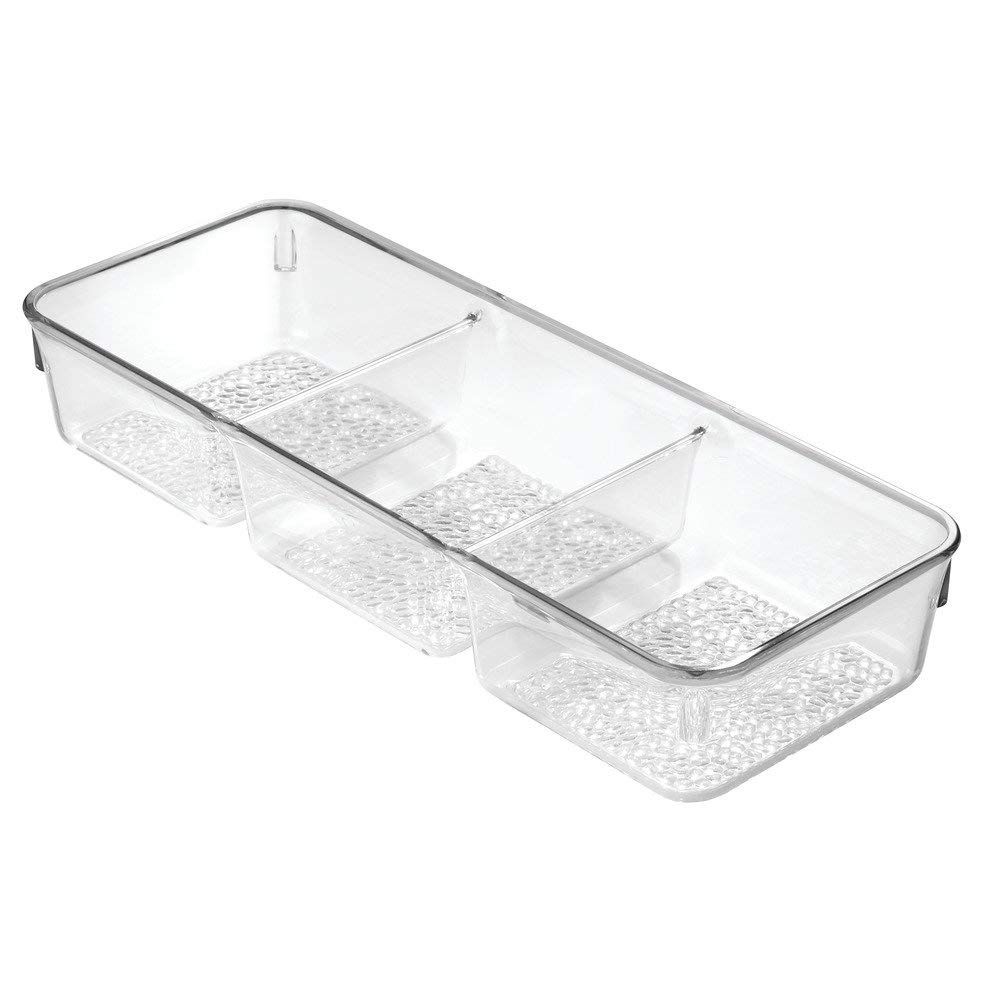 The best part about plastic storage? It's not going to cost an arm and a leg. This one from Amazon will only set you back $12, so you can spend more on what's going inside.
InterDesign Cosmetic Organizer Tray , $12.28, available at Amazon
Extend the life of your Diptyque candle long after the sweet-smelling wax has run dry by cleaning out the glass and using it to hold your makeup brushes. I mean, if you're spending more than $50 on a candle, you might as well get your money's worth, right?
@lundaasen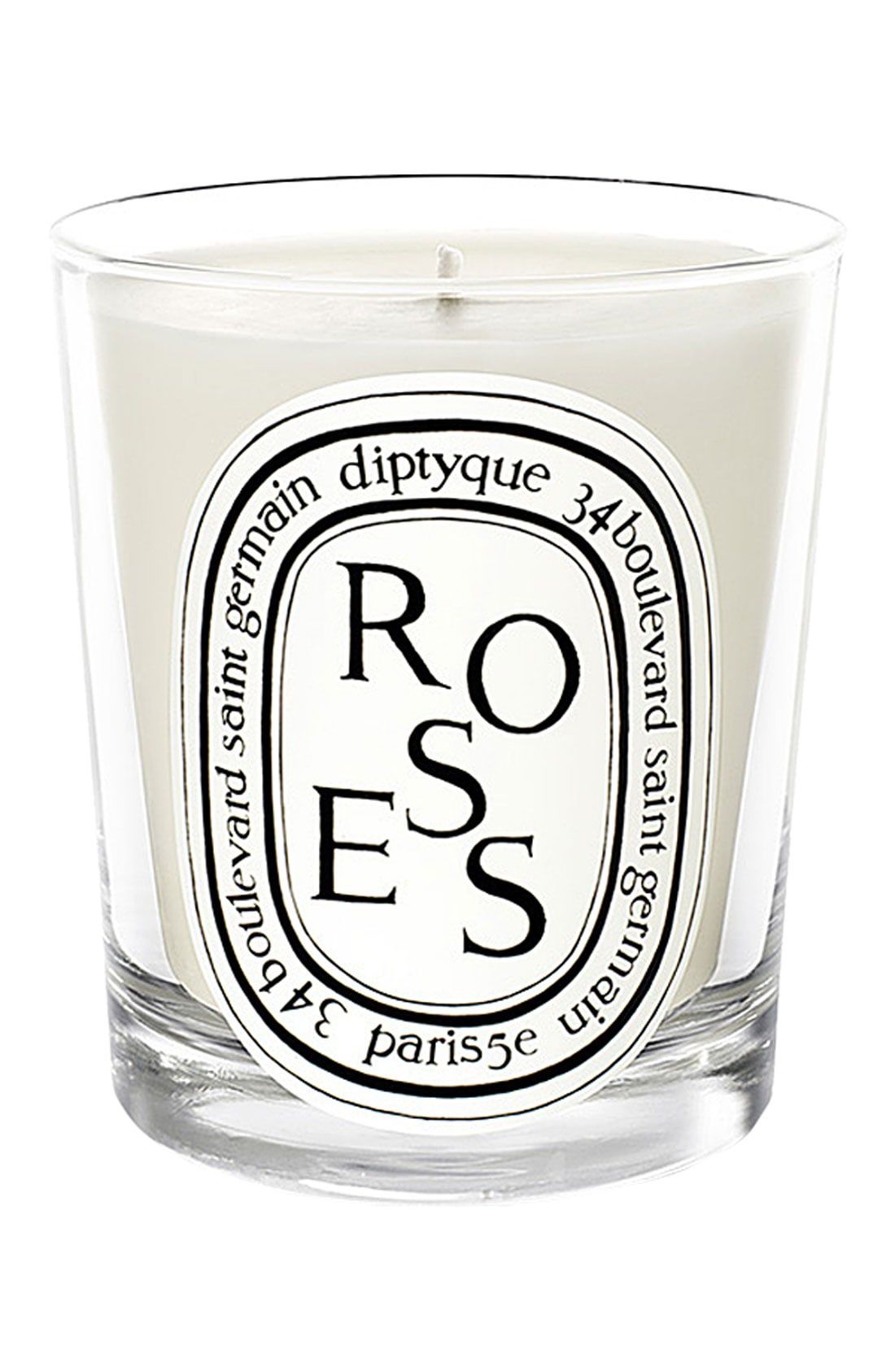 Fill your home with the smell of roses for 60 hours, and when the wick disappears, pour in some hot water (to reheat the dried wax residue), pour into the trash (
no
t down the drain), and wipe clean with a paper towel.
Diptyque Roses Scented Candle, $35, available at Nordstrom
When your makeup's pretty and pick, clear hard acrylic drawers lets you show off what's inside.
@thecontainerstore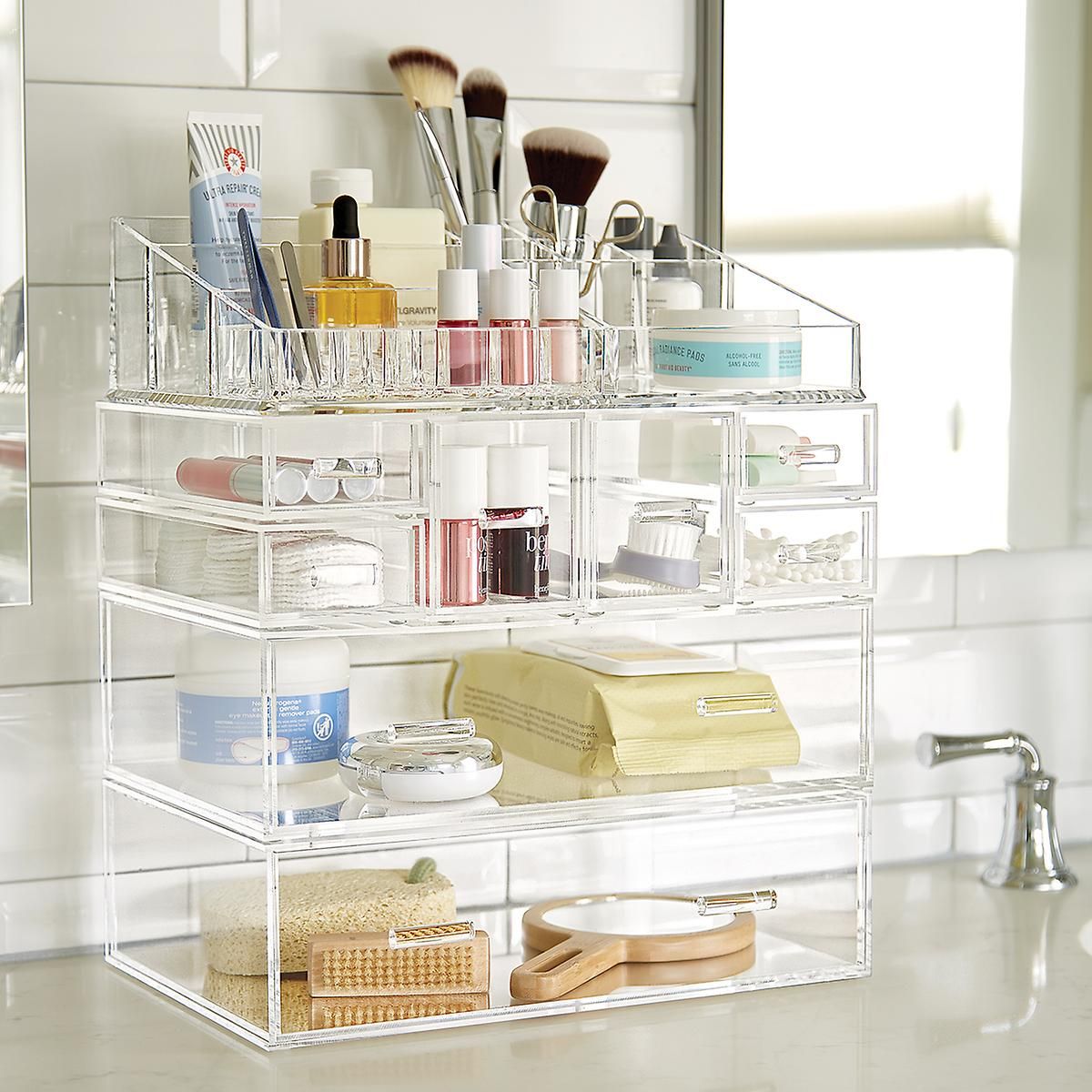 The cool thing about this set from The Container Store is that you can personalize it by choosing which sections and pieces you really need, so you don't end up with that mini cubby you never use. If you want a bunch of drawers, you can get four and stack them. If you're in it for the lipstick dividers, get two of those.
The Container Store Large Luxe Acrylic Makeup Organizer Clear, $29.99, available at The Container Store
The CosmoCube is the makeup vessel many makeup artists and beauty lovers swear by. With deeper drawers, there's room for all of your full sized eyeshadow palettes, with space to spare (for new additions, of course).
@cosmocube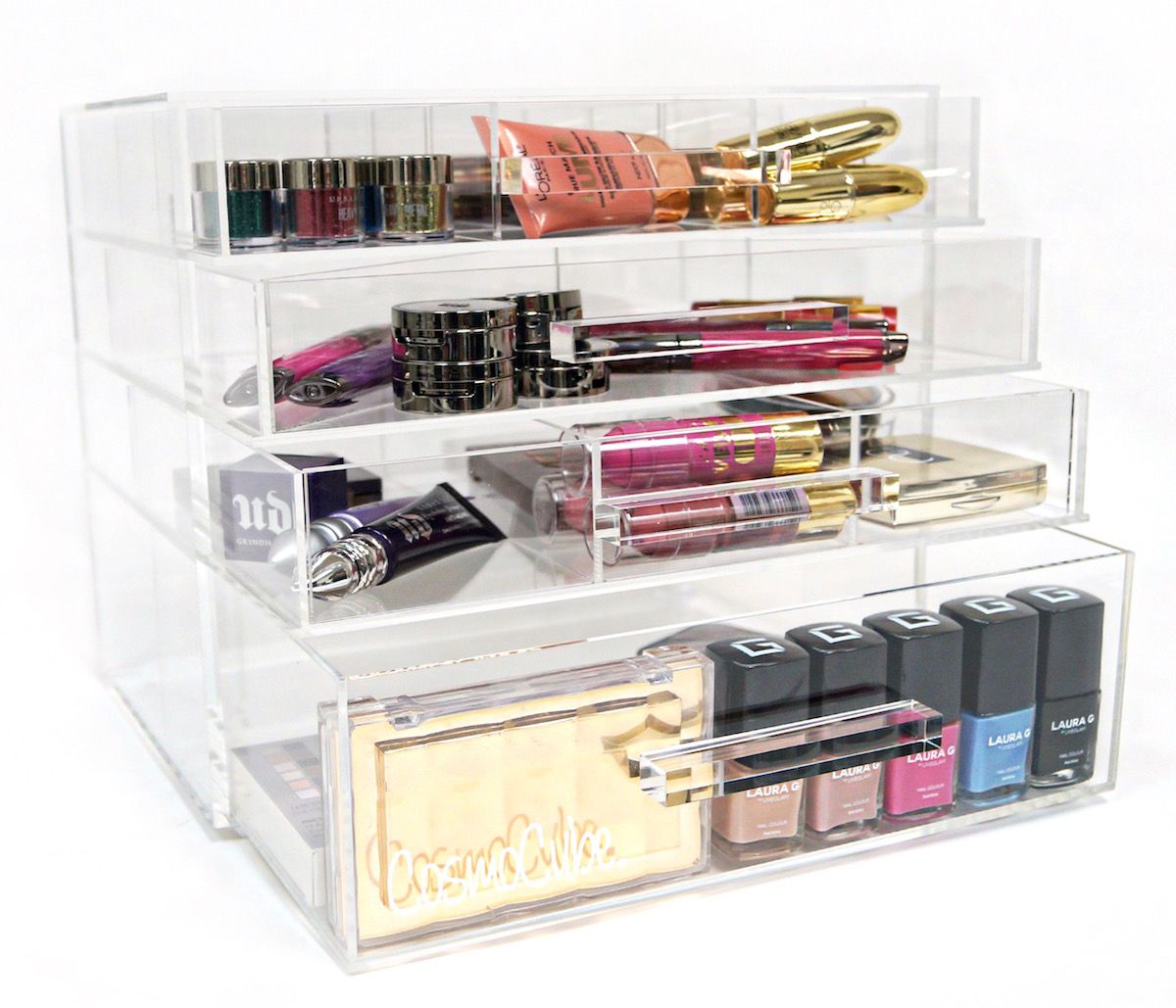 Beauty guru and wedding planner
Laura Gurrola
tells us
she loves the CosmoCube because it's clear and, like those from The Container Store, it's customizable. "The one I have is six drawers, and some of them have different dividers and you can customize them," Gurrola explains. "So if there are four rows in there, and you want two because you're putting in compacts instead of lip gloss, you can adjust it. It's big enough to where it fits a lot of stuff, but it's small enough where it fits on your vanity or a desk or dresser."
Cosmocube CosmoCube Posh, $185, available at Cosmocube
If you're trying to revamp your bathroom cabinet, try adjusting the shelves and popping in a few smaller, standing shelves to mix up product heights and add dimension. Translation: No wasted space!
@laura.cattano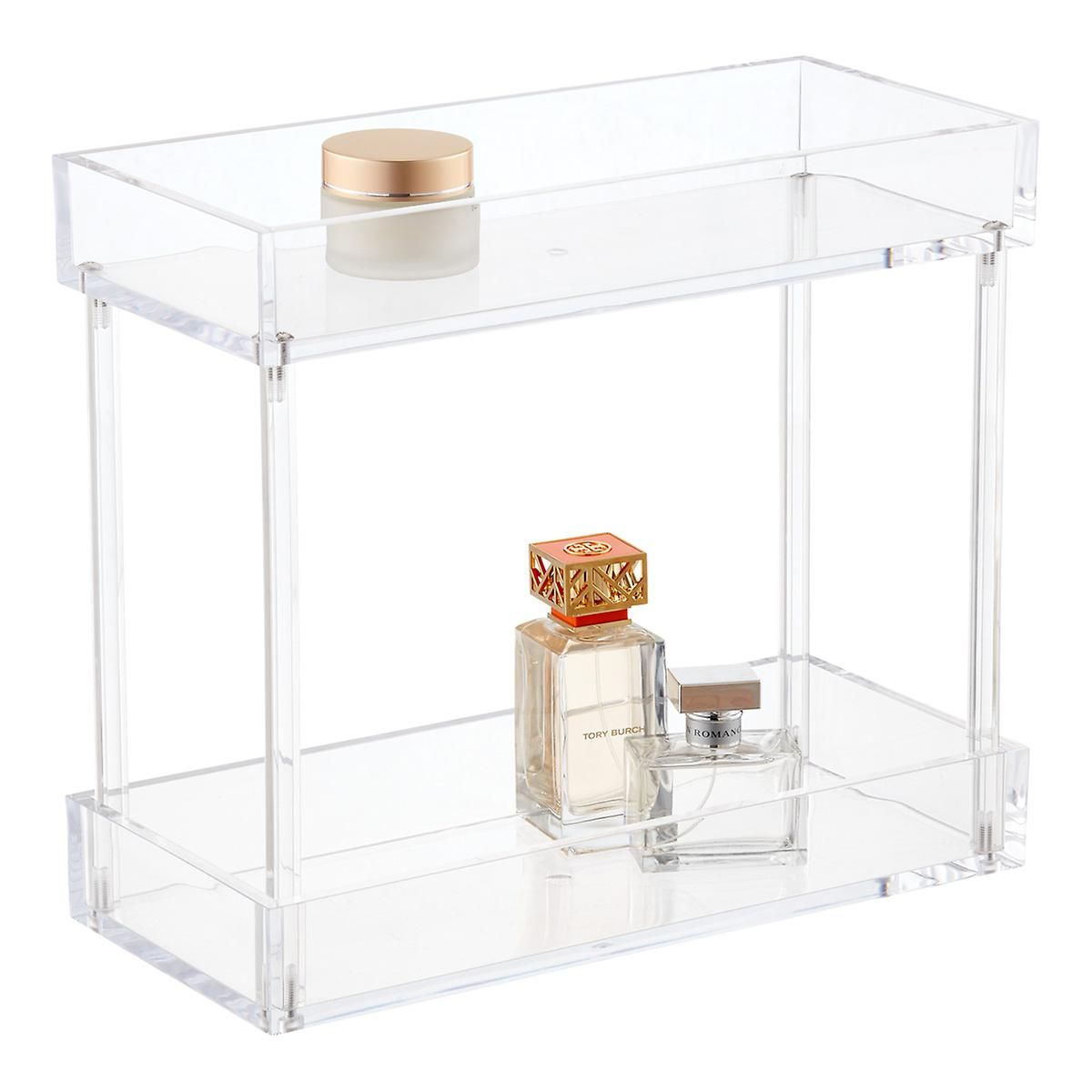 Another pick from The Container Store, this acrylic shelf is small enough to squeeze in-between two shelves.
The Container Store 2-Tier Acrylic Tower, $49.99, available at The Container Store
For makeup you want to have in one portable place for a quick grab n' go, a cute clear makeup bag makes sense for finding things quickly. Plus, how cute?!
@intothegloss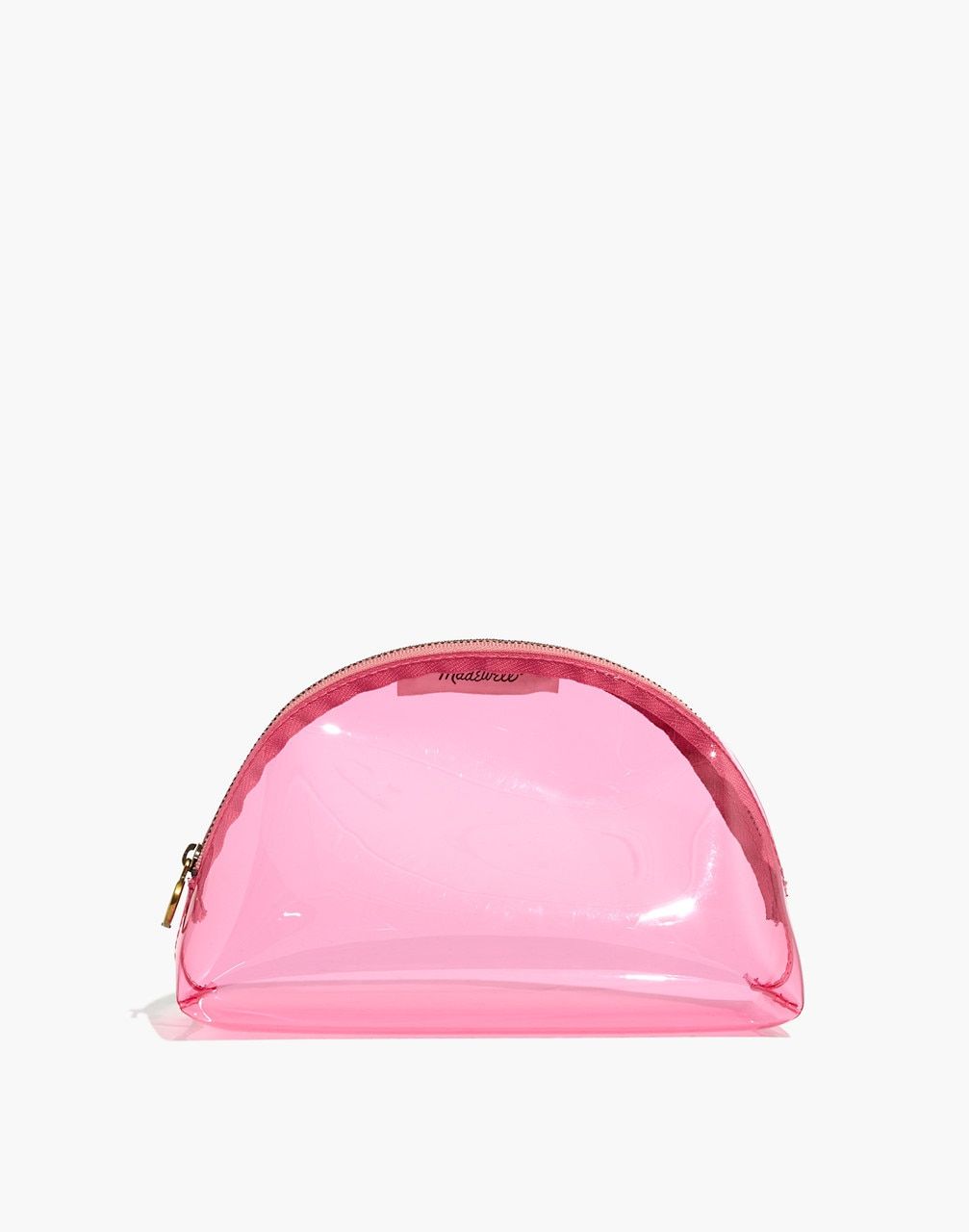 This clear half-moon travel pouch filled with makeup could make even a dark-gray airport security bin look chic.
Madewell Small Crystalline Half-Moon Pouch, $19.5, available at Madewell
If your eyelash curler and eye cream are always laying strewn across your dresser, try giving them a home by adding a metallic platter underneath.
@intothegloss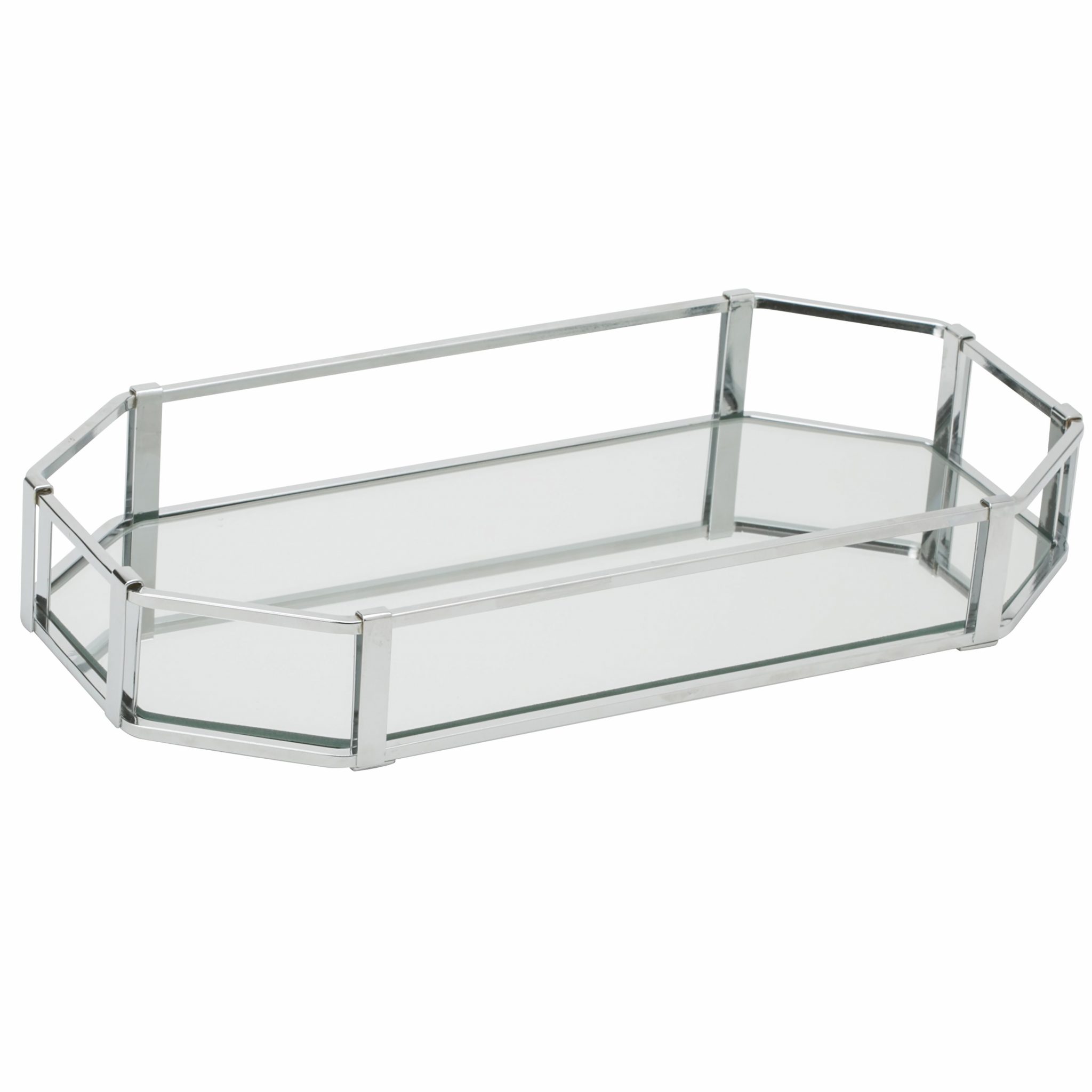 This silver mirrored vanity plate makes your daily skin care routine into a showstopper
Charlton Home Octangular Design Mirror Vanity Tray, $25.18, available at Wayfair
If gold's more your jam, you can match your jewelry to your perfume tray.
@taraleydon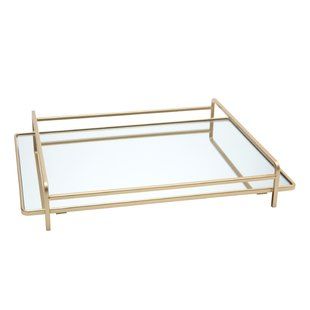 This plate is luxe, shiny, and is still a fraction of the cost of your Byredo.
Wrought Studio Classic Design Mirror Vanity Tray, $26.99, available at Wayfair
Another pick for the makeup lover who's has more pots and palettes than they can count, the Alex drawers from Ikea are a godsend, decking out any vanity and providing the lets of a desk (just lay a board on top!).
@noemiipalmaaa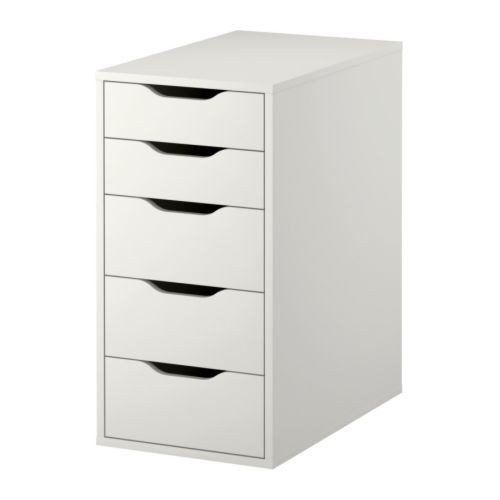 The drawer units are a little pricey, but they're worth their weight in gold if your stacks of makeup are getting out of control. Makeup artist Leigh Ann tells us she uses the Alex drawers to store the products in her kit because they're portable and the drawers aren't too deep. "They come in different shapes, but I like my shorties on wheels because the drawers are all shallow and I can't be trusted to avoid over-piling products into deep drawers," she explains. "They're also huge, easy to move around, relatively affordable, and convenient."
Ikea Alex Drawer Unit, $159.99, available at Amazon
Click HERE to read more from Refinery29


Loading ...