You can publish this article on your website as long as you provide a link back to this page.
This article was last updated on April 16, 2022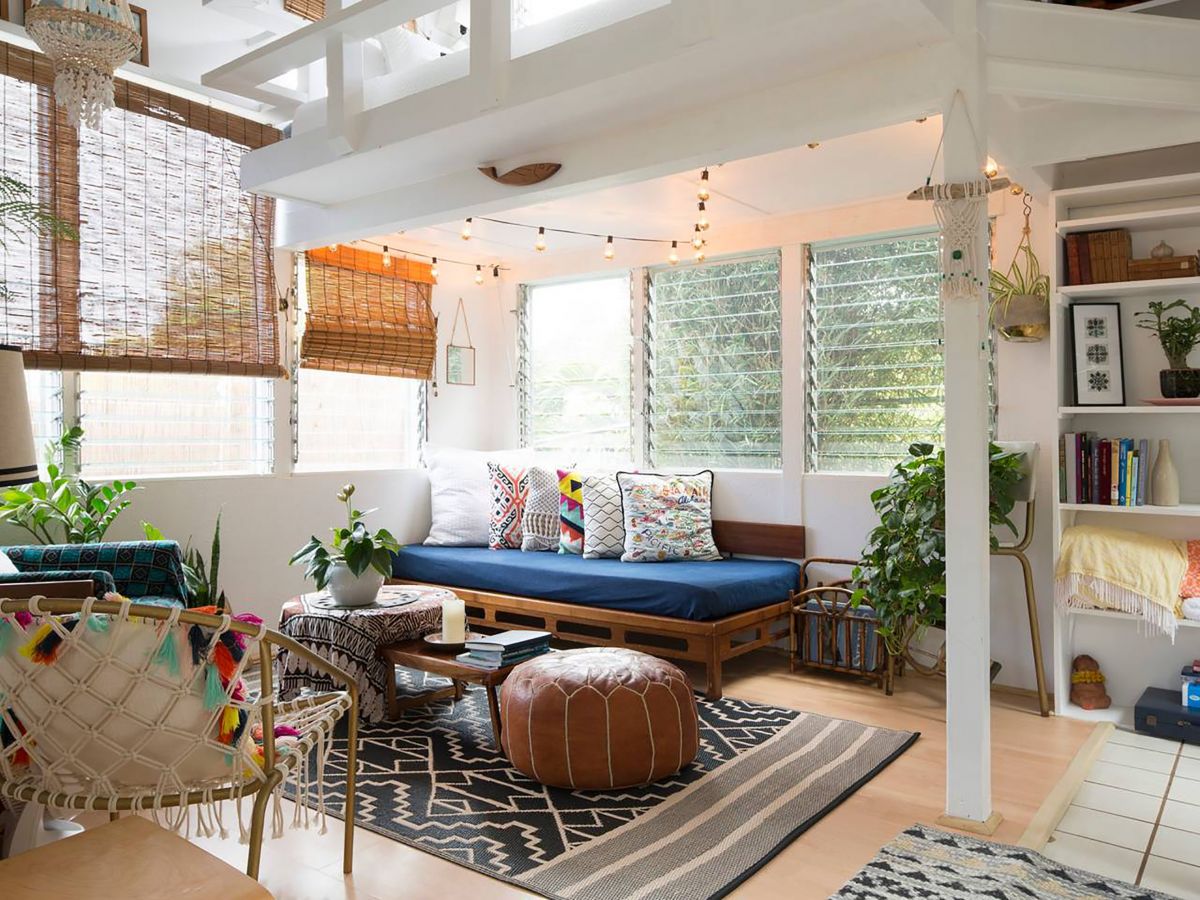 The word bungalow conjures up costal visions of warm, cozy, and open-air spaces filled with ample amounts of sunshine. Before gaining popularity in SoCal as a novel departure from more classical architecture, the small (often one-story) abodes' etymology traces back to 19th century India when they were first designed as casual resting spots for travelers. Today, this same low-to-the-ground and airy-layout style still captivates wanderlusters across the globe — making it a top refreshing option when planning warm-weather escapes.
We explored the expansive map of Airbnb's best bungalows to select the most charming rentals, from India to California and beyond. Ahead we've rounded up 11 of the coziest places to consider when planning your next travel adventure — whether it's beachfront, city-side, jungle to treetop or a salt-marsh bungalow. Scroll on to discover what makes each hosts' property so dreamy. Get ready to book your dose of essential fresh-air and sunshine.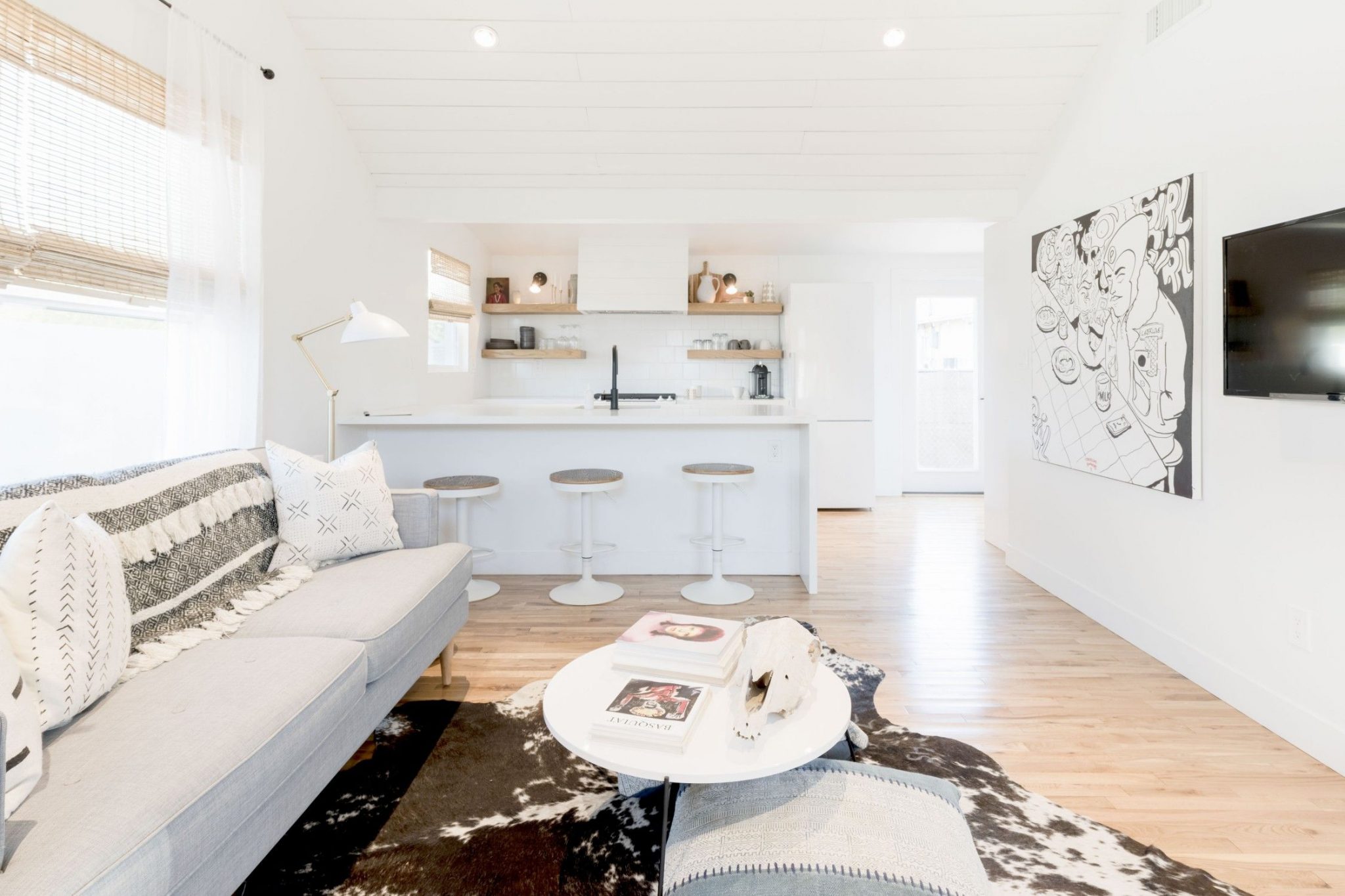 Art-District Bungalow
"Discover a peaceful retreat in this bohemian bungalow featuring an eclectic and fresh interior, an all-white and wood design, contemporary furnishings, and an outdoor patio. Lounge around in the cozy living space or venture out and explore the area. Coronado Historic District is home to a warm and quiet community of young families, artists, and Phoenix natives with several restaurants and coffee shops within walking distance."
Location: Phoenix, Arizona
Sleeps: 4
Price Per Night: $99
Photo: Courtesy of Airbnb.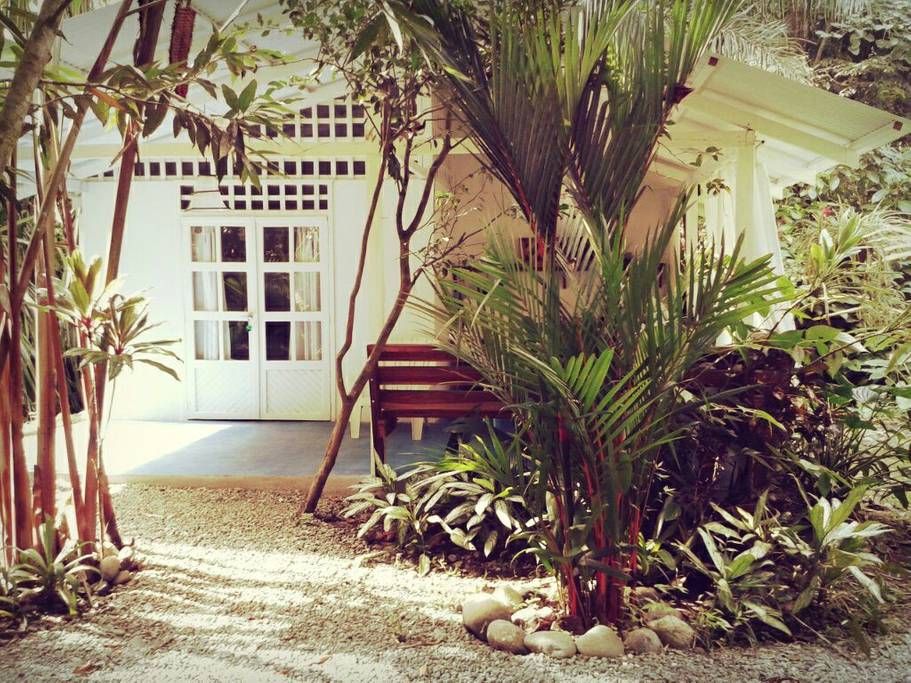 Jungle Bungalow
"Tropical gardens surround our lovely casitas. Equipped with an outdoor kitchen, outdoor dining, Wifi, hot water, fan, hammock, mosquito nets and queen bed. You feel the jungle all around you but are perfectly situated to enjoy the beach too. We are just 200 meters from the beach."
Location: Puerto Viejo de Talamanca, Costa Rica
Sleeps: 2
Price Per Night: $75
Photo: Courtesy of Airbnb.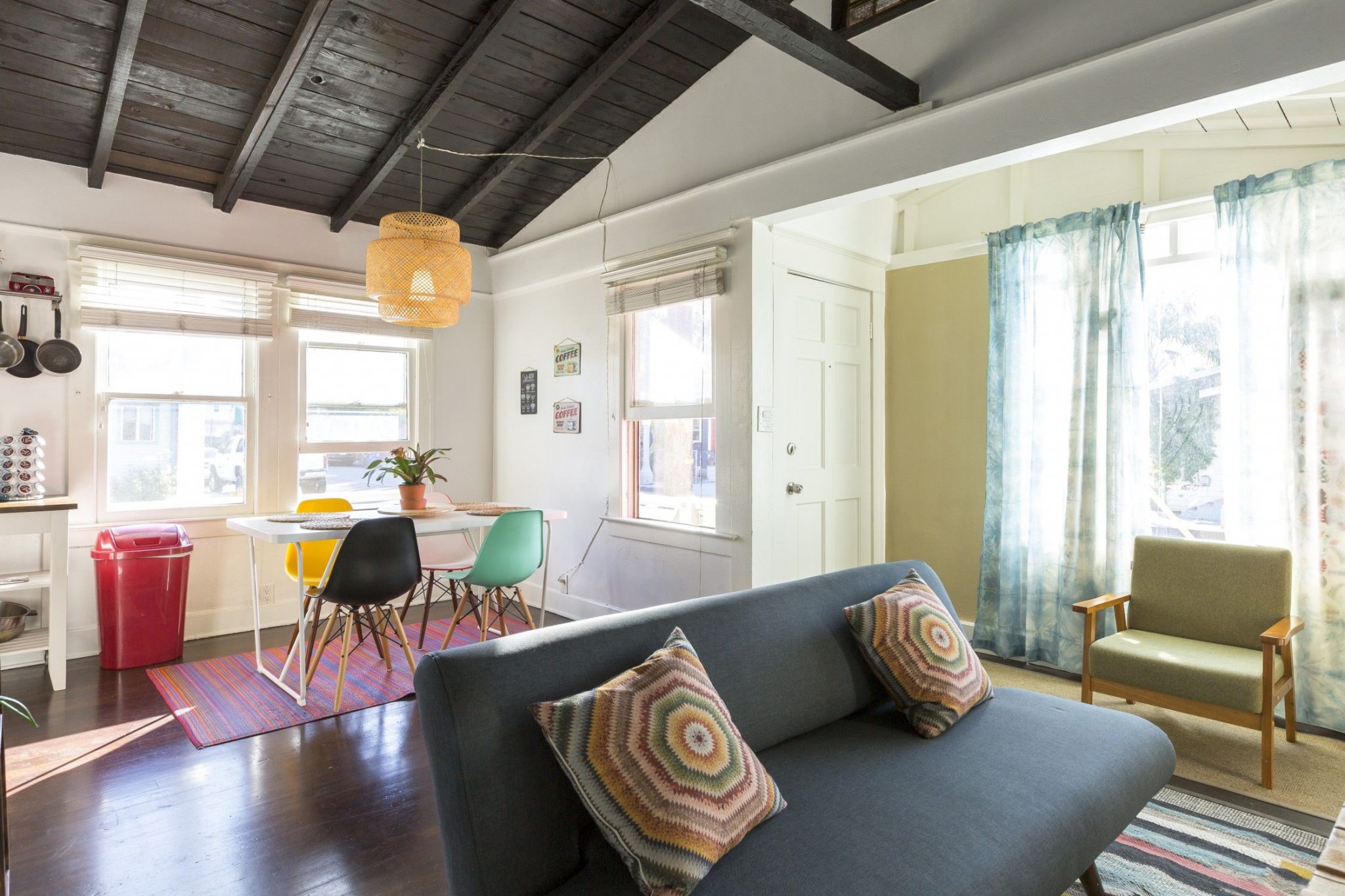 Boardwalk Bungalow
"After a day of sand and sun, curl up by the fireplace in this delightful bungalow that captures the spirit of the beach. With vaulted ceilings, cheerful decor, and vintage touches, it feels open, bright, and welcoming. Have a relaxing beach vacation with Venice Boardwalk and the endless food and shopping on Abbot Kinney just steps away."
Location: Venice, California
Sleeps: 5
Price Per Night: $126
Photo: Courtesy of Airbnb.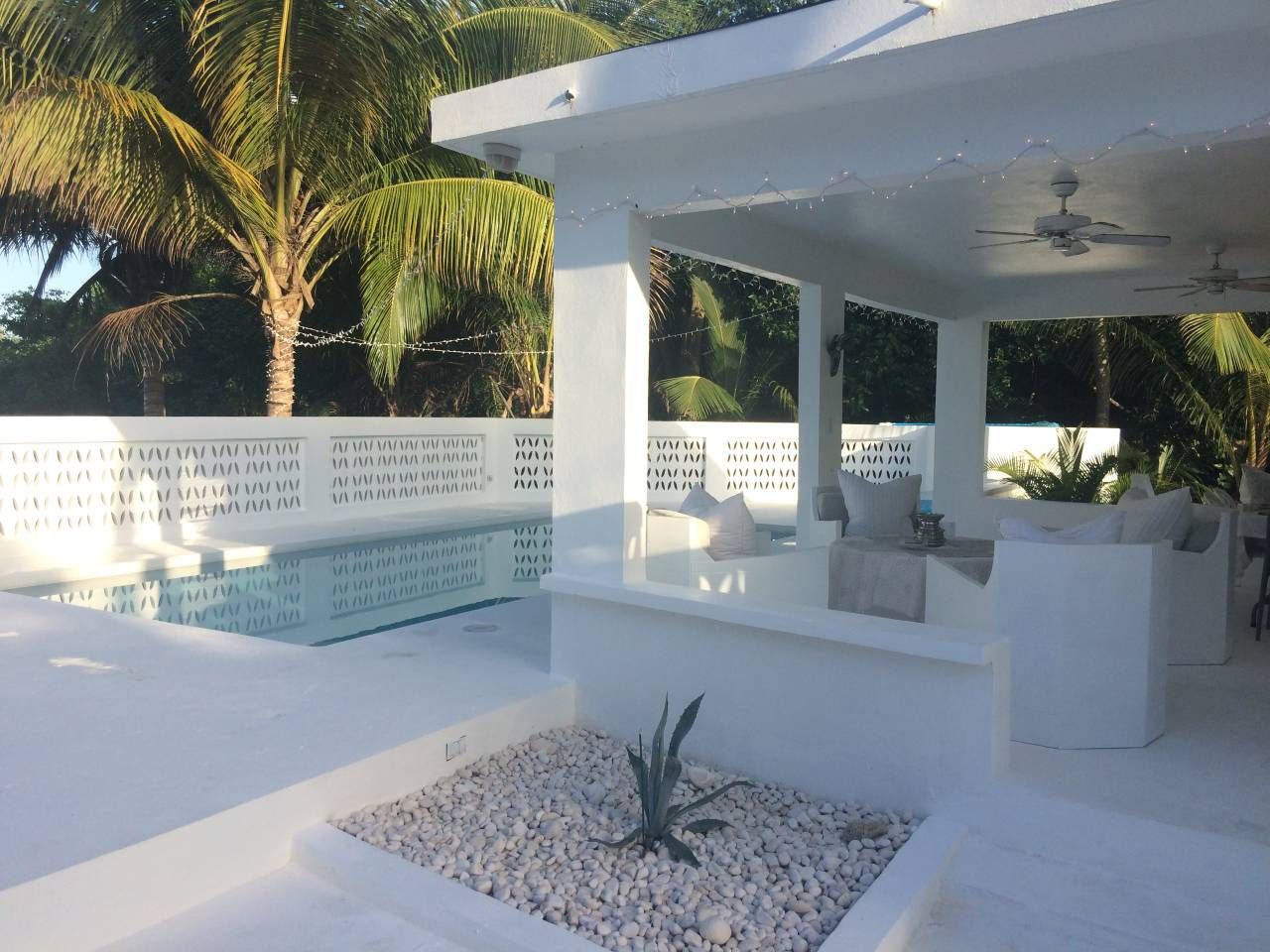 Beachfront Bungalow
"Come home to Casa de Playa. Aptly named for its premier location on one of Vieques island's only residential sandy beaches. Listen to the lull of the waves gently break right outside your front door. Extremely private location. The very last house on the beach nestled into a sweet secluded cove. Sandy path to the beach on one side of the property and a gorgeous freshwater lagoon and lush jungle on the other."
Location: Vieques, Puerto Rico
Sleeps: 4
Price Per Night: $225
Photo: Courtesy of Airbnb.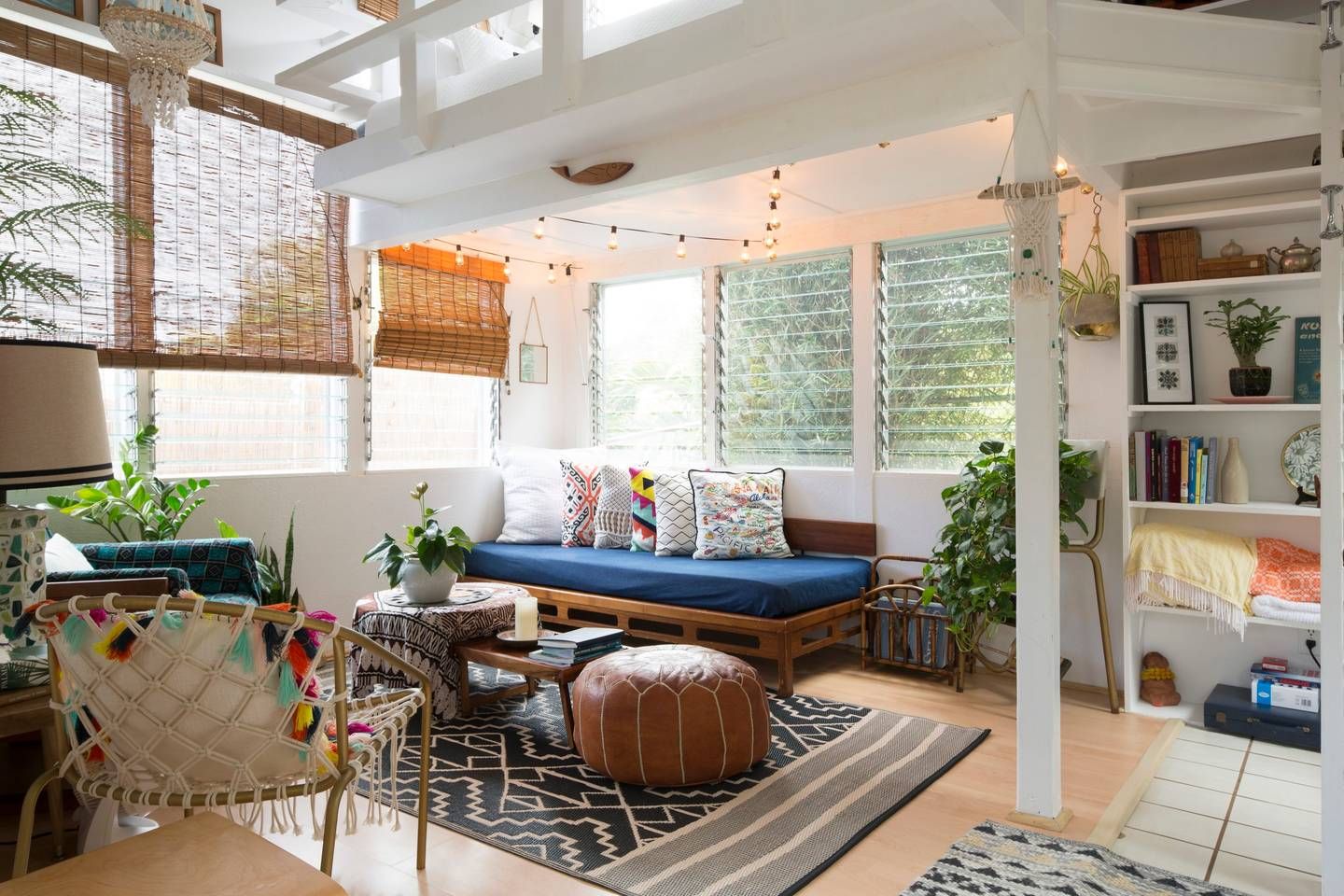 Hilltop Bungalow
"Our newly renovated bungalow is located in the hills above the funky neighborhood of Kaimuki. It is within close proximity to some of the best restaurants, bars and shopping on Oahu. This stand-alone private cottage is complete with a queen loft, partial ocean view and tropical bohemian decor."
Location: Honolulu, Hawaii
Sleeps: 2
Price Per Night: $129
Photo: Courtesy of Airbnb.

Hollywood Bungalow
"Mid-Century California Cottage (mid-1950s) located in historic and still 'secret' Hollywood Beach, California, perfectly located between Malibu and Santa Barbara. A 60-second walk to the beach in either direction and walking distance to restaurants, farmers market, Channel islands Harbor, beach volleyball, park."
Location: Oxnard, California
Sleeps: 6
Price Per Night: $375
Photo: Courtesy of Airbnb.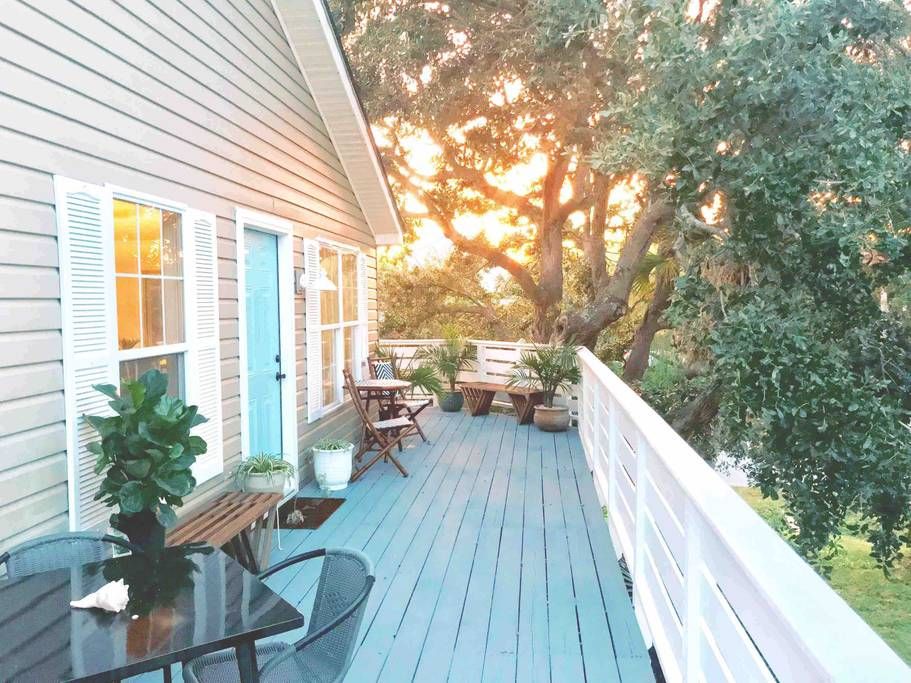 Salt-Marsh Bungalow
"Freshly renovated, the bungalow is nestled in a charming Folly Beach neighborhood between the best waves in SC and historic downtown Charleston. Just 6 min to the surf, and a quick 10 min drive downtown! Surrounded by pristine salt marsh, experience the best of the Lowcountry living at its finest. Enjoy an abundance of fresh local seafood, world class fishing, boating & golf, historic architecture, art galleries & so much more. Soak up the beach life AND get your kicks in downtown!"
Location: Charleston, South Carolina
Sleeps: 6
Price Per Night: $200
Photo: Courtesy of Airbnb.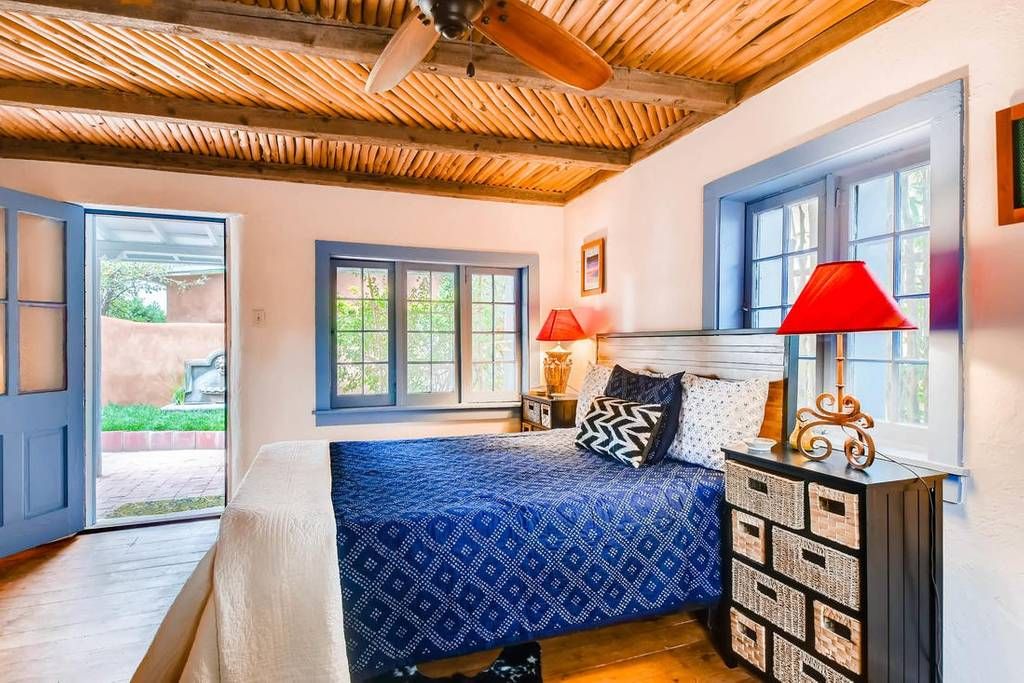 Southwestern Bungalow
"Come stay in this adorable one bedroom casita, only a 10 minute walk from downtown Santa Fe's historic plaza. You'll be surrounded by Southwestern charm and enjoy a private courtyard with burbling fountain. The casita has a working fireplace in your bedroom, too!"
Location: Sante Fe, New Mexico
Sleeps: 2
Price Per Night: $145
Photo: Courtesy of Airbnb.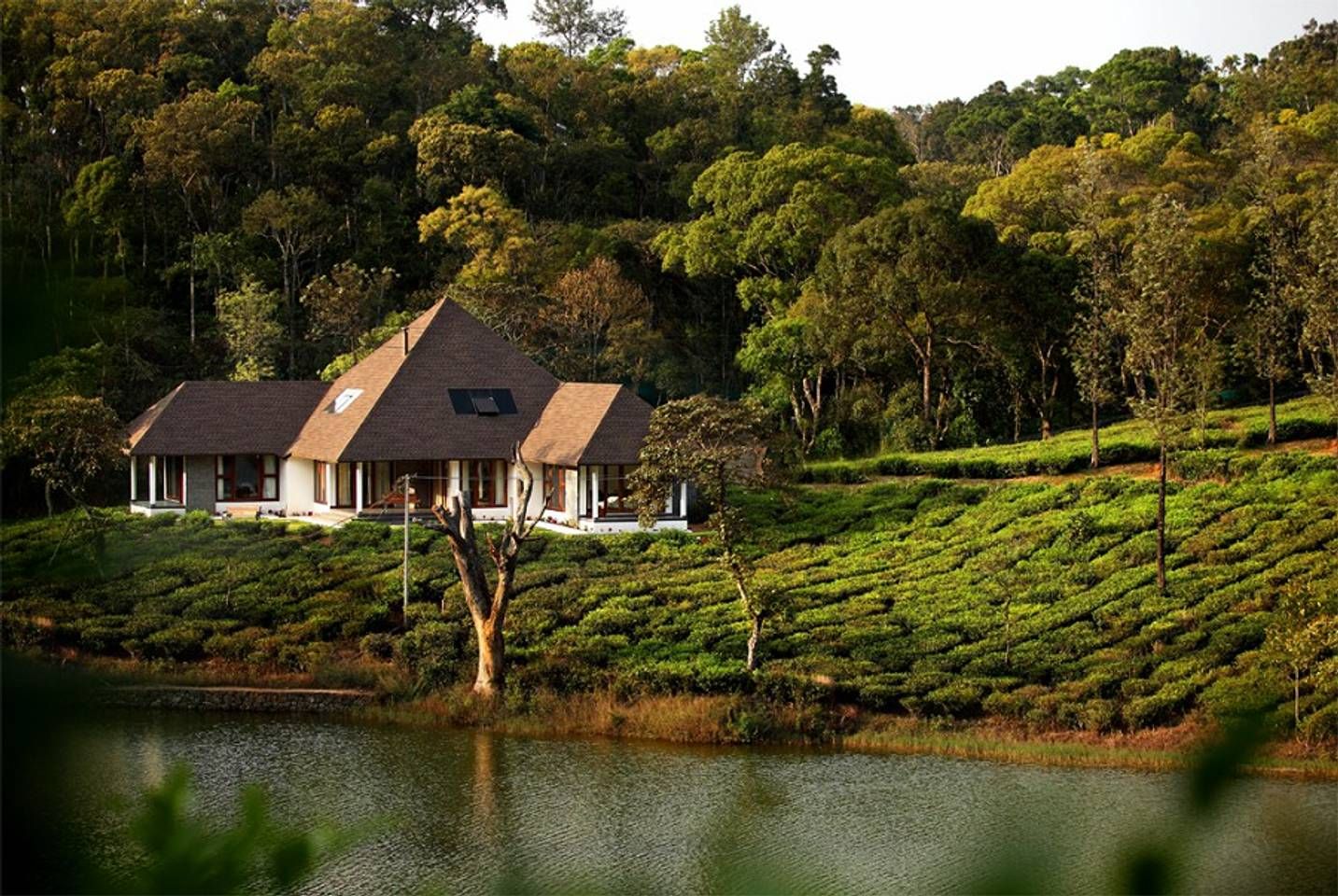 Secluded-Country Bungalow
"Large windows, spacious verandas, fire place, attic, rock walls and glass roof…ideal spot for honeymooners and also for peace seekers…Relax in the verandas with a book in your hand…get immersed in tranquility and just forget the rest."
Location: Nedumkandam, India
Sleeps: 6
Price Per Night: $121
Photo: Courtesy of Airbnb.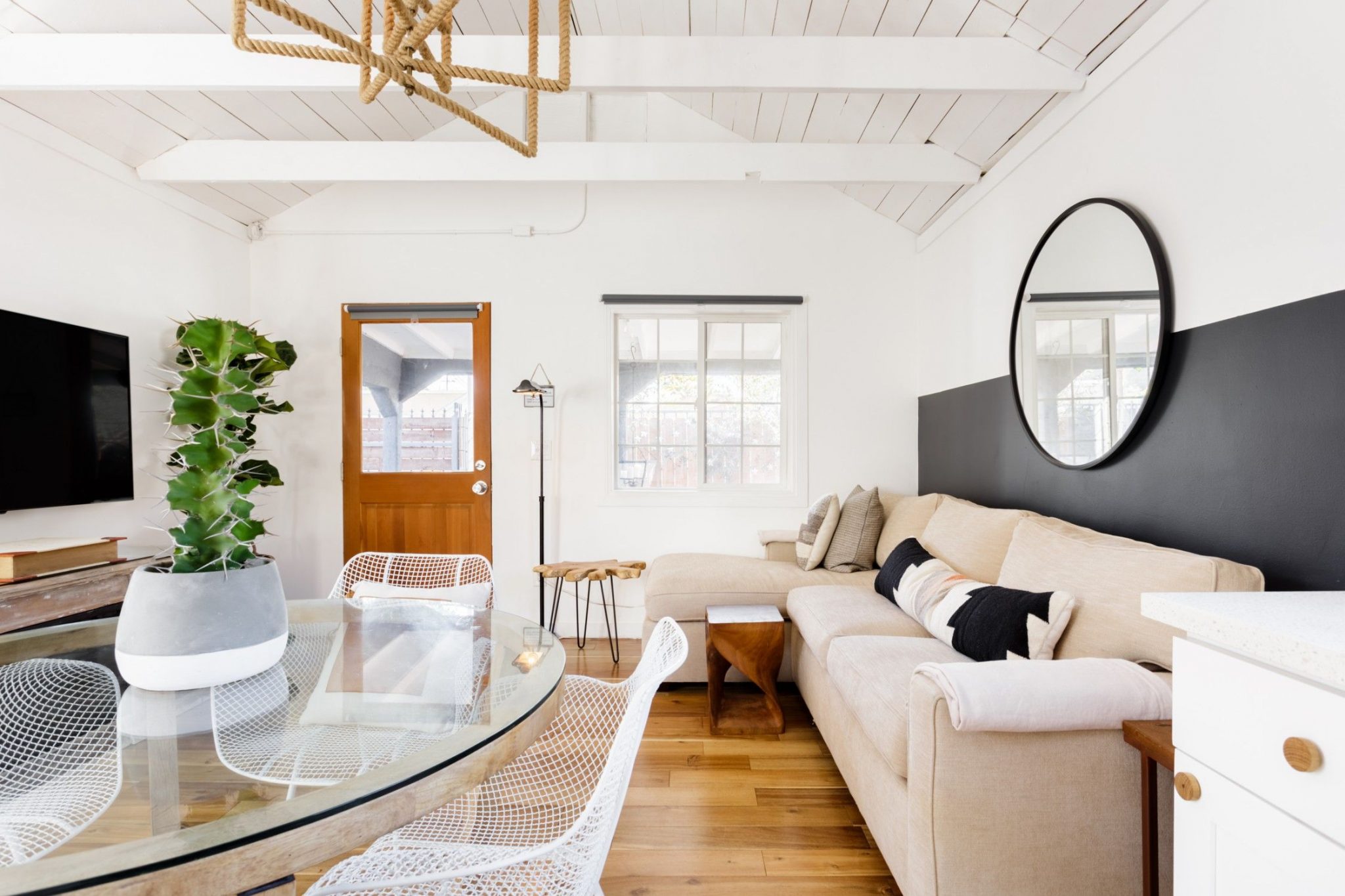 Downtown Bungalow
"Leaf through the pages of a good book in a wicker sofa on the porch of this quaint remodeled bungalow. Inside, a glass breakfast table, carved wood furnishings, and muted accents mingle beneath a pitched white plank ceiling with exposed beams. The house is located in Northeast Los Angeles between Downtown Los Angeles and South Pasadena. Restaurants, shopping, and entertainment are a short drive away. The nearby Ernest E. Debs Regional Park and Ascott Park are excellent for hiking and experiencing panoramic views of the city."
Location: Los Angeles, California
Sleeps: 4
Price Per Night: $95
Photo: Courtesy of Airbnb.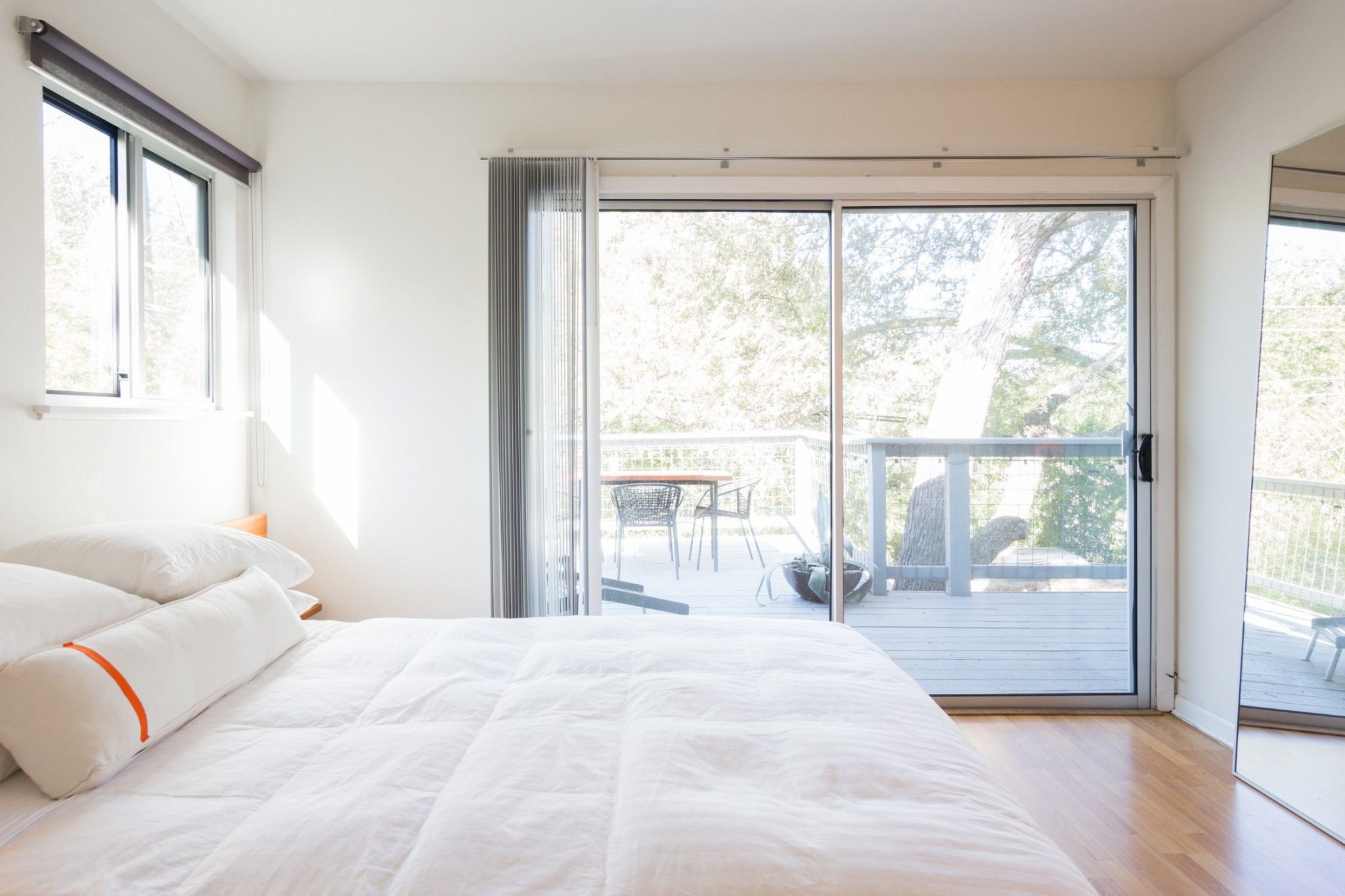 Treehouse Bungalow
"Approach through the trees, open the door, and discover a little bit of sylvan paradise. The home is furnished with real attention to detail, and the sliding glass doors to the spacious back deck provide a wonderful indoor-outdoor living atmosphere. Listen to the quietness of this green and hilly neighborhood, close to Zilker Park and Barton Springs. Alternatively, head for nearby South Lamar, which is loaded with restaurants, shops, cinemas, and cafes—there's plenty to do right nearby."
Location: Austin, Texas
Sleeps: 4
Price Per Night: $98
Photo: Courtesy of Airbnb.
Click HERE to read more.

You can publish this article on your website as long as you provide a link back to this page.