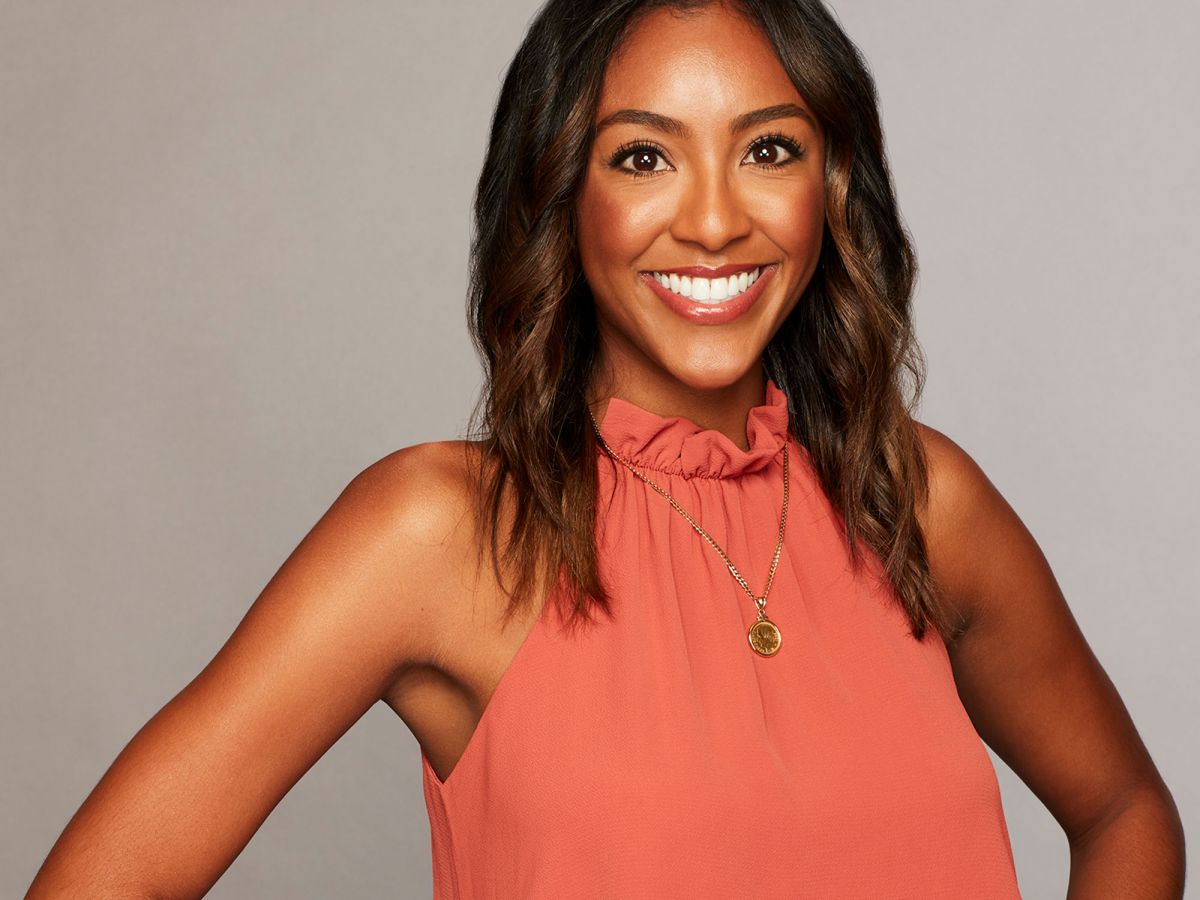 Warning: This article contains spoilers from part one of Colton Underwood's Bachelor finale. Sometimes having your heart broken on national TV can come with a consolation prize. But from the looks of her final interview on The Bachelor, Tayshia seemingly isn't the new Bachelorette, so she's walking away from Colton's season single and still in search of her someone. She's certainly not walking away with nothing because she maintained her dignity, honesty, maturity, and poise throughout the process. She also said during the live finale that she learned a lot about herself and what she wants out of a relationship. But, still, she would have been an excellent Bachelorette. Fans on Twitter were saying much of the same, including former Bachelor star Ashley Spivey who tweeted, "Legit, Tayshia is one of the most beautiful girls ever on the franchise and would be a wonderful Bachelorette."
Legit, Tayshia is one of the most beautiful girls ever on the franchise and would be a wonderful bachelorette. #TheBachelor
— Ashley Spivey (@AshleySpivey) March 12, 2019
There's no denying she's stunning, but Tayshia is more than just her looks, too. On a season full of drama, Tayshia became one of the only women to survive the tattle-tale curse. Usually women who talk about other women's drama get sent home. But Tayshia brought up her concerns about Cassie and Caelynn and didn't upset Colton in the process. She explained what she'd heard and let Colton make the decision from there, rather than telling him what to do. For the most part she simply rose above the house issues and focused on her own relationship with him, and that's probably why she stayed as long as she did.
It's not impossible that Tayshia could still be named the Bachelorette, but it's pretty unlikely. Her goodbye with Colton, though sad, was sort of quick. They had much of it off-camera at her request (kind of a no-no for a potential Bachelorette), and she spent a lot of time comforting Colton about the whole thing. While it showed her immense maturity, it wasn't quite the blind-side that producers usually want for their Bachelorette. Remember, JoJo Fletcher got the gig after Ben Higgins told her he loved her and then dumped her at the finale.
Tayshia was also brought onto the live finale super early in the show. Usually the Bachelorette is announced at the very end of The Bachelor, which will likely be during Tuesday's final episode. Host Chris Harrison didn't hint that we'd be seeing more of Tayshia or wish her luck on her own journey to find love. He simply thanked her for coming on, and that was that.
Never taking a moment for granted ?
A post shared by TAYSHIA ADAMS? (@tayshiaaa) on Mar 10, 2019 at 5:55pm PDT
Not for nothing, Tayshia did have some good Bachelorette audition quotes. She harbored no ill will for Colton and wished him all the best. "I know that I deserve a lot and an amazing person in my life, and if Colton knew what he wanted … he was on this journey for that," she said, explaining why she didn't hold it against him that he broke up with her for Cassie. Later, she told Colton,"I will not take anything that I've learned or that we shared for granted … thank you for everything." She added that she knew that an amazing man was in her future, and she couldn't wait for that to happen.
And hopefully it does happen! Tayshia is a strong, confident, mature, beautiful, smart, amazing person and she deserves love. Sadly, and despite calls from fans, she just probably won't get a chance to find that person as the Bachelorette.
Click HERE to read more from Refinery29


Loading ...