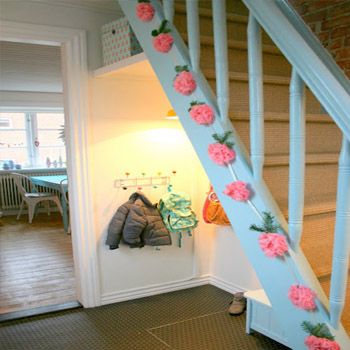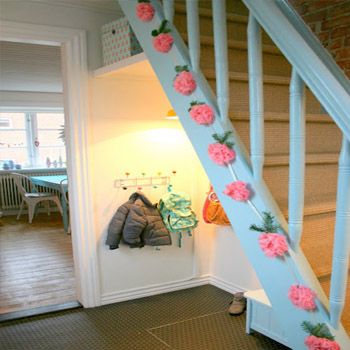 For some people home is an experimental playground. They do experiments by making changes in home decoration and interior particularly with changing seasons. Stairs is one of the most important elements of any building because stairs link two or more floors and can be built and finished of different kinds of materials. Stairs may be straight, round or may consist of two or more straight pieces connected at angles. However, sometimes stairs are taken for granted. But to make a home beautiful, it is necessary to décor stairs also. One should not neglect stairs decoration as it's an important part of house. There are a number of ideas for decoration of stairs. From modern and simple to grand and elaborate designs, you can use unique ways to
decorate your stairs
. Majority of people take the help of designers and architects for the decoration of stairs that is very expensive. You can décor your stairs by acting upon my simple ideas.
As summer begins, people make a number of changes in their home and stairs as well. People use staircase like carpets and rugs to décor the stairs. As summer season starts, mostly people bring new changes and want stairs to be uncovered. You can use tiles and marbles to make your stairs beautiful. A spectrum of beautiful colors will work brilliantly on your stairs especially if you have white hallway. You can paint railing with different colors of summer like yellow, pink from pale to dark towards the light sources. Choose that colors that harmonize. It is amazing how a little change can totally impact the aesthetic of space. You can use
indoor plants
, artificial plants, vases, colorful paint on railing, pictures, paintings and many more things to make your stairs most beautiful part of your home in this summer. Besides decoration of stairs most important thing is safety. Make sure that all items that you use for decoration are kept out from pathway.
plants for decoration of stairs.
Plants hanging in baskets on the top of stairs are the striking stairway accessory. You can place small pots and vases with evergreen plants or colorful flowers on the steps of your stairs along with railing. Also long green plants along with the railing of stairs make stairs impressive. It is an easy and affordable way to bring more beauty into your stairs.
Stairs can also be decorated by using pictures either paintings or family pictures. You can also use family photo frame tree to make your stairway more attractive and charming. You can also place vases of different colors and materials on stairs.
Artificial plants
can also be option for décor of stairs. Mirror on the front wall of stairs also looks beautiful. Mirror is a plus point for the decoration of stairs so you can go with it also.
Whatever you place on stairway, make sure that all accessories are kept out of the way of people to help prevent tripping and falling accidents. So you must increase safety even more by keeping all stairs and paths clear of obstructions and avoid decorating with thorny or spiky plants and other accessories.
Click HERE to read more from Fashion Central.