You can publish this article on your website as long as you provide a link back to this page.
This article was last updated on April 16, 2022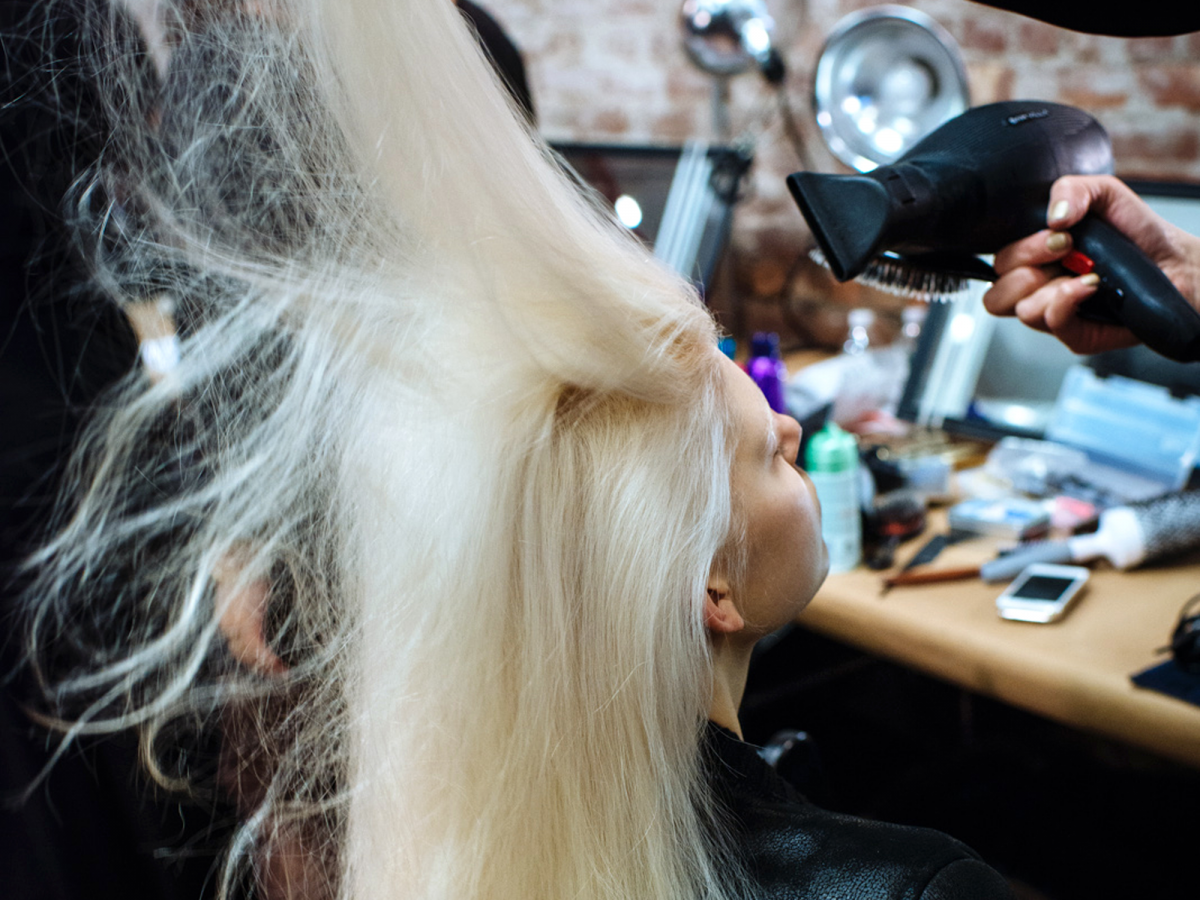 There are trends, and there are trends: the ones so beloved by celebs and the everywoman alike that they just don't seem to quit. They pop up over and over again, until they're no longer just crazes — they're signs of our times. The hair trend with perhaps the most longevity? Gotta be platinum. Everyone from Kylie Jenner to your own next-door neighbor is rocking the hue. Even our very own Maria Del Russo took the plunge and transformed her locks from brunette to icy blond. So, why shouldn't you?
Turns out, you don't have to sink thousands into creating and maintaining a megawatt blond — it's totally doable at home. Now, know that this concept will surely worry some. And yes, many pros, like Maria's colorist, Roxie Darling of Hairstory in New York City, will warn against it — but that doesn't stop many of us rebels from doing it successfully. So, if you're brave, confident, and skilled enough, read on. Tip: Use your best judgment — this is not for everyone.
Click through our slideshow to learn every tip and trick you'll need to go platinum at home.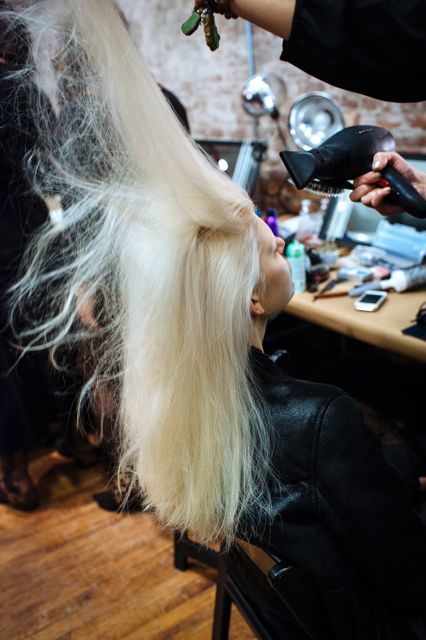 Step 1: Evaluate Your Risk
"The best and lightest results are seen on hair that is virgin — no hair dye at all — and shades that are light brown and [lighter]," says Alex Brownsell, Bleach London founder and celebrity colorist. You can do it on darker hair, but it will require some patience, and the damage will inevitably be greater. Still lusting after white-blonde? Proceed to
Photographed by Nina Westervelt.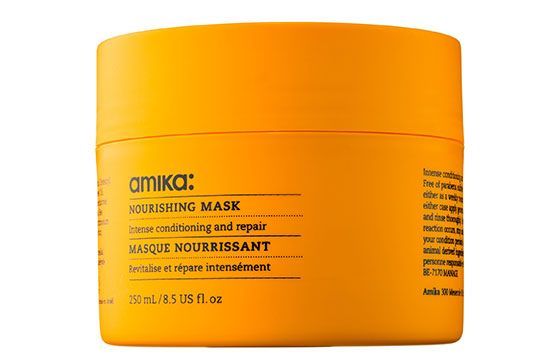 Step 2: Prep
Bleach can strip your hair of life, so taking a few preemptive steps could mean the difference between silky, white strands and a damaged mop. "I'd advise doing lots of conditioning masks for two weeks before the actual bleaching to build up the strength of the hair," says Brownsell. "And don't wash your hair for a couple of days prior, since bleaching freshly washed hair can be slightly irritating to the scalp."
Looking for a mask to protect and repair before you add more fuel to the fire? There are dozens of A+ hair treatments on the market today. We love the Amika's Nourishing Hair Mask, which works for a variety of hair types and serves up a serious dose of hydration. Or try the Kérastase Masque Elixir Ultime that not only provides rich shine, but feels weightless when rinsed out.
Amika Nourishing Hair Mask, $28, available at Sephora.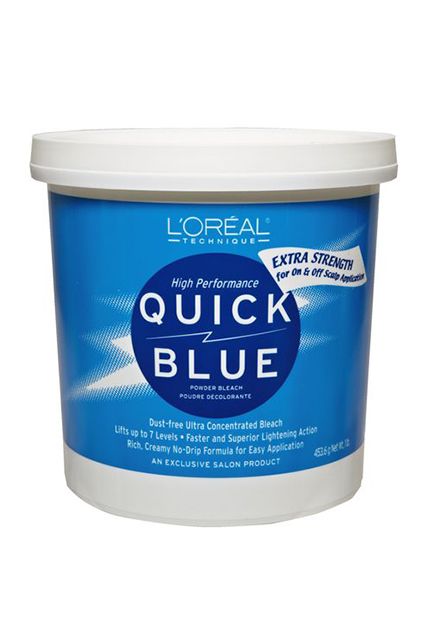 Step 3: Bleach
One of the most trusted bleaches — L'Oréal Quick Blue Powder — is also extremely cost-effective. Mix it in a bowl with some developer, which will lift hair color quickly and drastically, until the formula is about the consistency of yogurt. Darling recommends using a 30-volume developer.
This writer, however, has successfully used 40-volume developer for years to lift hair to a dramatic white-blonde sans extreme damage. Got thin, brittle hair or a sensitive scalp? Stick to a lower volume. After putting on some rubber gloves, use a tint or dye brush to apply the bleach all over your head, parting hair with the pointy end of the brush to get as close to the roots as possible. Let the bleach sit for 30 to 45 minutes, checking in the mirror periodically until your hair is a consistent light-yellow color.
Full disclosure: If you have darker hair, you'll need to go through the bleaching process a few times in order to see full results. Our pros advise waiting a few weeks between every bleach. If you OD on the stuff, it could damage strands to the point that they'll start to fall out. If a slow transition is not for you, you'll need to visit a salon professional.
L'Oréal Quick Blue High Performance Powder Lightener, $24.99, available at Sally Beauty.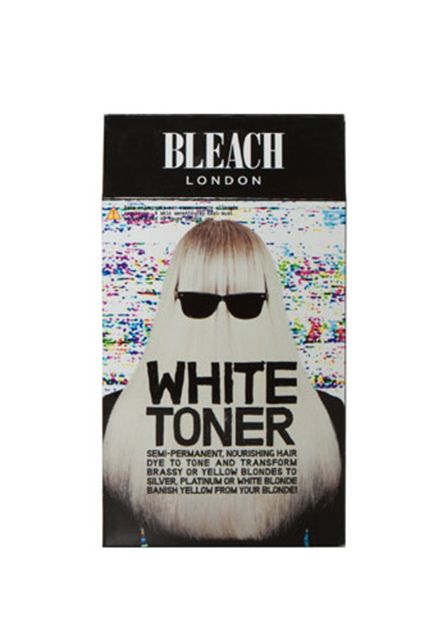 Step 4: Tone
After rinsing out the bleach and lightly shampooing, it's time for the most important step — the one that makes hair a cool white, rather than a brassy yellow. Apply a toner, like Bleach London's, all over damp hair, and let it sit for about 20 to 30 minutes. This step can be a little messy, so relax in the tub while you wait. Rinse thoroughly, and finish with a mask.
Toner kits don't have to be terribly expensive either, so don't worry about quality control. This Bleach & Toner Kit from Sally Beauty is easily available and leaves a bright, frosted 'do behind.
Bleach London White Toner Kit, $10.95, available at Bleach London.
Photo: Via Bleach London.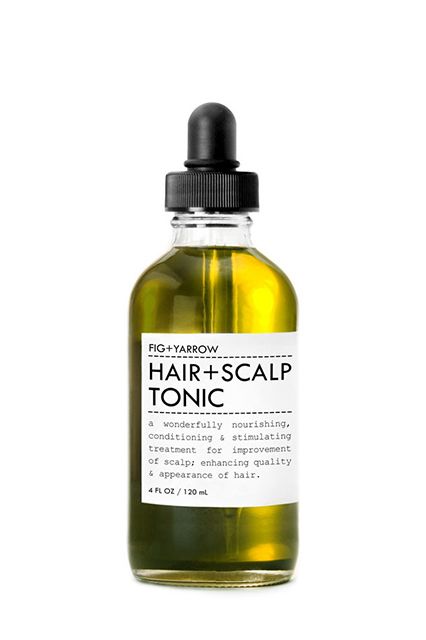 Step 5: Maintain
"Maintain with Bleach Silver Shampoo and Conditioner," Brownsell advises. These purple products will offset all that gunky brassiness and restore hair to a lustrous white. (Leave in both the shampoo and conditioner for a slight deposit of violet, which will keep your locks an icy shade of platinum.) Continue using a mask treatment once a week to keep hair strong and healthy, and regularly apply a strengthening oil, like Fig+Yarrow's, to your ends.
Or try this certified organic treatment from John Masters Organics that is a major helping hand for dried-out and frizzy hair. So those months between salon visits won't be so bad.
Fig+Yarrow Hair+Scalp Tonic, $34, available at Fig+Yarrow.
Photo: Via Fig+Yarrow.
Click HERE to read more..
You can publish this article on your website as long as you provide a link back to this page.