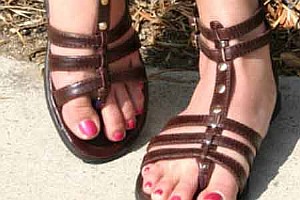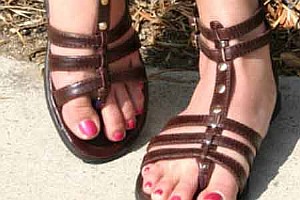 Gladiators are putting their best foot forward. Gladiator-styled sandals and shoes are officially the 'it' footwear this season.  
And they are making a pretty strong style statement. The funda, according to accessories designer Sonali Dalwani, is more the straps on the shoes, better they look. Shoe designer Rina Shah agrees, "The style is very high on comfort as gladiator shoes give a perfect grip to the ankle. They are the perfect option for flip-flops which till recently were the choicest summer wear."
Not only is this footwear perfectly suited for our summer, but gladiator shoes also look good teamed with flirty dresses, sexy shorts, sensuous capris, slim fits pants, jeans, girlie skirts and even eveningwear.
"They range from knee to mid-calf and ankle length, there's a lot of flexibility," says accessories designer Hersh Kotecha. While Sonali believes the bootie style gladiator sandals are best for Indian weather conditions.
"One happening trend is to have a play of colours and different embellishments on a single pair," Sonali says.
From delicate, embellished metallics to warrior-woman, war-like boots, with even the heels seeing a super sexy metamorphosis from original flats to chunky, aggressive platforms, wedges and stilettos. And the material varies from faux leather to satin, silk, suede and other synthetic materials.
Last year the trend was all about pretty, dainty shoes with plenty of bling. But now people are done with bling. Gladiator shoes are practical and comfortable, and the combination of leather and buckles looks great, feminine and at the same time, bold. "Last but not the least, the gladiator style covers but at the same time leaves a lot of skin exposed," says shoe designer Samir.