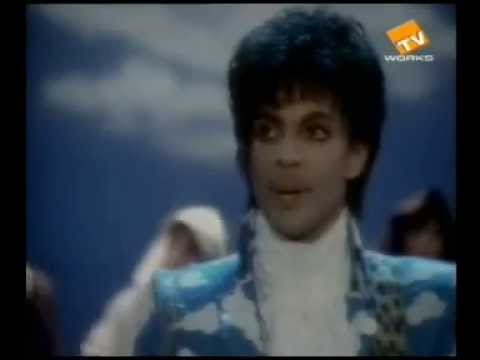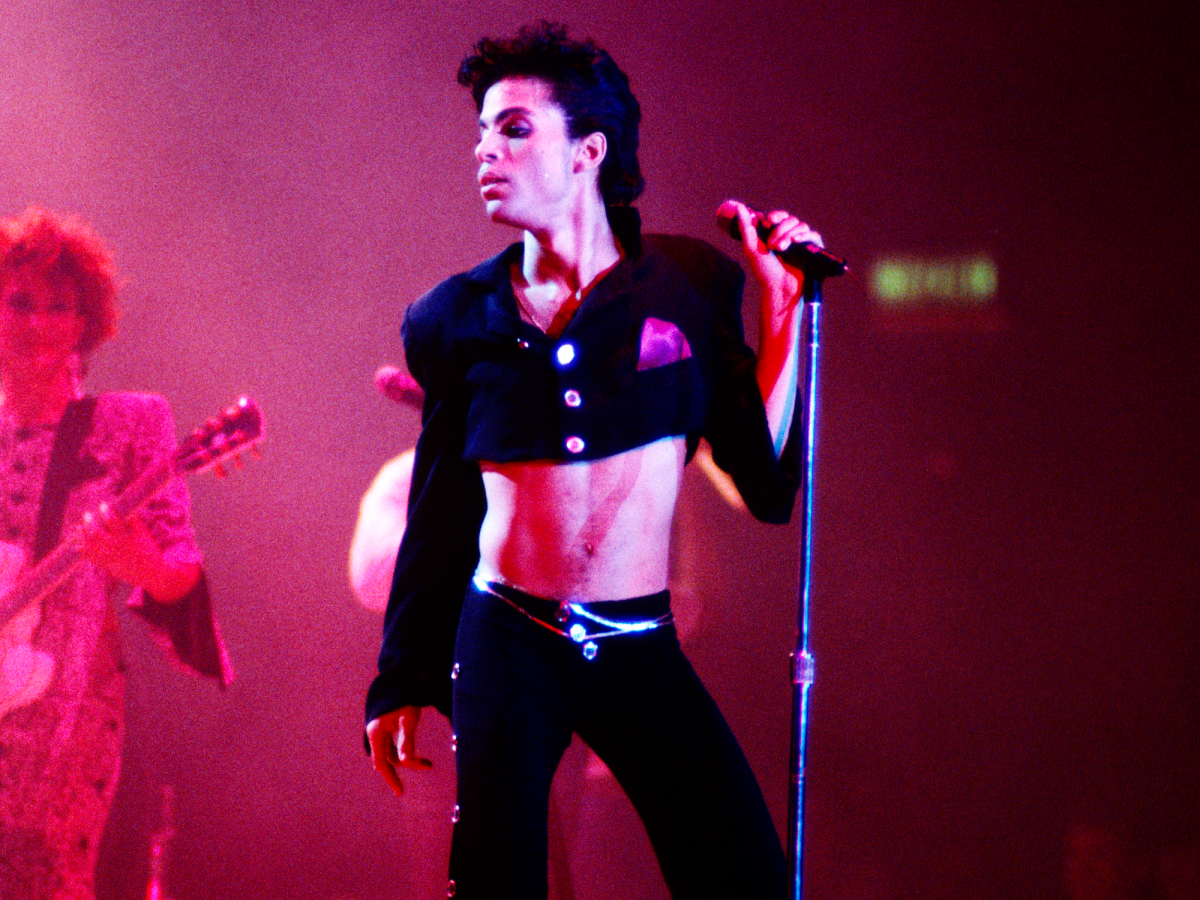 Besides being one of the most important artists in the music industry, Prince (along with David Bowie) redefined what it meant to be a man onstage. Just as crucially, he showed us how to truly craft a unique style identity. His anything-goes mentality influenced and transformed fashion's relationship with music. Be it head-to-toe lace, feather boas, or even a raspberry beret, his style — along with his music — hit hard. And it's because of artists like Prince that we can truly relish wearing whatever the fuck we want today.
Listening to Prince's music was a ritual for many of us, just like (and often accompanying) the ritual of getting ready to go out. "U got the look / U musta took a whole hour just to make up your face," he told us as we sat there wondering if we should do the sequins or not. Prince's songs made us think and inspired us to live bigger (and dress that way, too). Most importantly, they made us feel understood.
Part of that universal appeal is that there wasn't just one version of Prince: The guy was a chameleon. You can't say "I love Prince" without asking yourself which one first. His every style era brought something different to music, and with each style shift, so changed the way we perceived the man behind the microphone. But no matter what the details encompassed, they came together with confidence — and there is no confidence like Prince confidence. Now,
that
is what fashion is supposed to do. If there was no one look for Prince, does there have to be one look for
anybody
? As an ode to the giant we lost one year ago today, here are some of his best.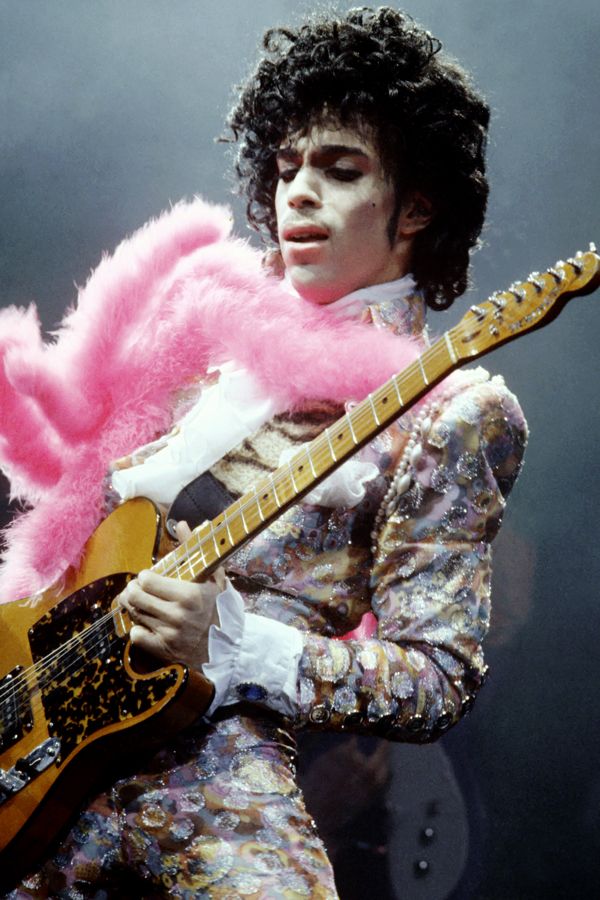 No one could make a pink boa look this badass. Prince completely shreds it on the guitar mid-concert in the 1970s, in one of his early (always-great) jacquard suits.
Photo: Michael Ochs Archives/Getty Images.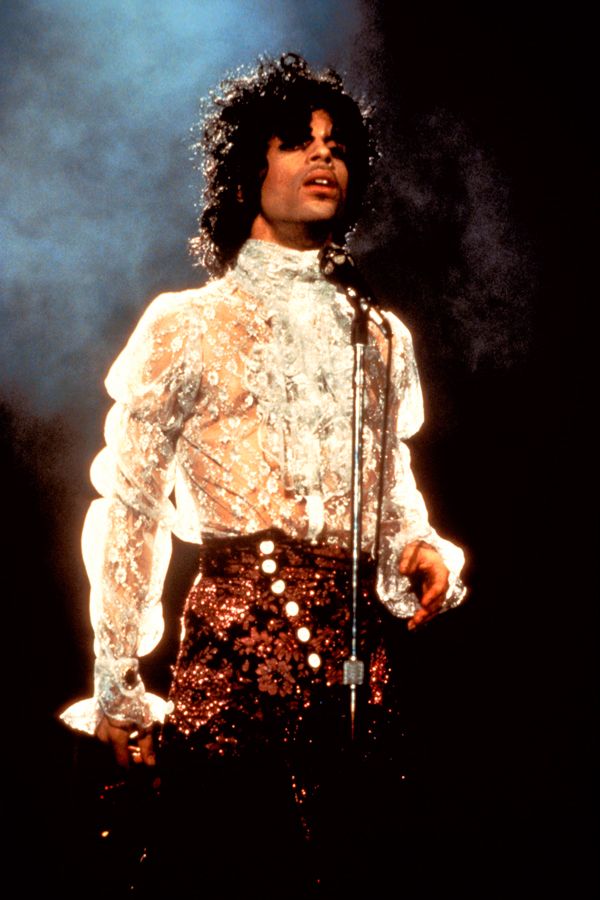 Prince is as regal as ever in a frilly white blouse during the Purple Rain tour in 1984. (There are many other great ruffle moments from his sartorial history, but this one — with sparkly high-waisted pants — feels particularly memorable to us.)
Photo: Ebet Roberts/Redferns/Getty Images.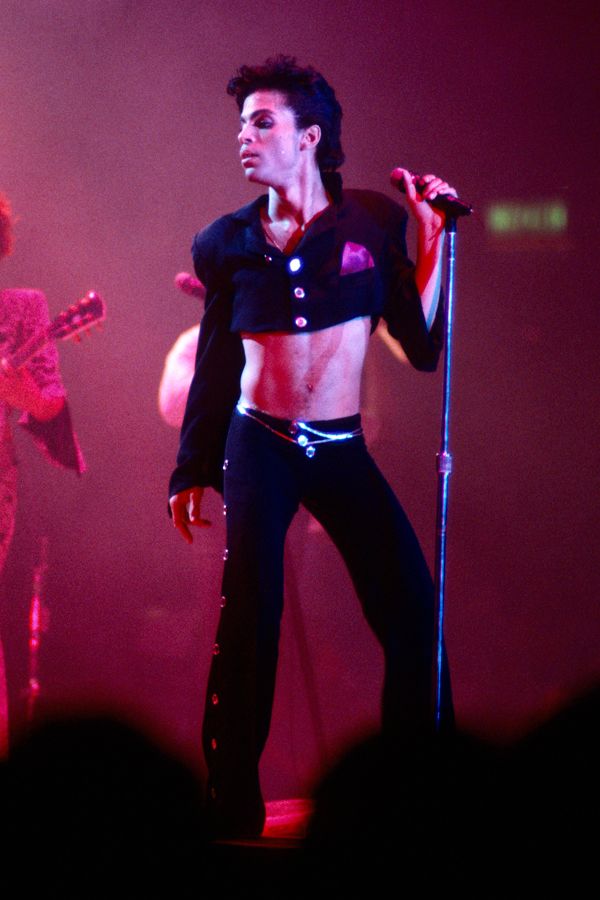 It's worth remembering that Prince was doing the cropped top/low-rise jeans thing way before it ruled the early-aughts. He was rocking the ab-baring aesthetic during his Parade tour, circa 1986.
Photo: Suzi Gibbons/Getty Images.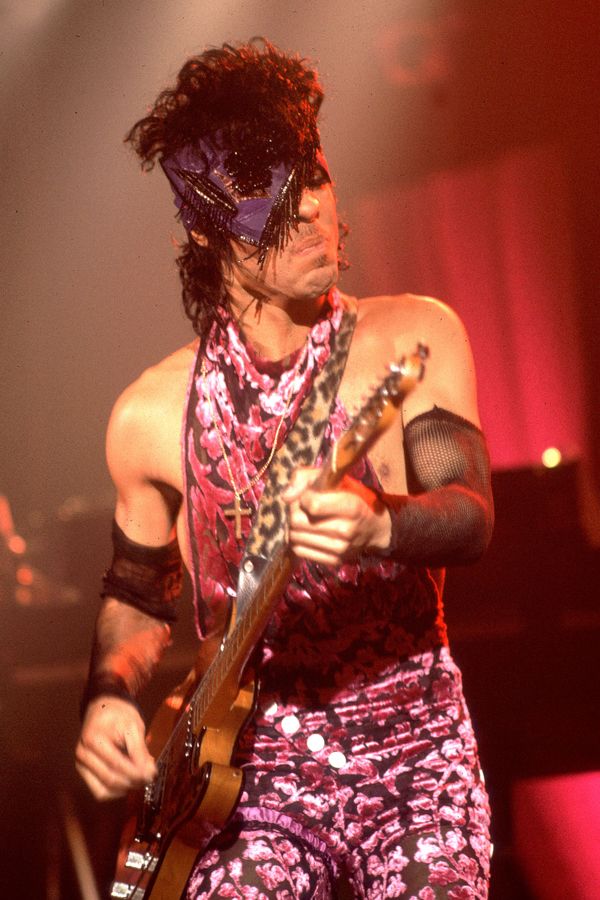 Prince opted for a halter top for his birthday getup in 1984. (And, per usual, he was on that halter-top game way early.)
Photo: Paul Natkin/WireImage.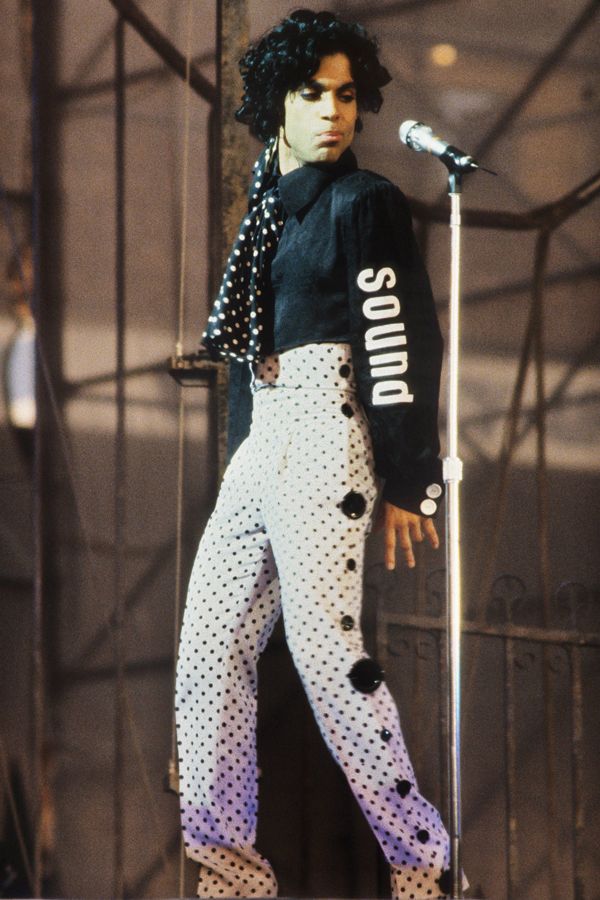 For the Lovesexy Tour, Prince wore variations on black-and-white polka dots. Here, white trousers with black dots (the hues were reversed on the scarf), with a blouse that reads "sound" down the sleeve.
Photo: Rob Verhorst/Redferns/Getty Images.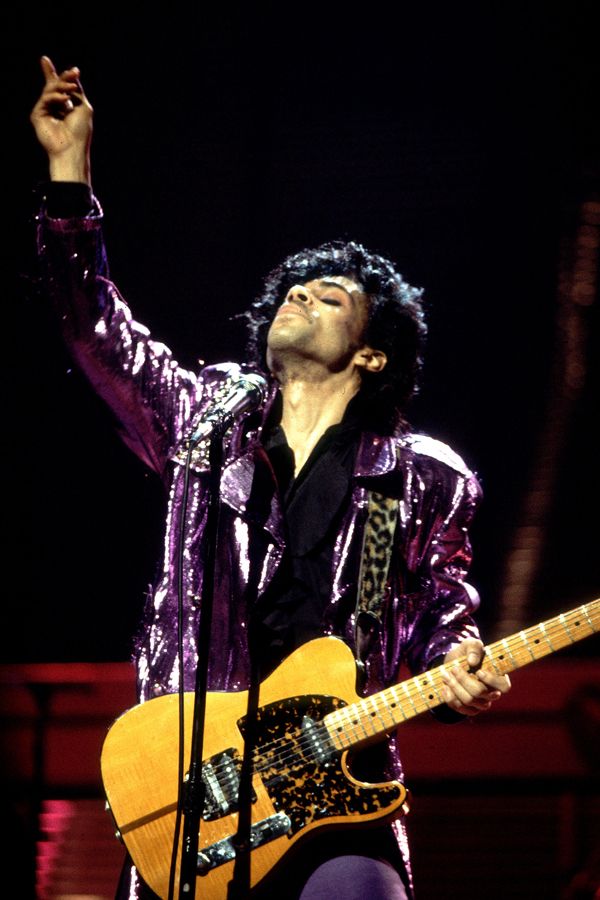 Prince has quite a moment onstage in Chicago (in a purple sequined long coat) in 1982.
Photo: Paul Natkin/WireImage.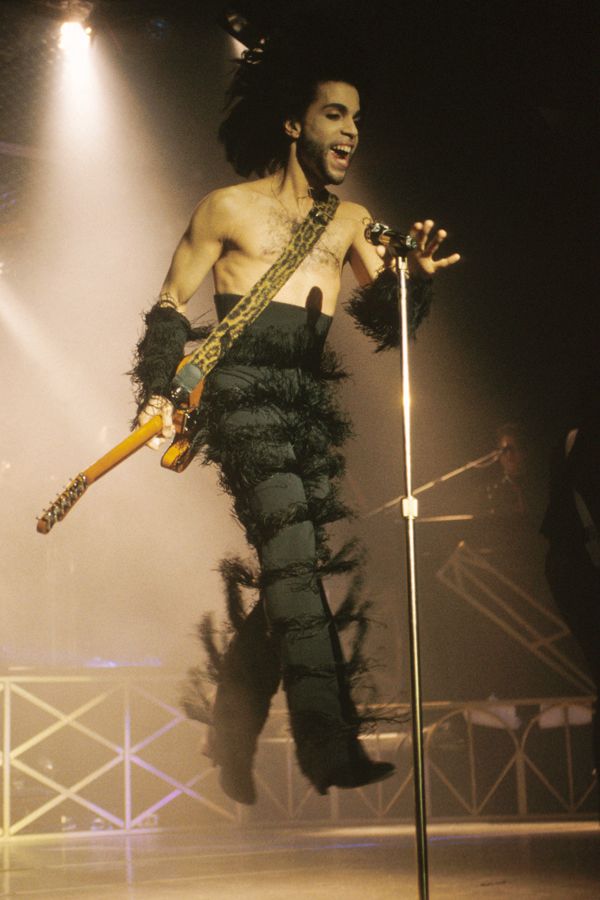 In his hometown of Minneapolis in 1990, Prince puts his fringed trousers to work while jumping around during a performance.
Photo: Frank Micelotta/ImageDirect/Getty Images.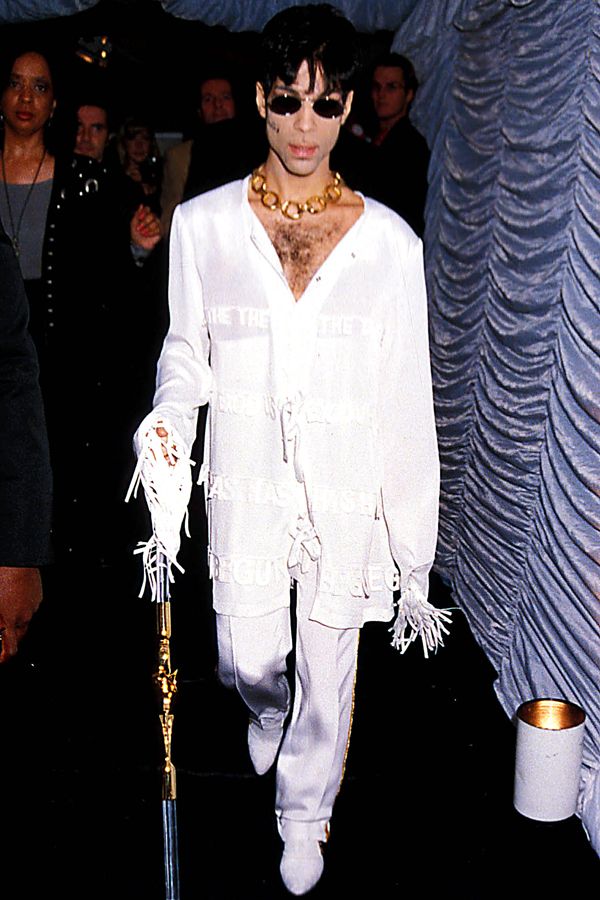 Here's a great reminder that you can wear all white, no matter the time of year. Do as Prince did, with confidence, at a party in London in 1991.
Photo: Dave Benet/Getty Images.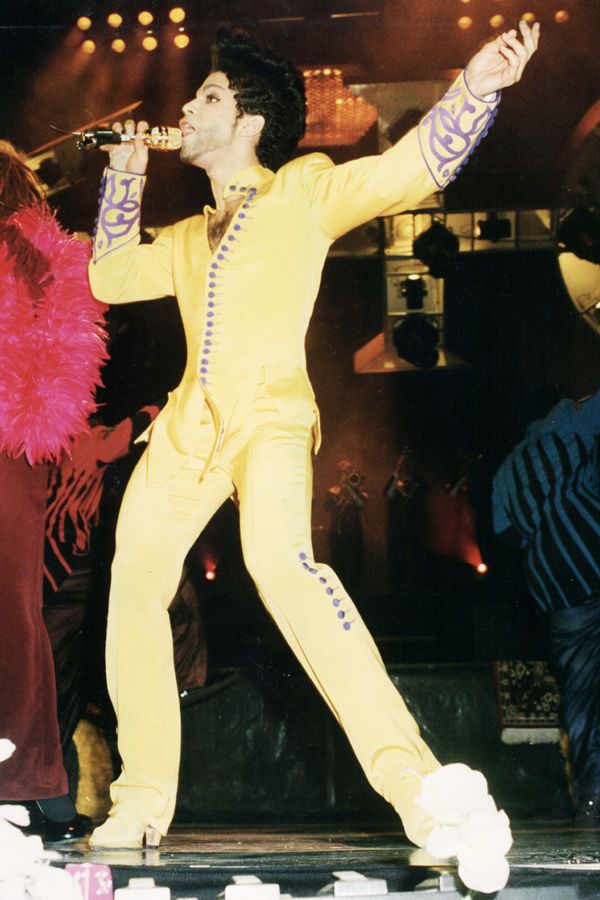 Prince takes your pinstriped suits, raises you fitted yellow fabric with lilac buttons and embroidery onstage in '92.
Photo: Dave Benett/Getty Images.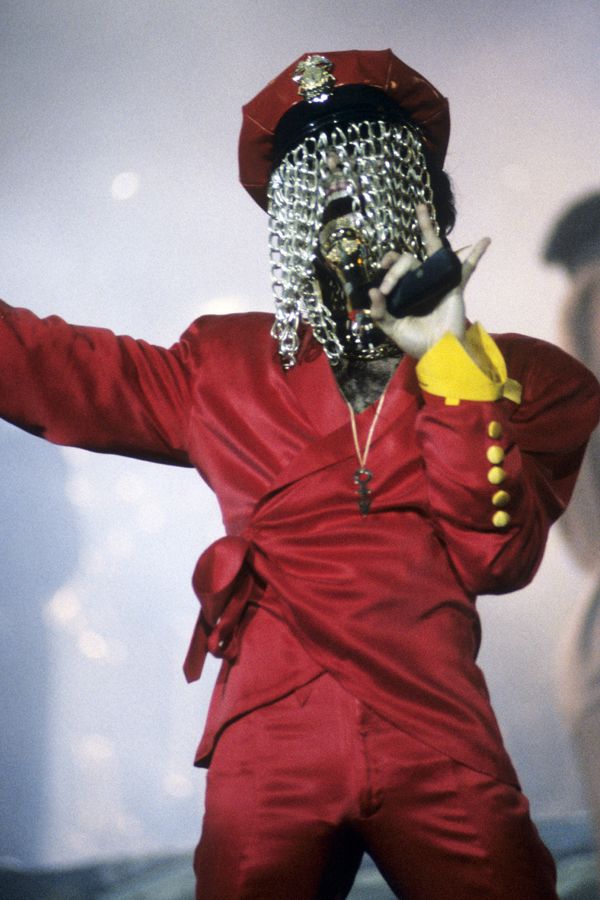 He delivers a powerful performance at Radio City Music Hall in NYC in 1993, wearing a wrap-front red suit and a police cap with a chain curtain obscuring his face.
Photo: Steve Eichner/Getty Images.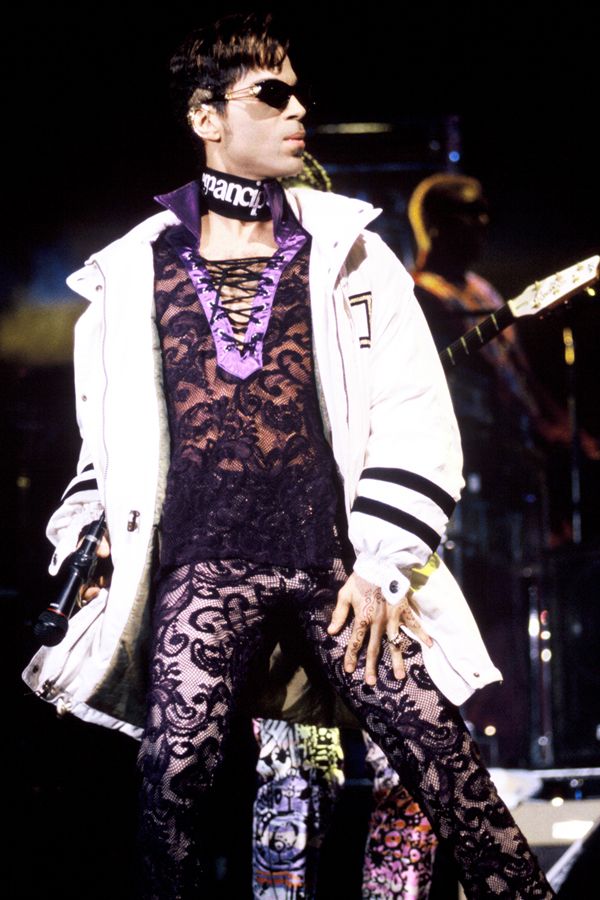 Of course he had a leg up on the lace-front comeback: The artist wears a lace blouse and matching pants in 1997.
Photo: Jim Mosenfelder/Getty Images.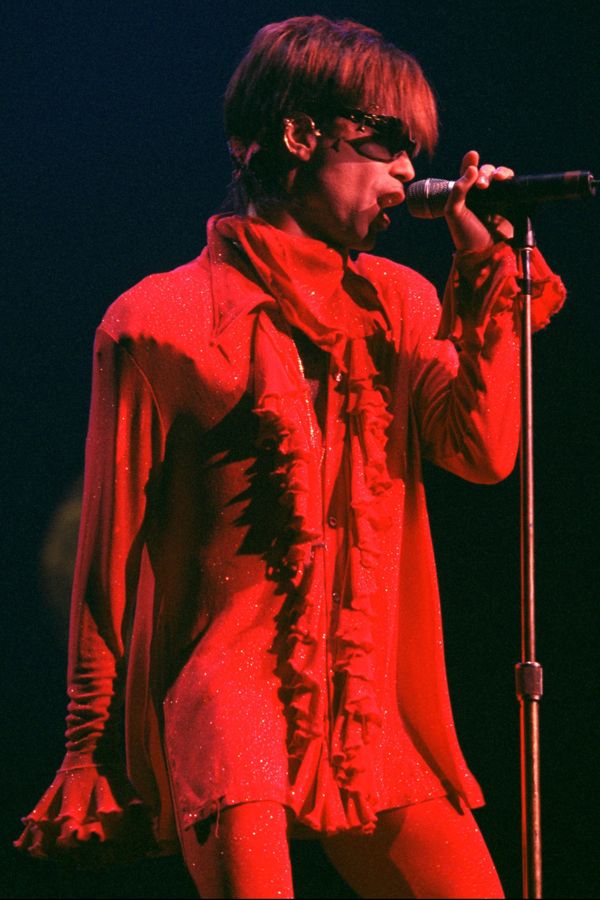 Look closely: The glittery red fabric on Prince's concert garb for The Artist Prince(1998) glimmers in the spotlight.
Photo: Gilles BASSIGNAC/Gamma-Rapho/Getty Images.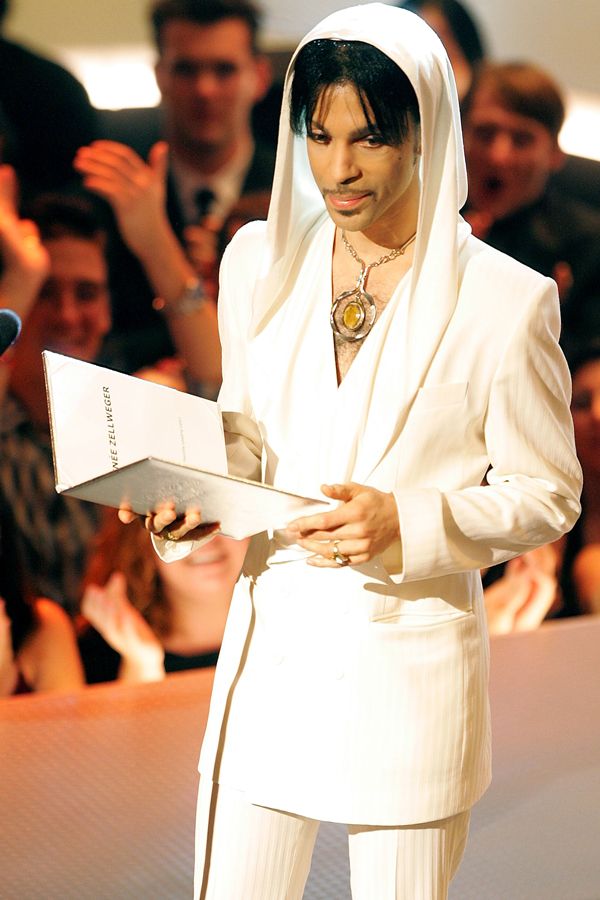 Because only Prince can make a hoodie feel formal (and luxe), as showcased in this number, which he wore to the 31st Annual People's Choice Awards in 2005.
Photo: Kevin Winter/Getty Images.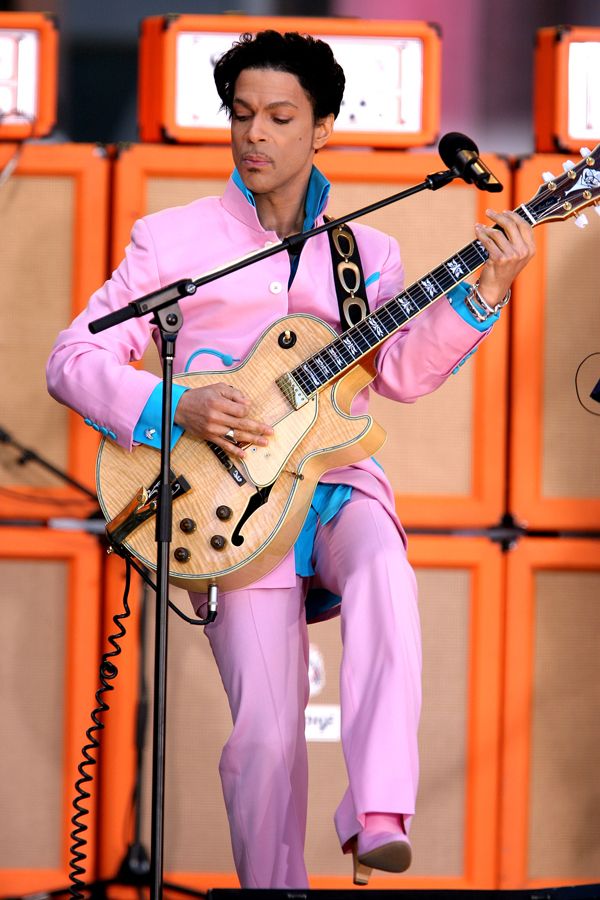 No Prince suit would be complete without matching heeled boots. Here, a dusty pink pair he wore when he performed on Good Morning America in 2006.
Photo: James Devaney/WireImage.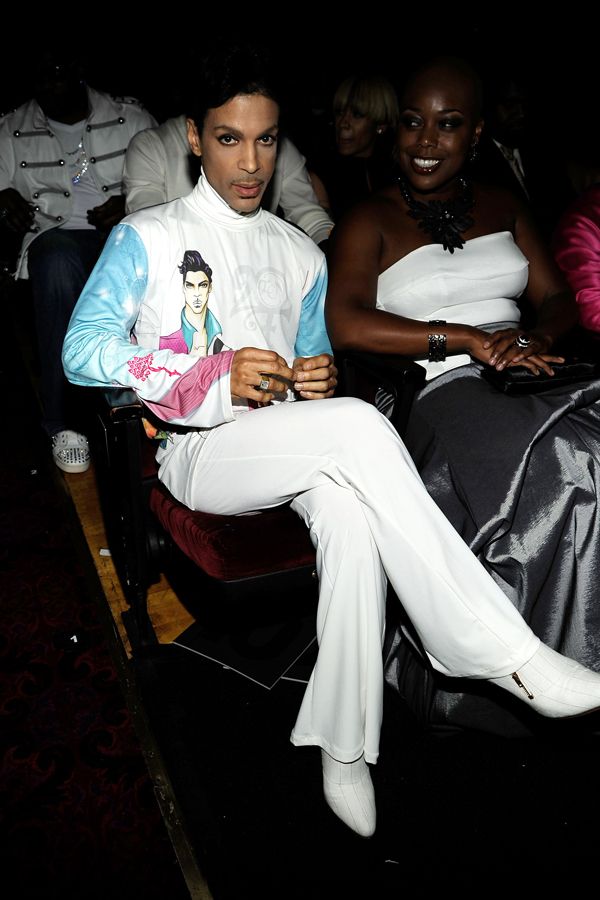 Prince (the artist) wears a blouse with Prince (the portrait of his likeness) at the 2010 BET Awards, where he received a lifetime achievement award.
Photo: Kevin Mazur/Getty Images.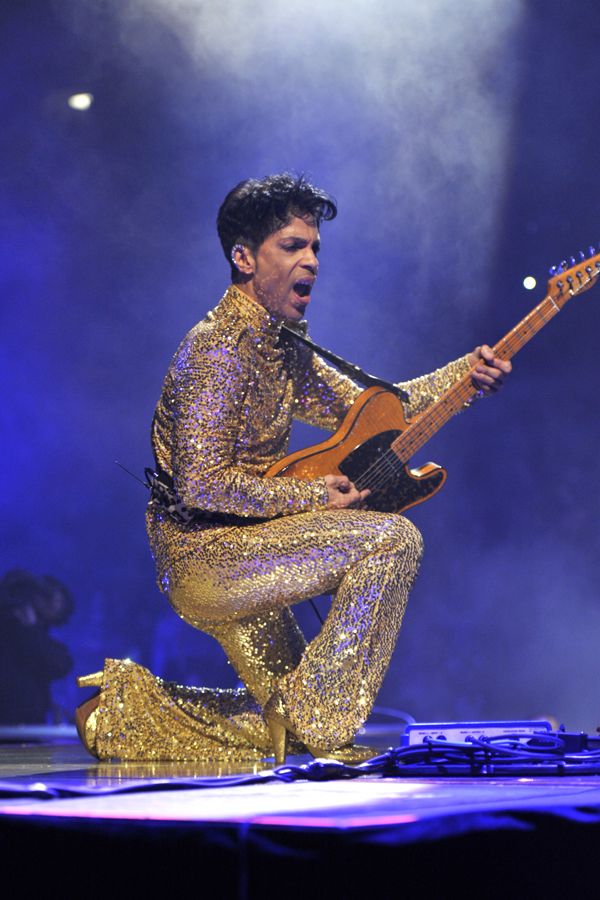 Draped with sequins from the (very high) neck down, Prince takes the stage in a golden jumpsuit and similarly gilded heels at Madison Square Garden in 2011 — because there's no such thing as too much embellishment.
Photo: Kevin Mazur/WireImage.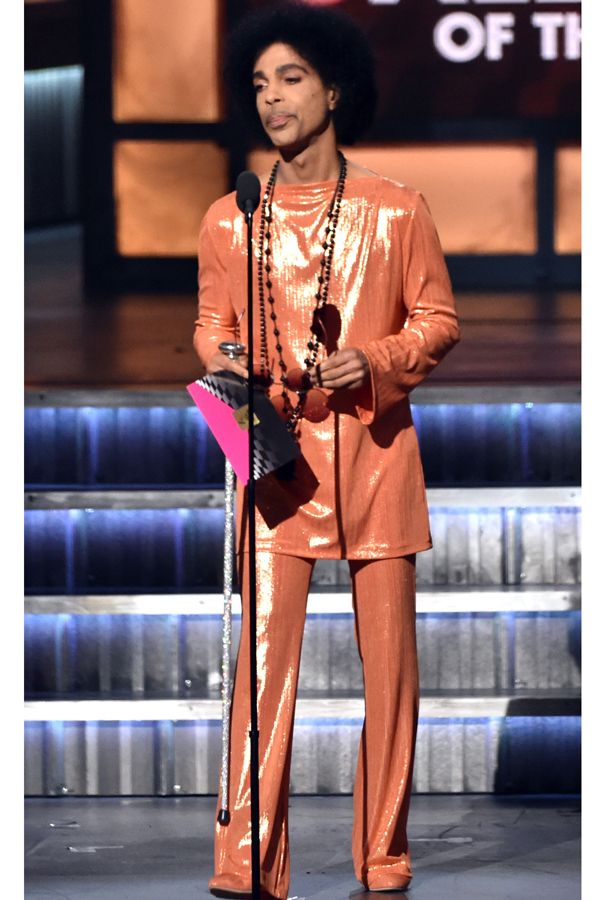 Prince kept us on our toes with each and every outfit. He wore this shiny orange set to last year's Grammys.
Photo: Kevin Winter/WireImage.
Click HERE to read more from Refinery29.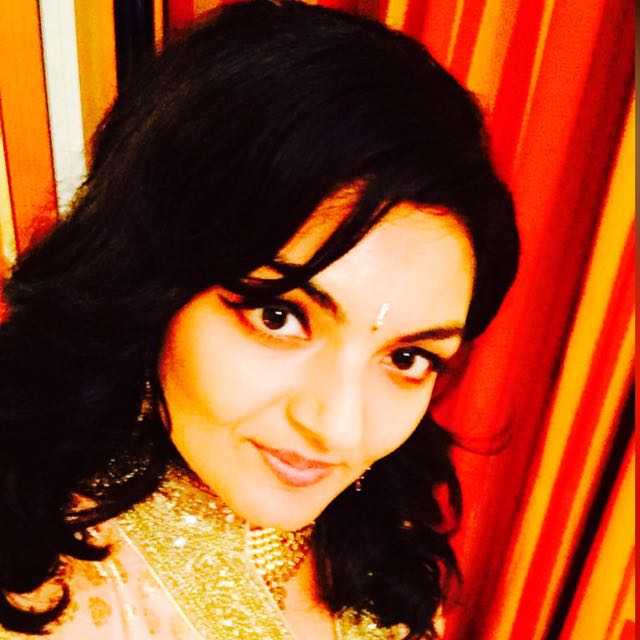 Vote for Shikha Dhingra For Mrs South Asia Canada 2017 by liking her Facebook page.


Loading ...