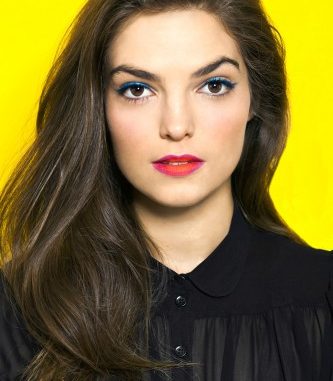 Colorblocking is in full swing for spring — we've already shown you some of our fave ways to get in on the two-tone trend — but why let your clothes have all the fun? Layering bright shadows, liners, blushes, and lipsticks can result in a cool, colorful makeup lookthat's right on trend for the season.
Just like colorblocked clothes, there's myriad possibilites with your makeup as well, so we asked makeup artist Raychel Wade to break down four of our favorite ways to get graphic. "Colorblocking is so liberating because you get to throw all of those traditional 'rules' of makeup out the window and let your creative juices flow," says Wade. "But in order to make it wearable, since we aren't all prancing down a runway each day, try and use some restraint and balance." That means highlighting one feature, rather than your entire face, to avoid looking like you got sucker-punched by a clown.
We went a little crazy with our colors (what can we say, it's go bold or go home around here), so use these editorial looks as inspiration, not literal interpretations. Tone down the colors and the application to make these more wearable, or if you're feeling fierce, just go for it! Read on to see makeup colorblocking in action, and to get Raychel's tips on how to translate the trend to the real world.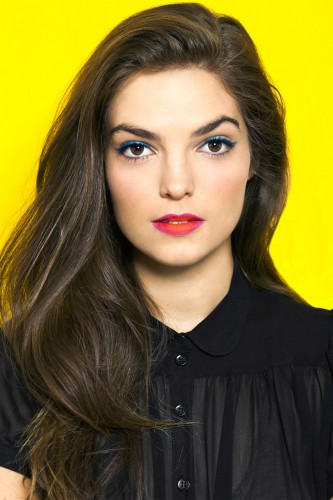 Ombré Pout
"This look was all about deconstructing the typical lips we have seen for years," says Wade. "Traditionally women use a lip pencil that's a tiny bit darker than the rest of their lip. I wanted to take that about 10 steps further and turn it into a little piece of lip art!"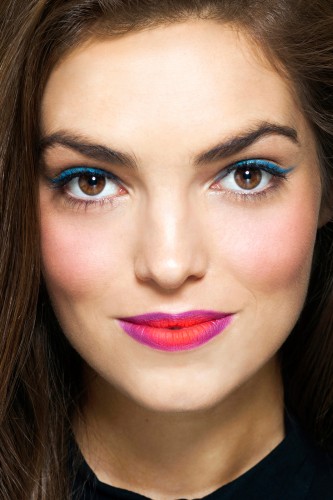 Get The Look: Wade used MAC Lip Pencil in Magenta and lightly outlined Mia's lips in a thick line all the way around her mouth. This was followed by NARS Lipstick in Funny Face which was blended from the line towards the middle of her lips. In the center, Wade then blended MAC Lipstick in Lady Danger, bleeding the bright red into the fuchsia. "To counter such a strong lip, I wanted to make the eyes natural, but bright," says Wade. She created a teal cat-eye by lining Mia's lash line with Urban Decay Glide-On Eye Pencil in Electric, winging it up and slightly out at the end of the eye. Using a slanted liner brush, she then traced over the line with MAC Pro Eyeshadow in Blue Calm. Wade finished by swiping NARS Blush in Mata Hari on the apples of the cheeks.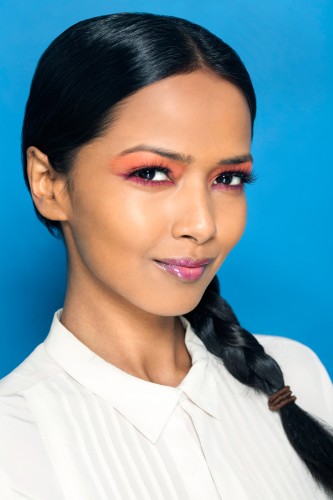 Two-Tone Gaze
This sunny look features one hue on your lids and another corresponding, yet equally bright shade along your lower lash line.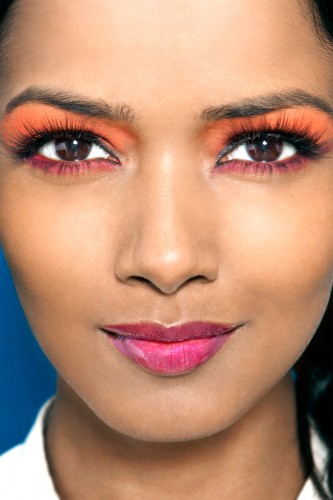 Get The Look: "I wanted to use some very unexpected colors for this look," says Wade. She started by applying MAC Electric Coral Pro Pigment on the lids from lash line to brow bone. In order to achieve an opaque color, she built on it with a few layers of the same shadow until it looked rich and even. Then, using a smudge brush, Wade lined Garima's bottom lash line with MAC Eyeshadow in Passionate. "I intentionally left her cheeks bare, but gave her a significant amount of gloss using NARS Lip Gloss in Easy Lover so that her entire look would be monochromatic," says Wade. Line your upper lash line with black liquid liner to help make the colors stand out even more. For a more tame version of this look, just apply the the coral shadow to your lid, ending at your crease.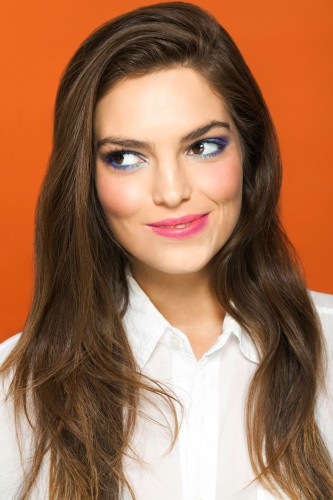 Graphic Gradient
This playful twist on the smoky eye uses shimmery shadows and a gradient effect to create a unique shadow look. Pair it with a matte, girly pink lip and blush to balance out the sparkle.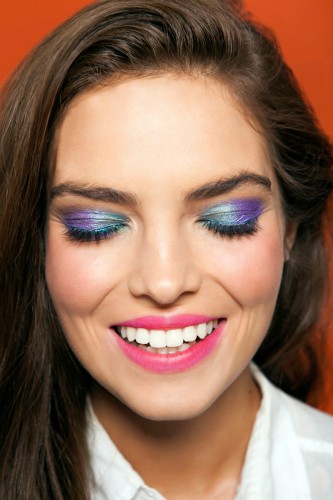 Get The Look: "I wanted to play on the traditional smoky eye of using a dark color on the outer corner and a light highlight on the inner corner, but with a colorblocking twist," says Wade. She started by applying MAC Pro Eyeshadow in Shimmermoss on the inner corner of the eye, up to the crease and to the center of the eyelid. She then applied MAC Eyeshadow in Parfait Amour from the middle of the lid out to the outer corner, blending it into the teal so the colors flowed together in the center. To make the purple really stand out, she layered MAC Pro Pigment in Violet on the outer corner of the eye and along the upper lash line. "Since the eyes were so shimmery, I kept the cheeks and lips a bright pink matte," said Wade.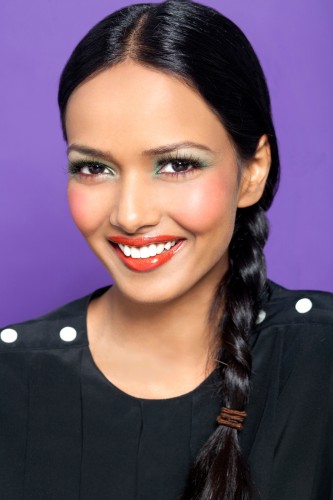 Breaking The (Makeup) Law
There's a much-heralded rule in beauty that if you do a bold eye, the rest of your makeup should be neutral. With colorblocking, that doesn't necessarily apply — as long as the eye color you use is a bright one, not a dark and moody hue. The bright colors will play off each other and make your features pop. Of course, if you're afraid of going too color crazy, you can always ditch the blush and just play with a bright eye and lip in complementary colors.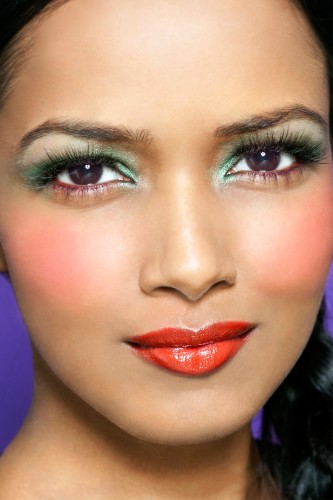 Get The Look: Wade applied primer on Garima's eyelids to help make the shadow stand out. She then applied MAC Eyeshadow in Humid all over the eyelid and up into the crease, starting strong at the lash line and blending it out so it faded before it hit the brows. This kept the shadow from looking too over-the-top, but still gave enough color that you could see the shade over her ah-MAZING lashes. To complement the green, Wade chose a vibrant coral shade for the lips and cheeks. The blush used was NARS Exhibit A and the lips were a combination of MAC Lipstick in Morange, layered with NARS Lip Gloss in Scandal to make it shine. Finally, Wade lined the bottom, inner rims of Garima's eyes with MAC Eyeshadow in Passionate — this helped tie the eye look to the bright lips and cheeks in a new and interesting way.
Makeup by Raychel Wade
Photographed by Ben Ritter
Click HERE to read more from Refinery29.