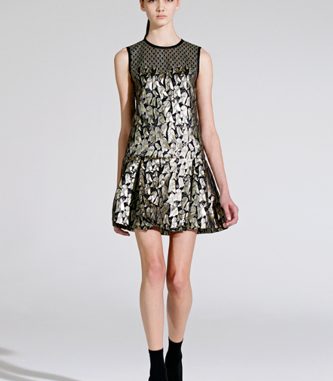 Before you all start shouting "too soon!," just hold your horses because we're not about to bring back the trapeze shape. With a drop waist and a full skirt, this new doll dress shape is not the tent-like babydoll dress of the mid '00s. Much more figure-flattering and less likely to garner the question "So, when are you due?" this new silhouette is youthful, whimsical, and not at all sloppy-looking. Designers have been dabbling with this dress style for the past couple seasons, and we think it's high-time we start embracing this as a springtime alternative to the tea dress. Ahead, seven examples of the new doll dress shape to inspire you in your springtime dress search.

A metallic mini-dress with a sweet, short skirt from Victoria Victoria Beckham.

Topshop Stripe Drop Waist Dress, $58, available at Topshop.

Prabal goes graphic with a pleated, flippy version of the doll dress shape.

Warehouse Drop Waist Crepe Dress, $87.27, available at John Lewis.

While it may be hard to pull off, this Roksanda Ilincic dress really charmed us.

Darling Chiffon Lace Babydoll Dress, $63.56, available at ASOS.

Opening Ceremony Floral Lace Babydoll Dress, $625, available at Shopbop.
Click HERE to read more from Refinery29.