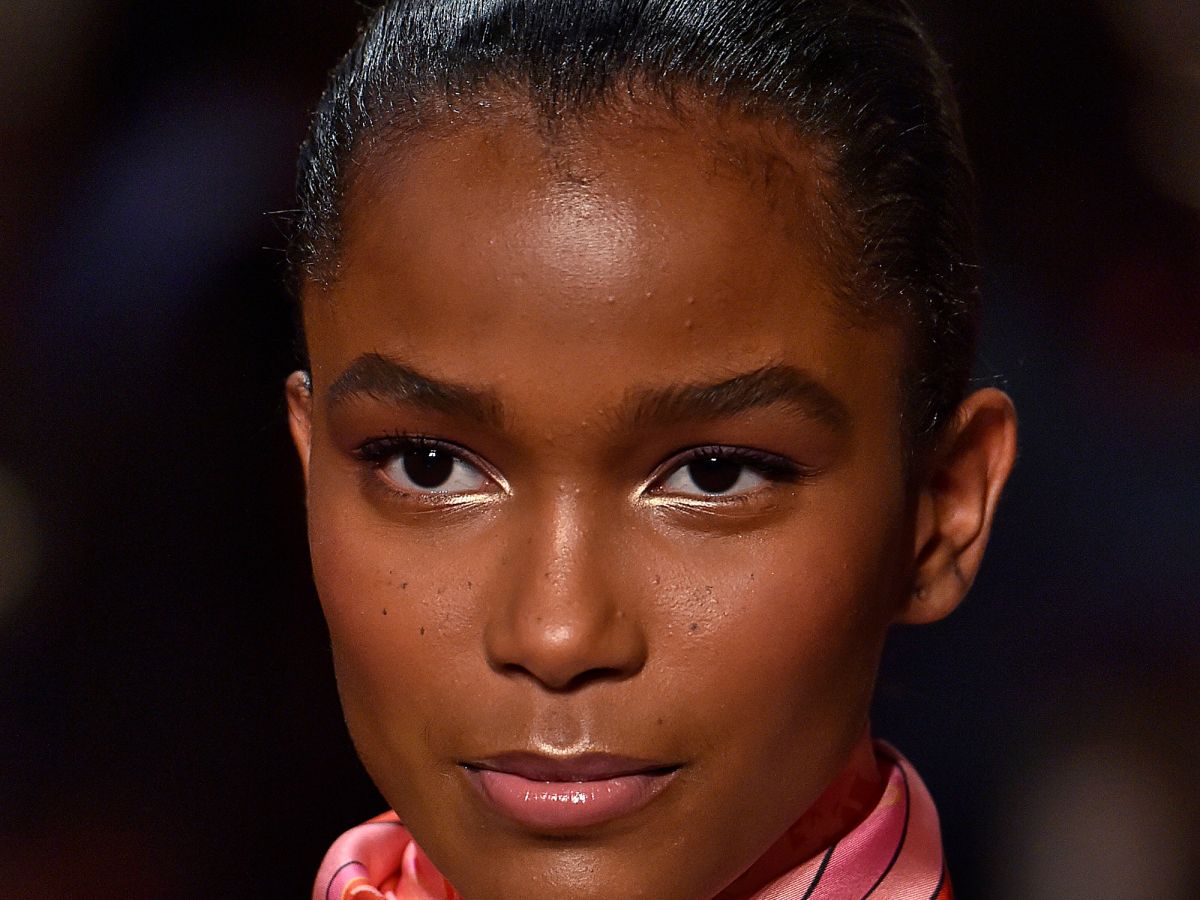 Whether you face Fashion Week with a laissez-faire attitude, or you're more militant about shows than Miranda Priestly in The Devil Wears Prada, it's safe to say that most of the makeup trends you're wearing — or thinking of trying — have been spotted on the runway at one time or another.
You wore glitter lips to your family's holiday party because of Fendi circa spring 2017. You bragged to your friends about floating creases at Coachella thanks to Anna Sui. You even matched your eyeshadow to your blush today at work in part due to Naeem Khan.
But no matter how many trends live in your history, there's always room for more in your future. Thankfully, the spring 2019 runways supplied enough neon eyeliner, glitter shadow, and smoky eyes to last a lifetime. Ready to find your new favorites? Click ahead for the best eye makeup looks from New York Fashion Week.

Club Kid Color
This look is what you get when '80s club kid meets Sleeping Beauty 's Maleficent. The neon eyeliner from The Blonds is one retro trend that doesn't feel dated. Sure, we might skip it for work, but there's no telling where our minds — and liners — will wander come Friday night.
Photo: Dia Dipasupil/Getty Images.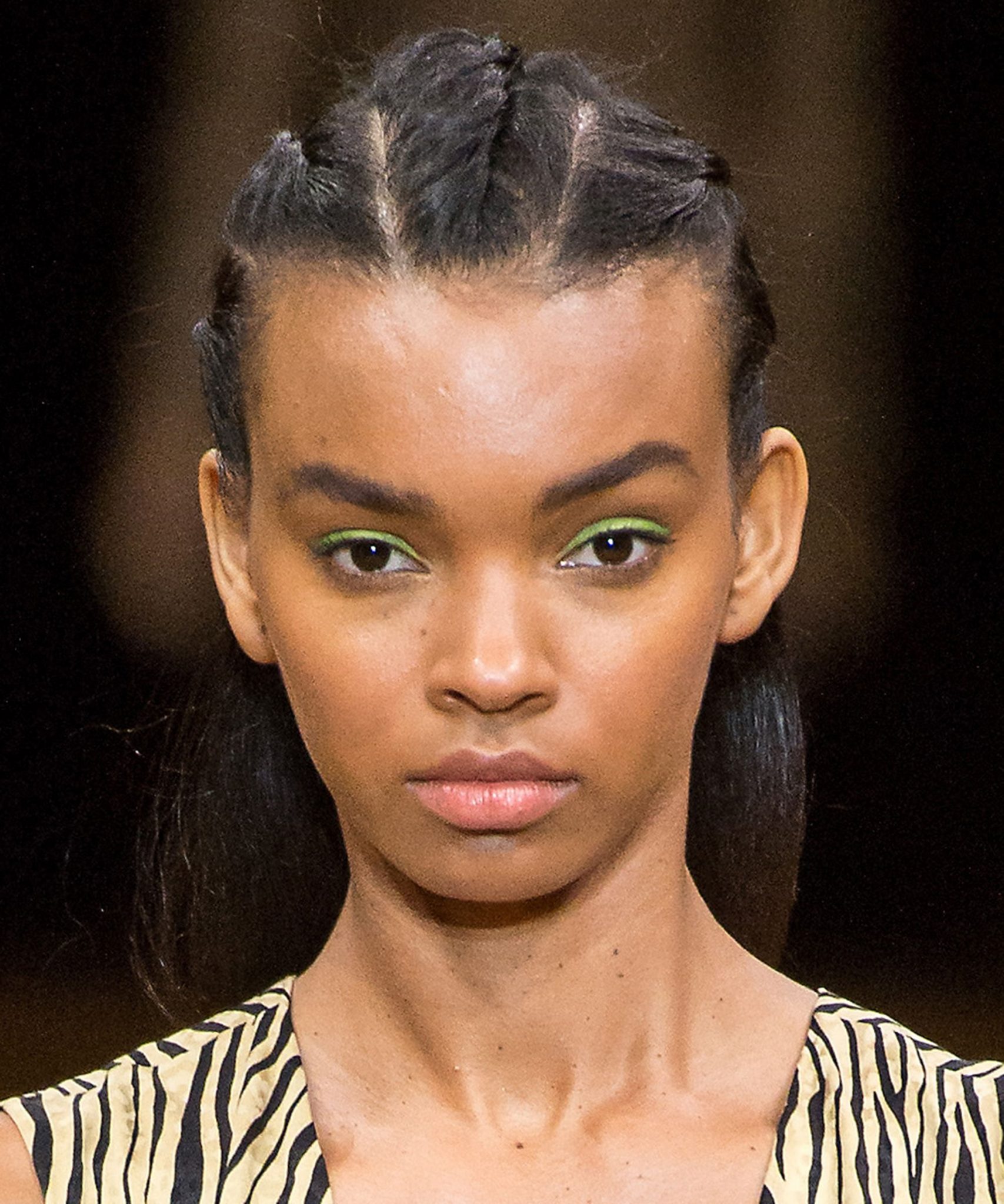 Christian Siriano's runway always exudes glamour, no matter the season. But this touch of chartreuse on the lids is the perfect pick-me-up for an otherwise bare-faced look.
Photo: Imaxtree.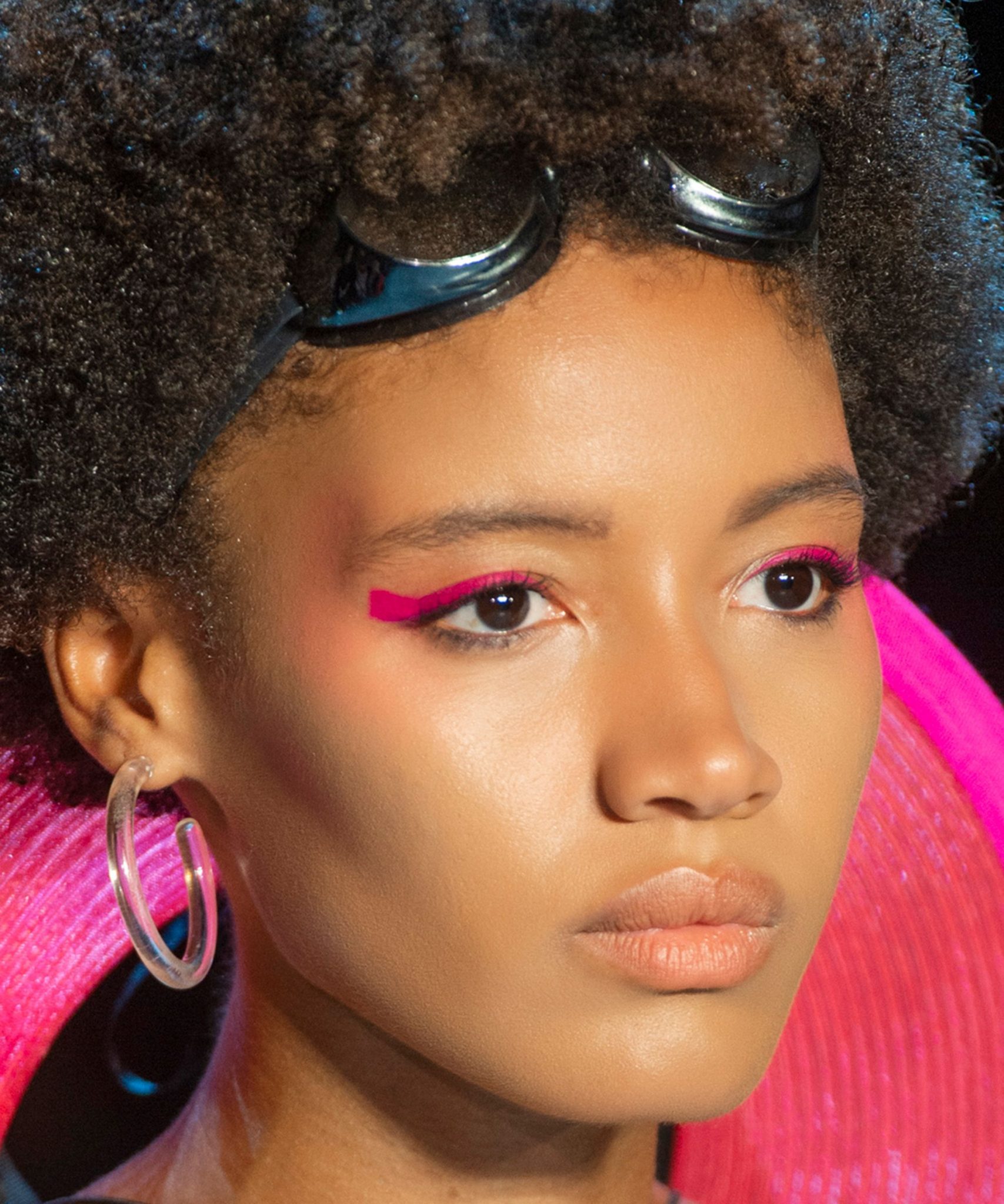 It appears "thumbprint eyeliner " is getting a second chance this season. Why we love it: It requires less precision than a cate-eye and is a tamer version of an entire lid color-blocked in pigment — and you don't even need eyeliner to do it. MAC's Retro Matte Liquid Lipcolor in Tailored To Tease is to credit for this Chromat look. At home, you can trace the top lash line with any magenta kajal eyeliner.
Photo: Imaxtree.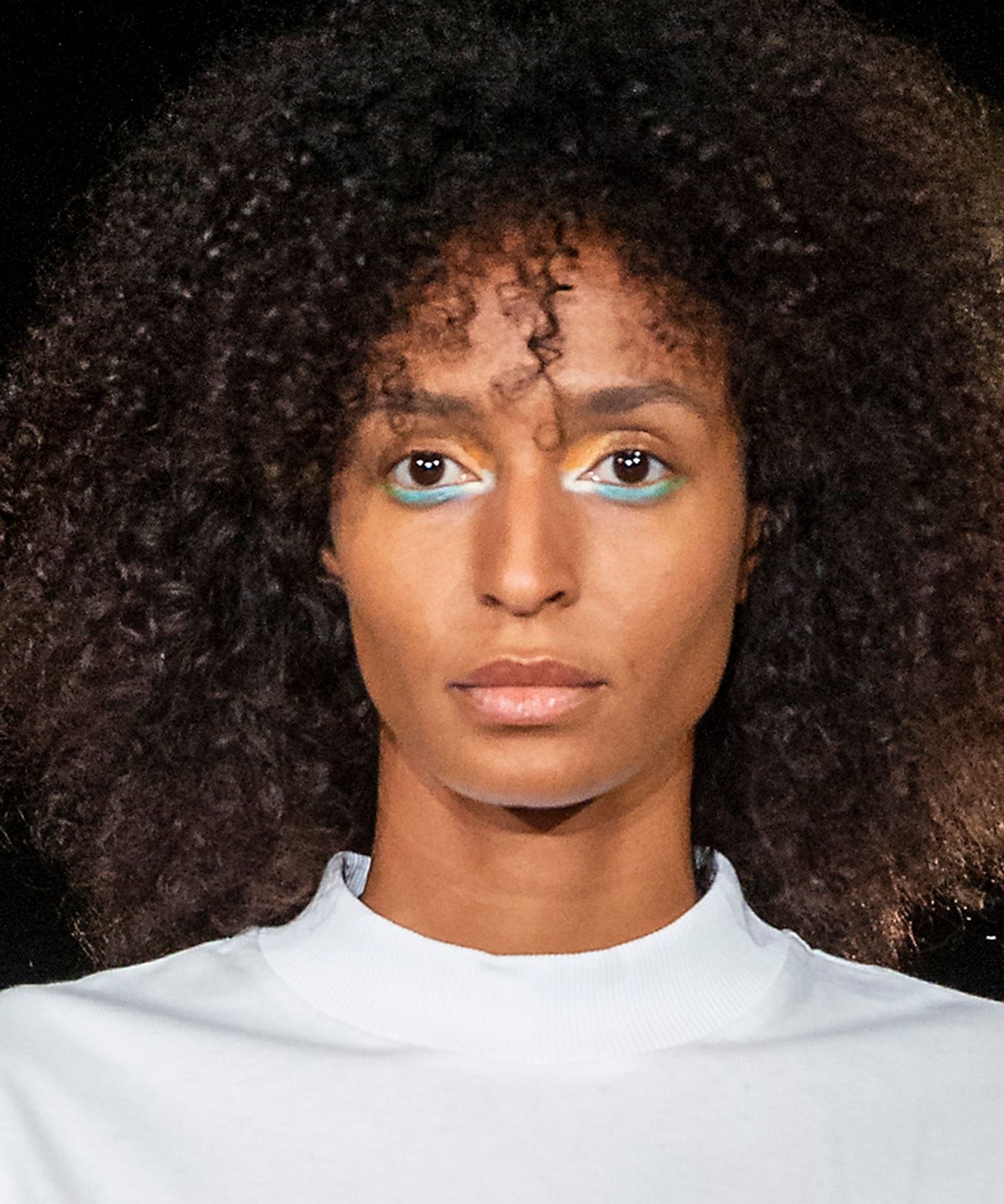 Nothing But The Inner Corners
This season's Pyer Moss show was memorable for reasons beyond the makeup. Still, if you want to take away something extra, notice the eyeliner focused anywhere but the lid — specifically a white liner on the inner corners and a blue on the bottom lash line.
Photo: Imaxtree.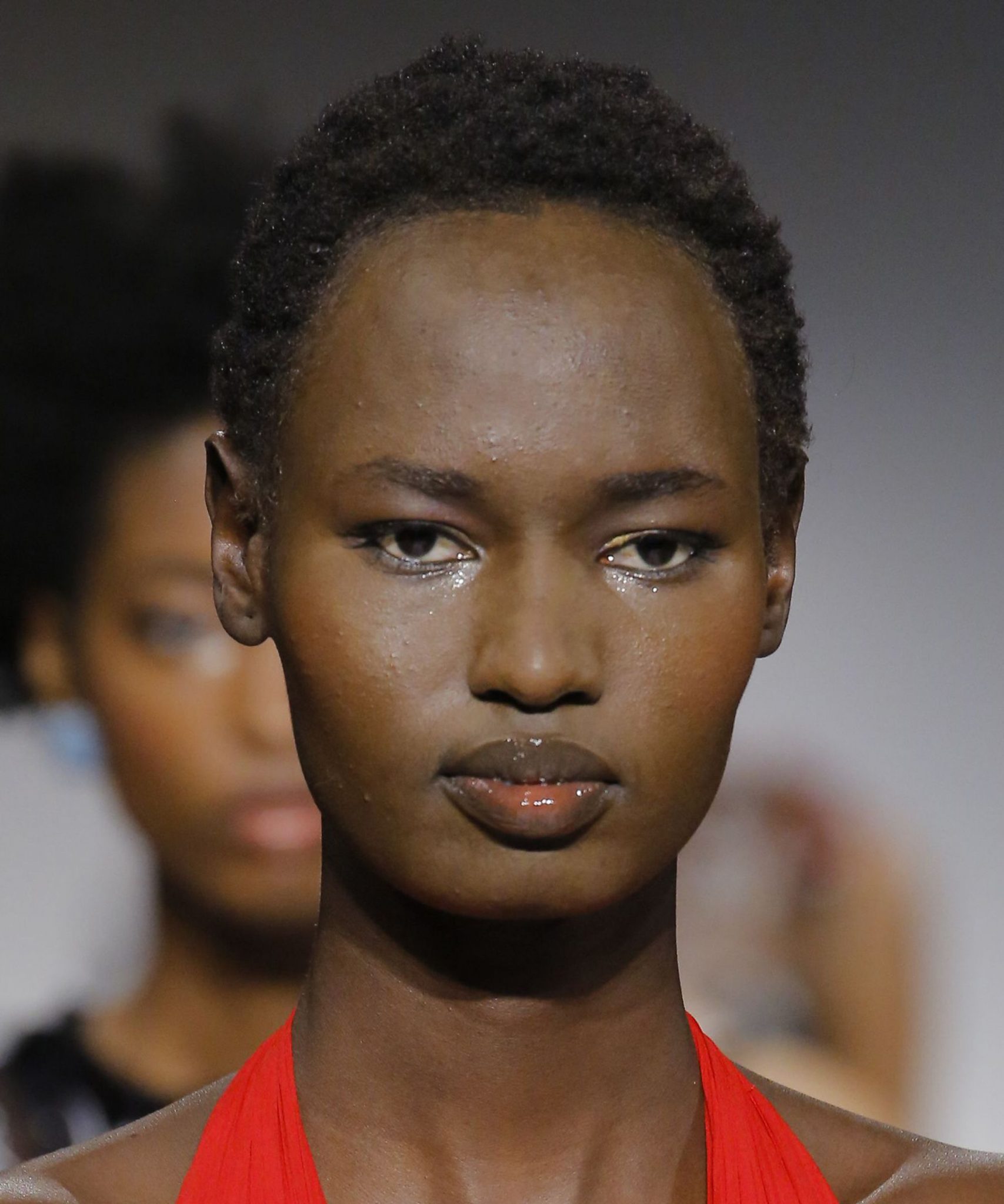 Glitter tears were all over Coachella Valley, then the Met Gala, and most recently Dennis Basso's runway. This version is the most subtle yet — and wearable even without a flower crown.
Photo: Pixelformula/SIPA/Shutterstock.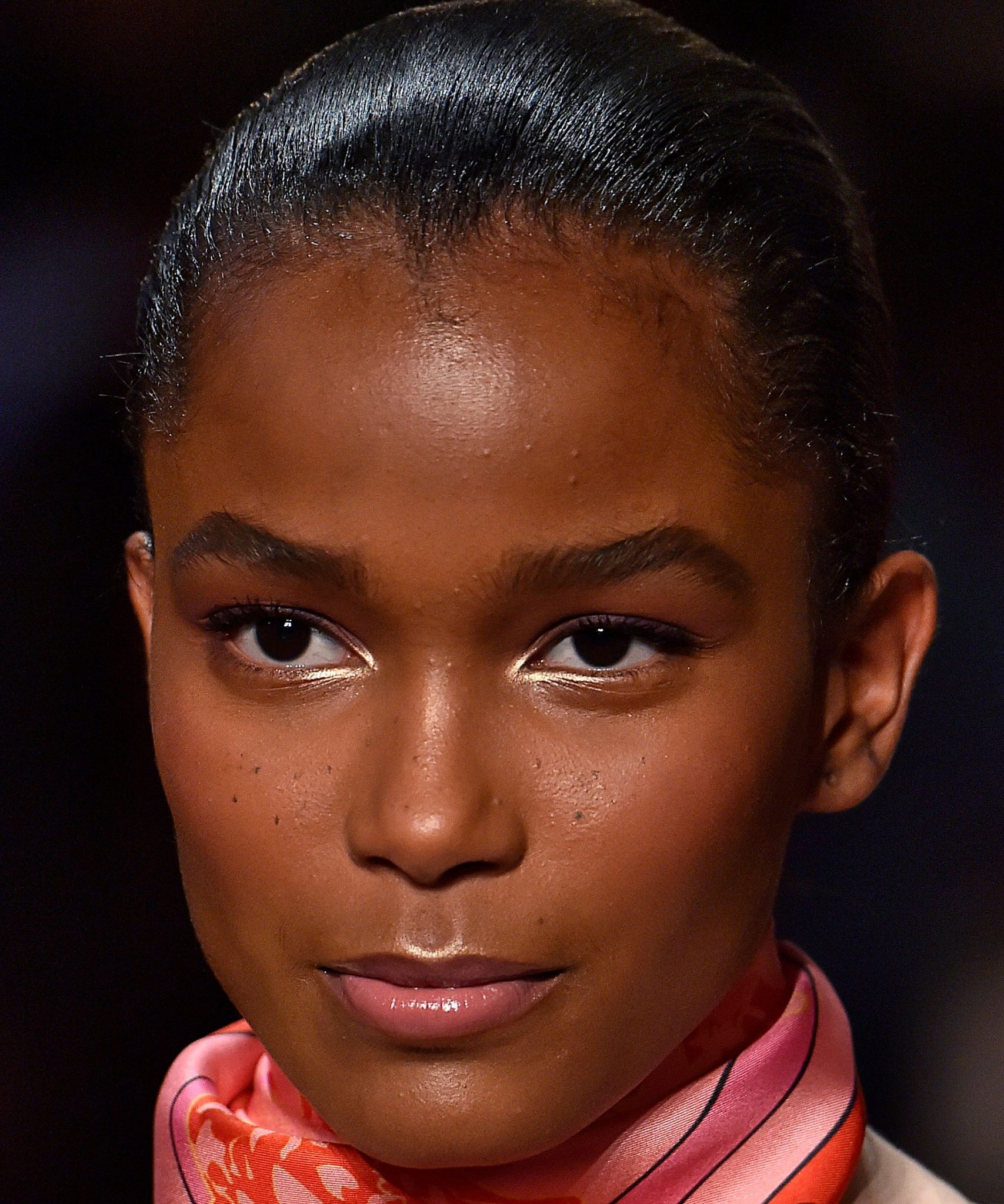 Inner corner strobing just got even brighter. Swap out the iridescent shadow for a metallic eyeliner, and you'll blend in with the Texan Barbies at Brandon Maxwell.
Photo: Victor VIRGILE/Gamma-Rapho/Getty Images.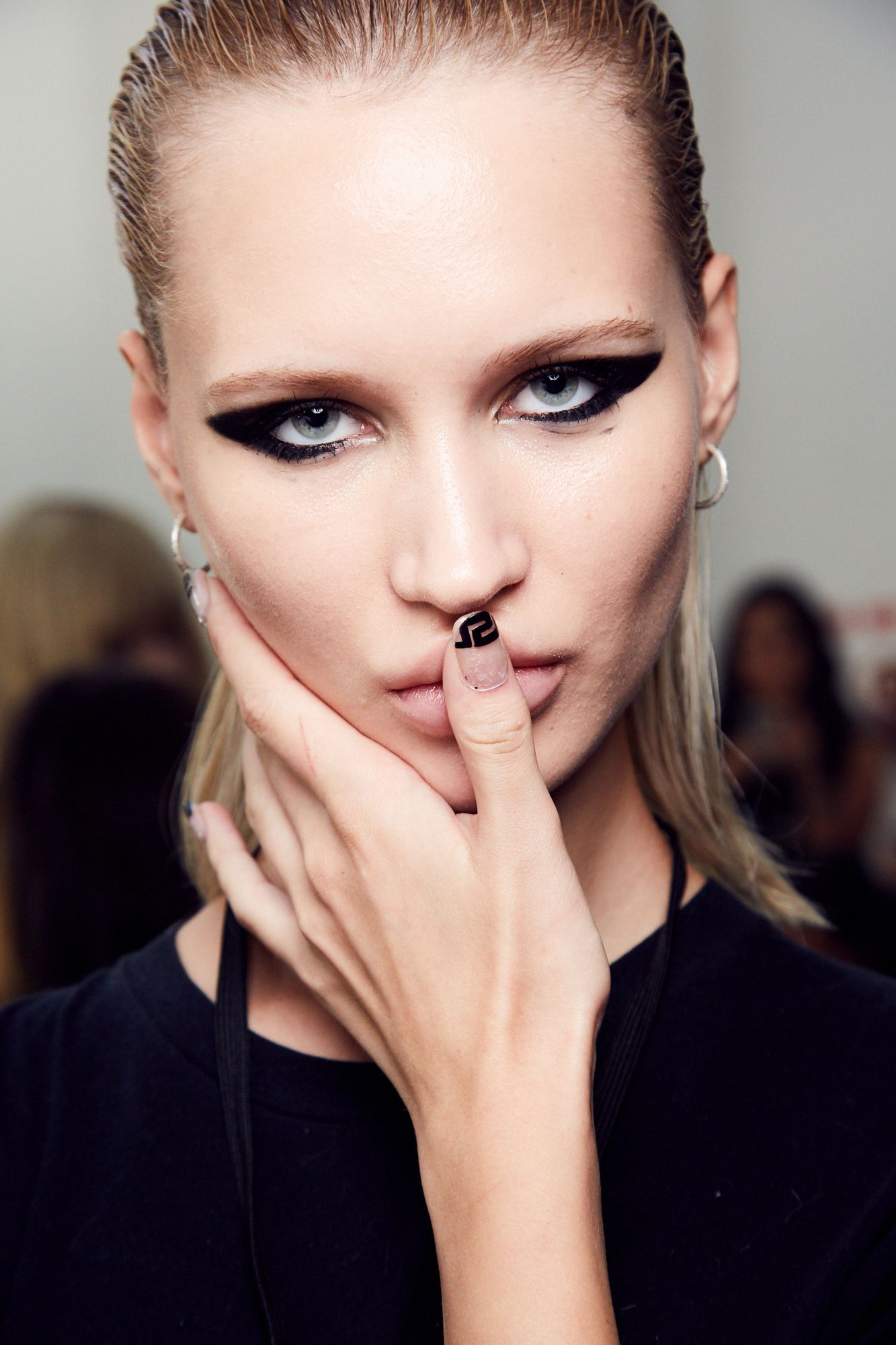 Emo Liner
Emo eyeliner is back and… sexy? As the descendant of '80s goth and '90s grunge, it's no wonder this eye look from Kith is graphic, dramatic, and holding nothing back. According to Grace Lee, all you need is a waterproof eyeliner pencil (she used Maybelline's Eyestudio Lasting Drama Waterproof Gel Pencil), a liquid makeup remover, and some cotton swabs (to perfect the precise lines).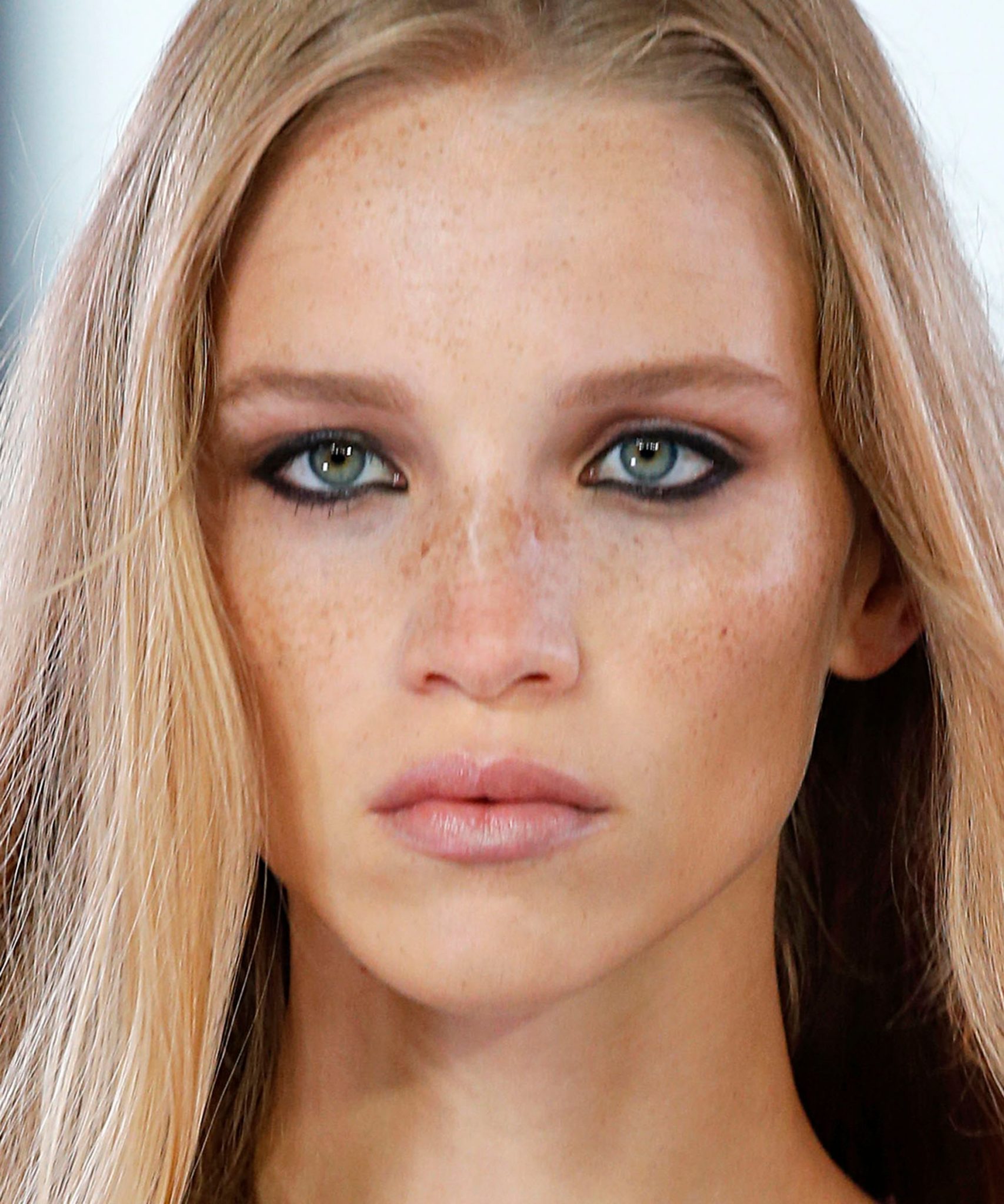 It was only a matter of time before this eyeliner trend came back — we just never expected to see it on a Longchamp runway. Thankfully, it's had a bit of makeover since we wore it in middle school (think: Kate Moss at Glastonbury) and doesn't look quite as messy as it did in 2003.
Photo: Victor VIRGILE/Gamma-Rapho/Getty Images.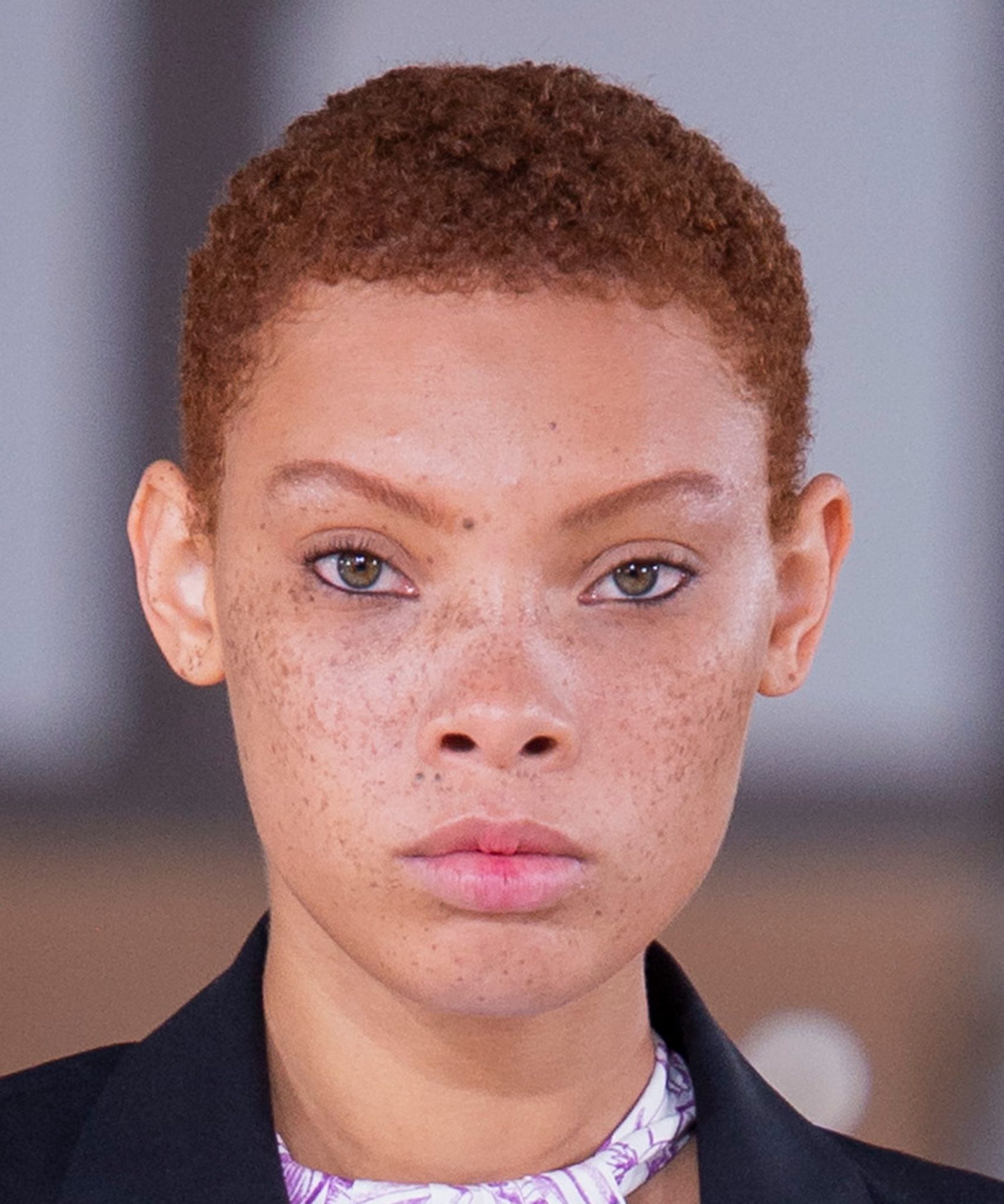 But heavy-handed liner isn't always the most flattering (especially if you haven't gotten a full eight hours of sleep). Consider easing up on the product, like this look at Tibi, and focusing most of the dark pigment on the waterline of your top and bottom lids.
Photo: Imaxtree.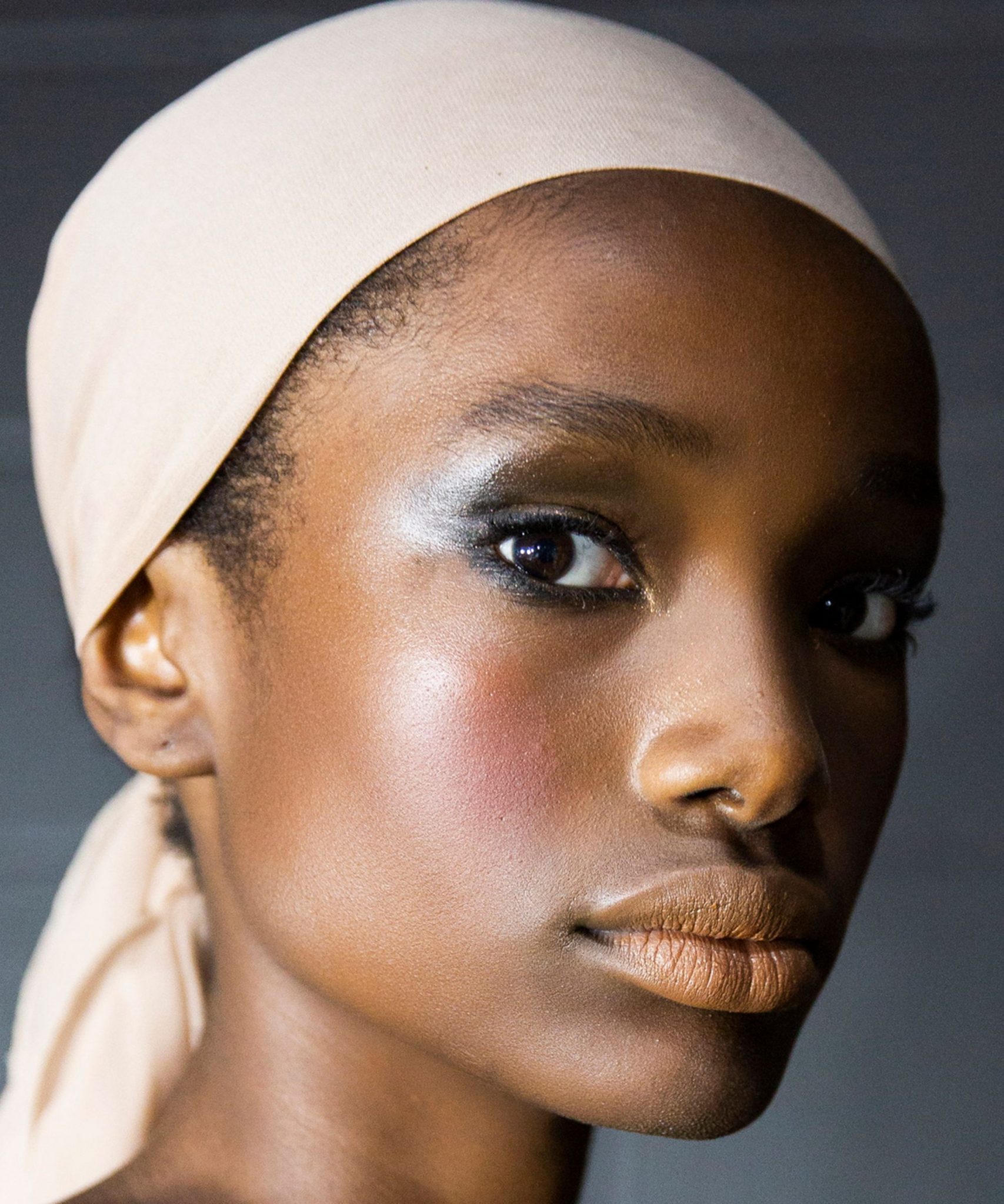 The New Smoky
Not everything is as it seems with Tom Ford's latest take on the smoky eye. With a hint of '70s spice, this buttery blend of color uses browns, blacks, and golds to make the outdated smoky eye soft and sexy all over again.
Photo: Imaxtree.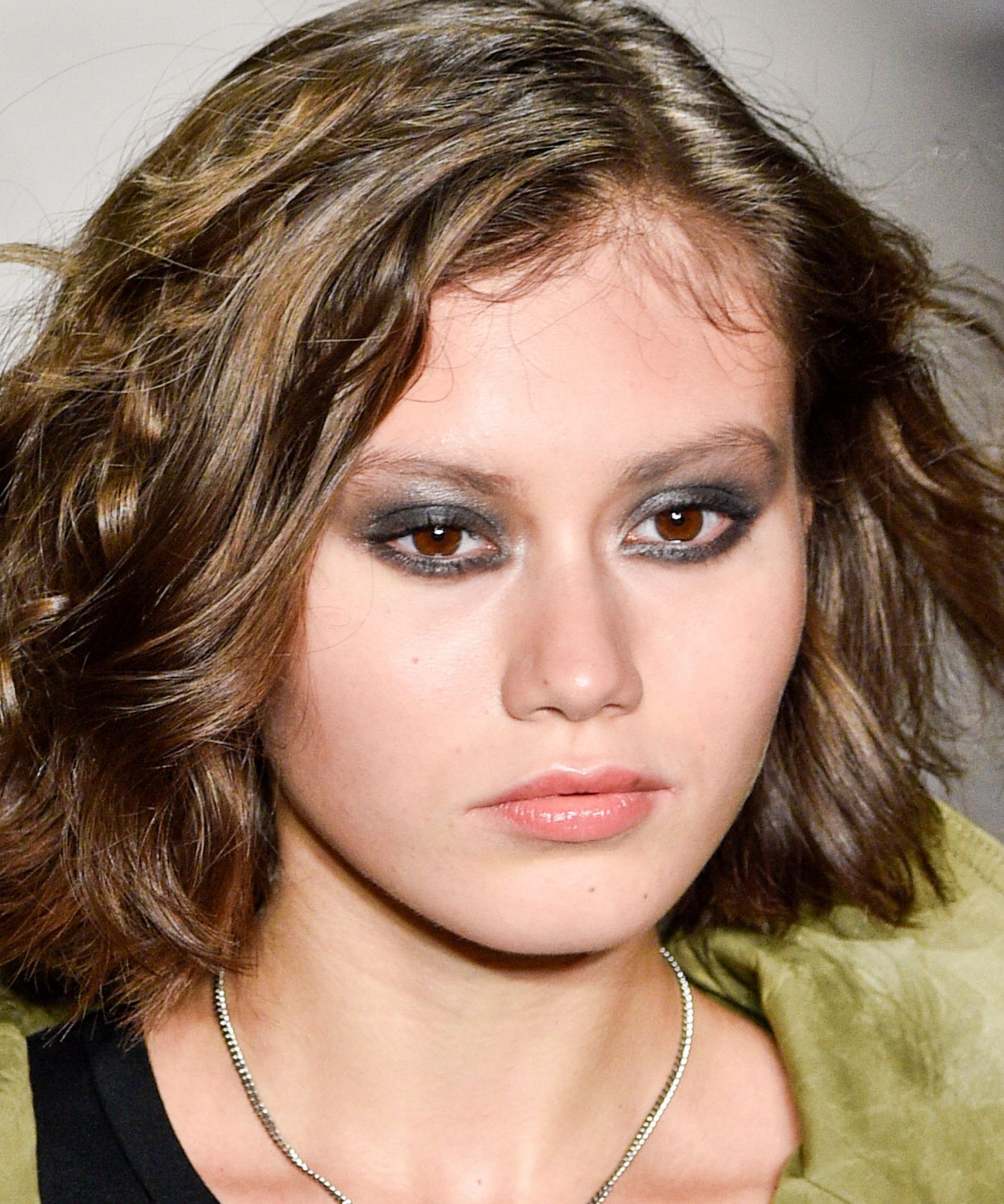 The next throwback look comes from Nicole Miller's collection. It's basically one major homage to the '80s — at least all the cool parts. Every model's eye was covered in charcoal shadow, smudged from the brow bone to the outer corners. It's the classic trend, but with a messy, feminine flair.
Photo: Pietro D'aprano/FilmMagic.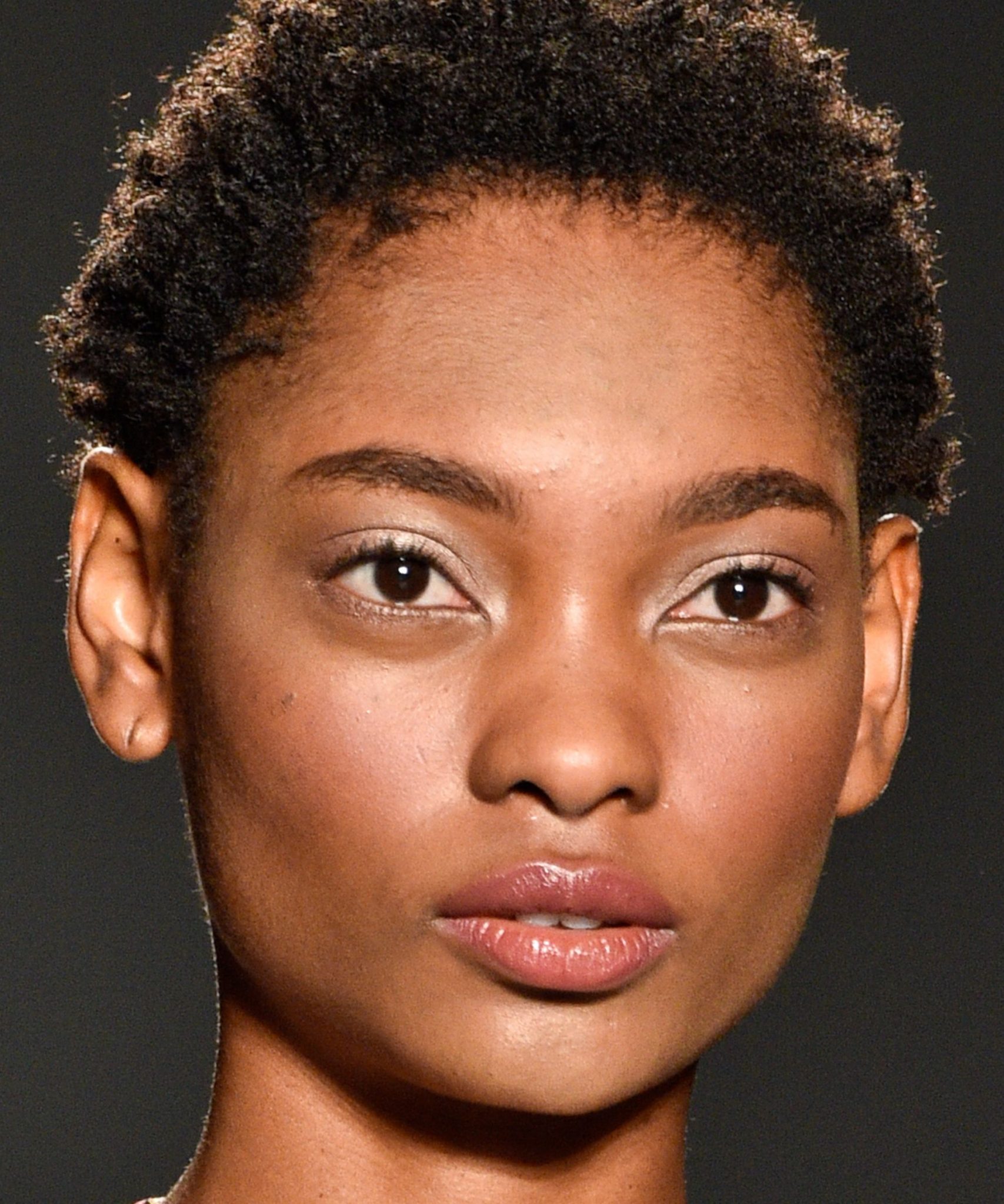 Light, ethereal, and almost not a smoky eye at all, Custo Barcelona's wash of gray eyeshadow is for anyone who wants to party, but can't handle the clean-up later.
Photo: Pietro D'aprano/FilmMagic.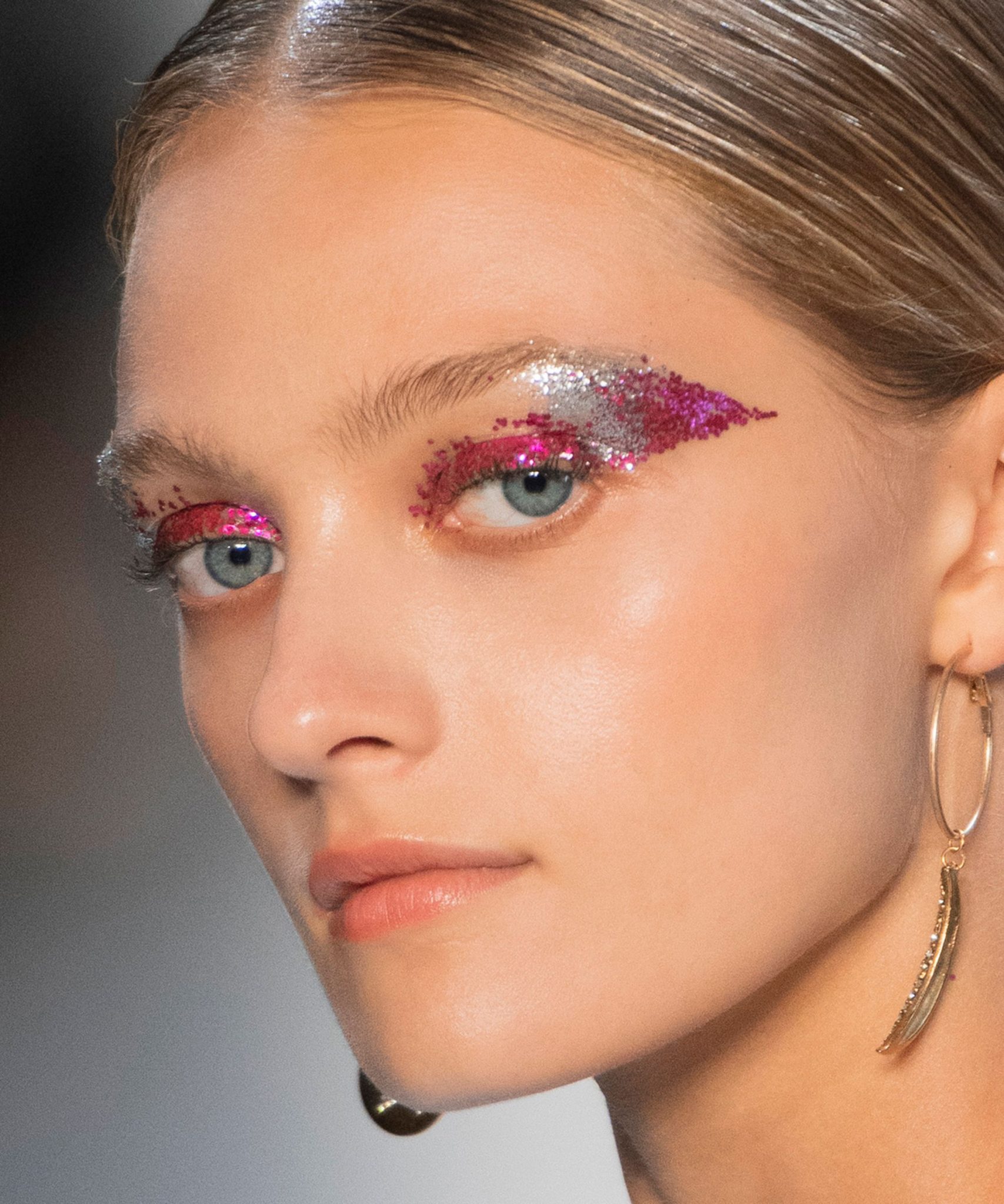 Disco Glitter
The fall punch bowl has officially been spiked with shimmer. This silver and pink combination at Tadashi Shoji quite literally shoots for the stars.
Photo: Imaxtree.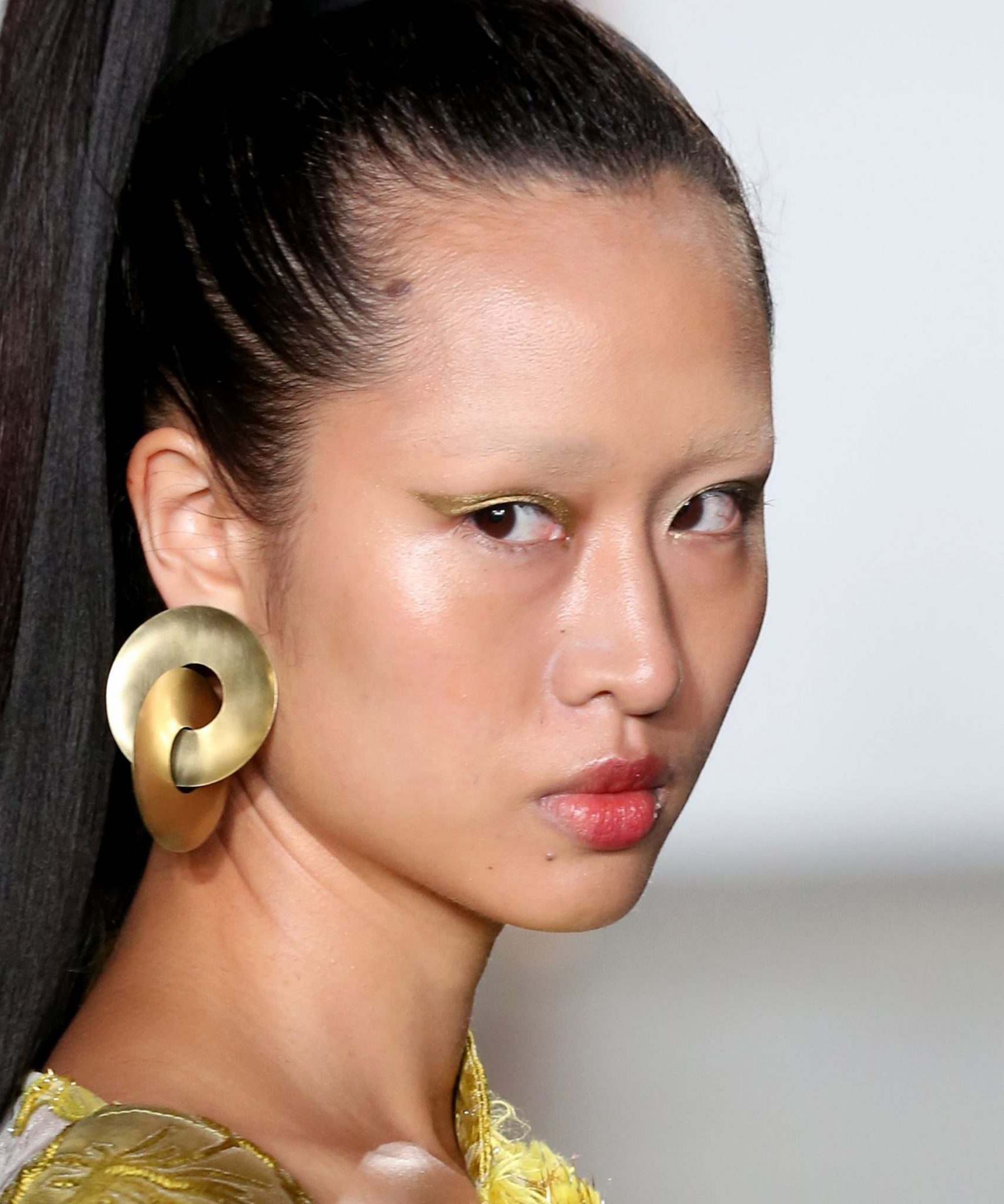 Sunshine eyes take on a whole new meaning with this glittery eye look at Kim Shui.
Photo: Masato Onoda/WWD/Shutterstock.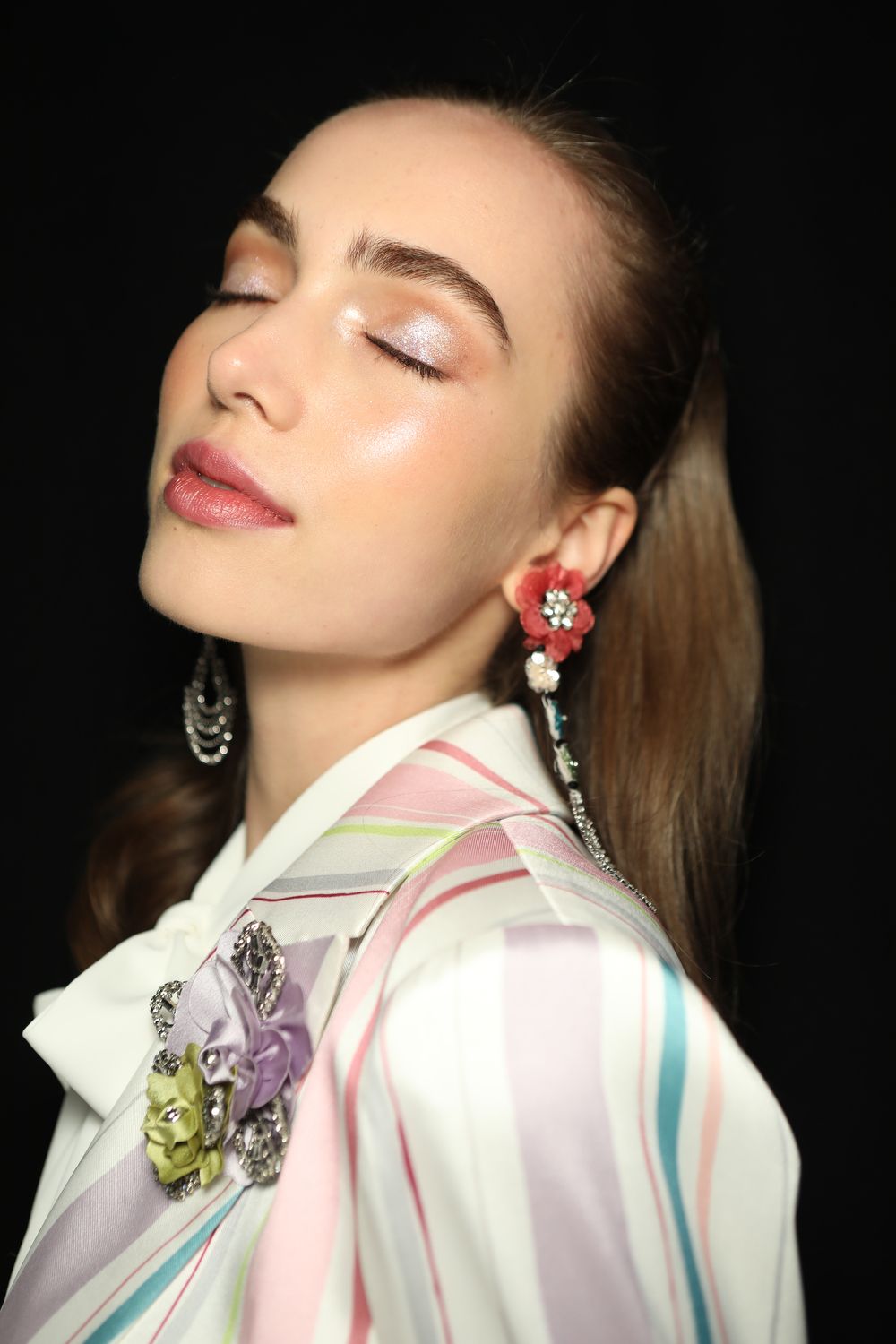 Afraid flakes of glitter will fall off your eyes before you even get to the bar? Trade out the real stuff for a liquid eyeshadow that's just as sparkly but causes minimal mess. Stila Cosmetics makeup artist Carly Giglio mixed the brand's Shimmer & Glow Liquid Eye Shadow s in Kitten and Jezebel to create this look for Badgley Mischka.
Click HERE to read more from Refinery29


Loading ...