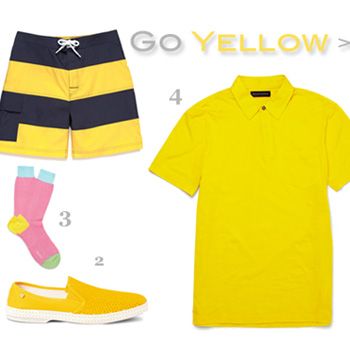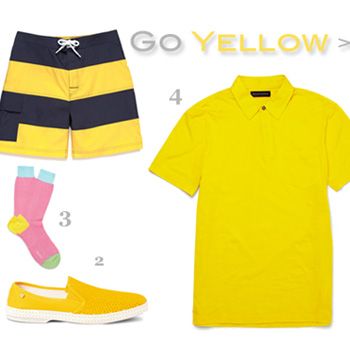 Similar to
women's trends
, men's color trend 2012 is also welcoming bright and playful hues this season. To maintain the charm with vitality, summer color trend 2012 is continuing to make statement with yellow and orange. Bold and brave
men's color trend 2012
of yellow is the perfect confidence booster. With the summer color trend 2012, yellow has hit menswear in a big way with almost all its shades.
When it comes to men's color trend 2012, the season-appropriate yellow has swamped the spring/summer fashion shows while gaining delightful appreciation. This season, the popularity of the color yellow in men's color trend 2012 is not at all surprising, as menswear are favoring the brave and bold summer color trend 2012 for the warmer months.
Choosing the right shade of Yellow
Though, yellow has been described as the perfect gender-neutral hue in summer color trend 2012, but at the same time being so audacious in nature, it's hard to find the perfect shade of yellow. The varying shades of yellow for summer color trend 2012 can be used to create a number of desired effects in your wardrobe. Keeping in view the popularity of yellow in men's color trend 2012, one has to choose the right shade of yellow according to their skin tone.
If you have medium to dark skin tone, the pastel and brighter hues of this summer color trend 2012 will work exceptionally well. However, maintain balance while following men's color trend 2012 and avoid going too bright with your yellow if you have darker skin tone.
People with a paler skin tone can follow the summer color trend 2012 by picking up bolder yellows. Be careful with pastels as they can make you look a bit washed out. The bright shades of summer color trend 2012 including mustard and gold will look great while creating a strong, flattering contrasts with your skin tone.
Cool Looks with Yellow
While colored chinos are getting popularity, a bold pair in yellow is a fantastic statement piece as per summer color trend 2012. The vibrant men's color trend 2012 of yellow will look great when paired with short-sleeve printed shirt.
On the other hand, you can also make your style statement with men's color trend 2012 by picking up blazer, chinos and brogues with a more yellowish theme. The darker tone of yellow will be a perfect choice from summer color trend 2012, which will create balance with a light shirt and white trouser.
Click HERE to read more from Fashion Central.