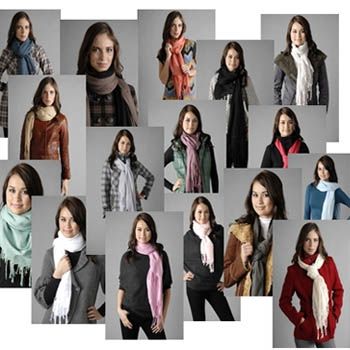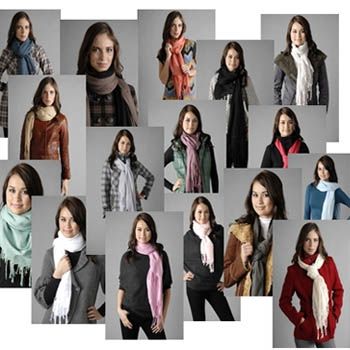 As you all know that scarf's are in style from last year 2012. Now in
2013 scarf style
is in again. There are lots of ways to wear a scarf, as they are also becoming part of your daily accessories. You can get different style scarf's, shapes, ethnic, printed, plane, geometric, multi colors, zigzags, stripes, hand knit, in different size (small, medium, large, extra-large). Scarfs are also available in different fabrics like wool, silk, cotton, chiffon, crinkle, wool, grip, linen, velvet.
Scarfs style can be seen on different designer's runways. As scarfs help you to become more beautiful as well as relaxed, because they can help you in many ways and can create a stylish look too. It is an old trend that scarfs help to save you in winter cold andwind.There are so many styles to wear a scarf that one should not get bore wearing them.
Designers had used multi colors scarfs like rainbow colors. The most popular colors seen on runway and in fashion magazines are yellow, green, mustard, brown, red, chocolate, white beige and mud color mixture, gray, orange, black, blue and pink shades are available.
When you are going to purchase a scarf, keep this thing in mind that should be broad and long in size. Because you are not going to use that particular scarf for only one dress. One single scarf design and color can go with lot of dresses in your cupboard.
Second scarf length matter a lot because when you are going to wrap it around your shoulders, so it should be long and wide like a stole. And if you are going to purchase
multi colour scarf
, then there are lots of ways to carry it:
1. 1st of all you can wear it around your neck, so that every colour should be prominent.
2. Also you can twist it around neck couple of time to have a more rainbow look.
3. If you are wearing simple colour dress like white or black to enhance your look you can also knot it with your purse.
4. Or can also wrap it around your waist.
5. Also you can join 2 sides of scarf and make a triangle shape. You can tight it around your neck and shoulders and make a knot of both ends.
You can also make a scarf of big lace in which you can add stone, flowers, different colors and accessories with it. You can also add tassels around the sides of scarf. You can also add brooch along with your scarf and long different colors lockets.
If you have animal style scarf then u can hang it in your neck. Or if you have long neck shirt and you want to cover it then you can hang scarf in your neck and cover your shirt neck with scarf. To enhance the look and beauty of your scarf and dress you can also add brooch too.
Fur ball color scarf is another new fashion trend of 2013. This scarf style will help you to keep warm and also a sophisticated addition.
Click HERE to read more from Fashion Central.