You can publish this article on your website as long as you provide a link back to this page.
This article was last updated on April 16, 2022
We get it — there's a lot to think about in the morning: How you're going to have that tough conversation with your boss. How you're possibly going to squeeze in a workout in between your bumper-to-bumper day. Hell — even what you're Netflixing tonight and which Pinot to pick up on the way home.
So, sometimes, the last thing you want to think about is how to cleverly mix prints or incorporate an impressive seasonal trend into your outfit. Wouldn't it be great if you could just push a button and something could tell you what to wear?
Well, we've found that button — 31, to be exact. Scroll through our slides for the copy-worthy outfits that'll make every morning this July a breeze.

Leave your stuffy blazers for winter. A lightweight floral number matches perfectly with white cutoffs and an easy tank.
Photo: Courtesy of Zara

Want to bust out your major mini but are concerned about appearing too "club-ready" for the daytime? Cover up with a long-sleeved blouse in a complementary color. And don't forget the fun flats (don't worry, you can change into heels once the sun sets!).
Photo: Courtesy of Neiman Marcus

When shopping, consider buying both the bottoms and top for a matchy-matchy, do-it-yourself romper.
Photo: Courtesy of Timo Weiland

Pinafores are hot this summer. Wear yours with a printed bustier.
Photo: Courtesy of BCBG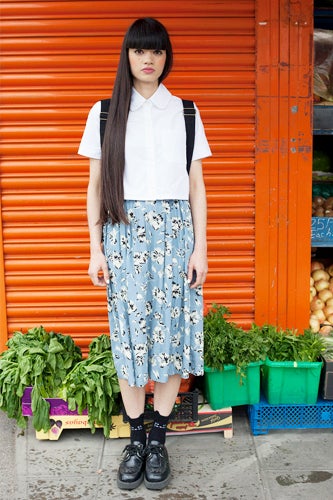 Take a cue from this street-style pic and punk up a midi-skirt and Peter Pan collar with major creepers and socks.
Photo: Courtesy of The White Pepper

Cropped, high-water distressed denim looks so cool when worn with crisp blouses and pumps. Pro tip: If you're on the slim side, shop for them in little boy or girl departments. The crop will be a whole lot more drastic, and will cost you way less, too.
Photo: Courtesy of ASOS

The new way to colorblock? Right here, baby. Wear a two-tone vest as a shirt and pair it with jeans of the same (or similar) hue. Want to take it even further? Match your shoes, too.
Photo: Courtesy of Jen Kao

An embellished tee is all the accessorizing you'll need. Wear it with a pencil skirt for a casual Friday this month.
Photo: Courtesy of Matthew Williamson

Stripes and florals are the most foolproof of print-mixing duos. Choose big stripes and big blooms.
Photo: Courtesy of Tucker

A quirky romper might make you feel like a tot, so go the grown-up route in the shoe department with a pair of flat loafers.
Photo: Courtesy of Band of Outsiders

For a summer wedding guest outfit that won't get you mistaken as a bridesmaid, we like wearing a head-to-toe (alright, head-to-thigh) print and topping it off with a sharp pastel jacket.
Photo: Courtesy of J. Crew

Yep, it's a simple T-shirt and shorts, but for days when you know it'll be chillier at night, wrap a thin sweater around your shoulders to combat the cold. Even better? Enlist one of our summer scarf tie jobs.
Photo: Courtesy of H&M

Longer-length shorts with a pleated front can quickly seem like dad-on-vacation shorts if worn with the wrong stuff. The key is to wear it with an ornate top and very strappy sandals — pretty, right?
Photo: Courtesy of Madewell

Easy summer pants look chic with a low block heel. Tie up a summer scarf (ahem, ahem) in a complementary pattern.
Photo: Courtesy of LemLem

Don't retire your booties during the summer. Think "light" up top and choose pastel colors, short hemlines, and easy fabrics. A pretty patterned cardigan will keep you toasty if temps cool down.
Photo: Courtesy of Moda Operandi

Off-the-shoulder beauts like this could be paired with something fancy…but we like them with cutoffs a whole lot more.
Photo: Naomi Shon/Man Repeller

Want to do short-alls and not look like you're five again? Wear them with your highest, sexiest shoes for a true fashion statement.
Photo: Courtesy of Net-A-Porter

Want to pull off a Dries-style, grunge-glam look but can't quite afford its plaid pieces? Wear the plaid shirtdress you already own and top a sheer skirt over it for a really spectacular peekaboo effect.
Photo: Courtesy of Pixie Market

Old college sweatshirts can look a little schlubby for everyday wear, but not if you pair it with a super-slick pencil skirt (chunky heels in this case are an absolute must).
Photo: Courtesy of R29 Shops

Dress up sneakers with a slick skirt and a Breton top.
Photo: Courtesy of Shopbop

Ease into the dress-over-pants thing by wearing a tunic atop slim trousers. A patterned pair of slip-ons gives the whole thing a laid-back vibe.
Photo: Courtesy of Studio Nicholson

Flat espadrilles can look a little too precious, so we like balencing it out with an oversized T-shirt dress.
Photo: Courtesy of Style Nanda

There's something that feels so restrictive about covering our ankles in the summer. If you're going to wear jeans, cuff 'em. Keep the rest of your look slick and simple. Promise — it'll look intentionally simple.
Photo: Courtesy of Sea of Shoes

Feel like your floral sundress needs a little something extra? Wear bright-white socks with your sandals for added intrigue.
Photo: Courtesy of Vivetta

Freak showers happen — we know! Puddle jump in style with a fun windbreaker, a knee-length dress, and plastic heels that can withstand the wetness.
Photo: Courtesy of Suno

A short dress can look more pulled together if you wear a boxy jacket on top. Ankle-strap heels help balance out all the legginess.
Photo: Courtesy of Super Muse

Lace shorts can feel really precious, but wear it with a button-up shirt, fun oxfords, and little socks.
Photo: Courtesy of Susie Bubble x Phil Oh for Urban Outfitters

Bermuda shorts look effortlessly chic in black (especially worn with a killer heel). They don't need much else in terms of styling…just a rolled-up shirt sleeve and some pretty earrings should suffice!
Photo: Courtesy of Tibi

Leave your basketball shorts and high-tops at home. Pretty-up graphic muscle tees with patterned trousers and pointed-toe shoes.
Photo: Courtesy of Topshop

If your go-to is knee-length skirts, strappy sandals, and cardigans, consider switching to a fun sweatshirt to mix things up.
Photo: Courtesy of Vanessa Jackman

When your outfit is relatively simple (like, white-T-shirt-and-floral-skirt simple), sometimes you need one really bold color to take it to the next level. A red-hot shoe (or even a bag) would do the trick.
Photo: Courtesy of We Wore What
Click HERE to read more from Refinery29.