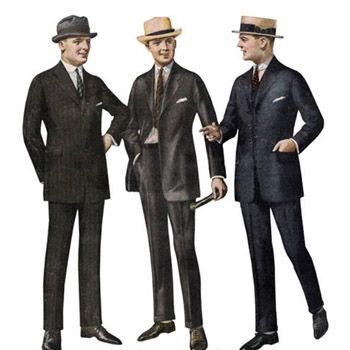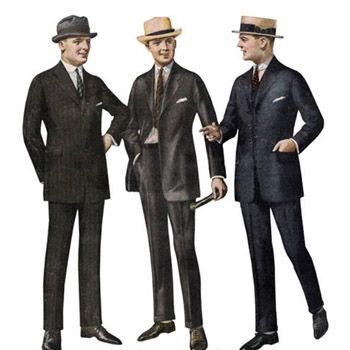 Men's 1920s inspired style fashion is not only about feathers and loosely fitted suits but rather it is all about looking classy and sophisticated. Recent
fashion trend
demands a person to take subtle inspirations from particular elements of men's 1920s inspired style tips.
Men's 1920s inspired style is so desirable that one romanticize about those fashion trends. The social makeup and restrictions of 18th century gave rise to a new type of man. It is true that time makes a man evolve but with him the fashion elements of a particular era also revive because it is human nature to learn from their past successes and failures.
Roaring twenties was the peak time of fashion evolution because people used to be up to date about the latest fashion trends of that particular time. Although 1920s has become a source of inspirations but the style tips mentioned above can really help you to look classy and handsome:
• Layer up
In 1920s, men mostly used to wear fitted three piece suits. With tie, shirt, coats and pants, men also used to wear waist coats. The waist cots were made of the exact color and material as that of the coat and pant. Waist coats were worn to enhance the color tones of shirt and tie.
• Standout
One of the men's 1920s inspired style tips also includes using vibrant colors to make the overall look standout. Everybody today has a general impression that men in twenties used to wear grey and sober colors but the truth is that grey suits were worn with bright colored ties to give a subtle look.
• Accessorize
If you want to follow men's 1920s inspired styles and also look unique, accessorize yourself with bow ties and square pockets to unite the whole suit together.
• Pants
20's pants were loose with down the front. The coats were fitted but the pants were loose. So, if you want to dress yourself with men's 1920s inspired style, make sure that the pants are slightly fitted from the waist and give a straight look rather than a baggy look.
• Long coats
Long coats were worn with suits to layer up a bit. Another men's 1920s inspired style tips demands you to wear either black or a bright colored long coat with your suit. If you are wearing a grey suit with maroon or pink shirt, wear a black knee length long coat with it.
• Hats
Men in twenties did not only used to flaunt with their styles using pocket squares and bowties, they also used to wear hats to make their personality appealing. So, here is another tip for those who want to adopt men's 1920s inspired style.
• Shoes
Two toned wingtip shoes will complete your men's 1920s inspired style look. Shoes can either break your look or make it so, choose your shoes according to your suit and tie color.
• Fabrics
Bold colored and earth toned suits were extremely popular in the 1920s. The fabrics used were either tweed or lined. Polka dotted bow ties and floral printed ties were also in fashion in 1920s. So, if you want to adopt men's 1920s inspired style, go for tweed suit with a plain tie.
• Colors
Men 1920s inspired style colors mostly includes blues, brown, beiges, greens, creams, tans, lavenders, bright oranges, pinks and yellows. You can add into your personality by wearing popping color ties and bowties with your bold colored suits. The combination of these bold and vibrant colors will make your personality standout in every possible way.
• Hair
Men's 1920s inspired style does not stop at clothes, accessories and shoes, hairstyle also makes a huge mark on your look. To get Men's 1920s inspired style look, trim your hair from the edges and set them gel back.
Click HERE to read more from Fashion Central.