Whether it's a clutch, backpack, or tote, we don't just have preferences when it comes to handbags; we have feelings. After all, when we choose one for ourselves, we don't just think of what we'll wear with it — we think about how much it can carry, how long it will last, how comfortable it will be to hold it all day long, and what it will be like to scramble for our keys.
But, every Fashion Week, we're reminded that not only are handbags our MVP of accessories; they're also the perfect little (or not so little) works of art that truly transform and elevate our looks. Ahead, we pay homage to the 45+ designs that are totally our bag.

If Chanel and Legos got together, this would be their beautiful little baby.

Three ladies who love a good handbag handle.

Aimee Song keeps it close to the heart…where it belongs.

Deena Aljuhani Abdulaziz has a thing for vampires.

Even in camo, we can still spot this Louis Vuitton from a mile away.

Our favorite highlighter colors look even better when paired together on Eunsun Ban.

Miroslava Duma reminds us that today is brought to you by the letter H, for Hermès.

Such a stud!

Yes, you can always mix prints where handbags are concerned.

Guys, even her backpack has a bag. And, it's smiling :).

Kyleigh Kuhn keeps her hand clutched on this Anndra Neen number.

Loving a great boxy shape on Zanita Morgan.

Flower power by Stella McCartney.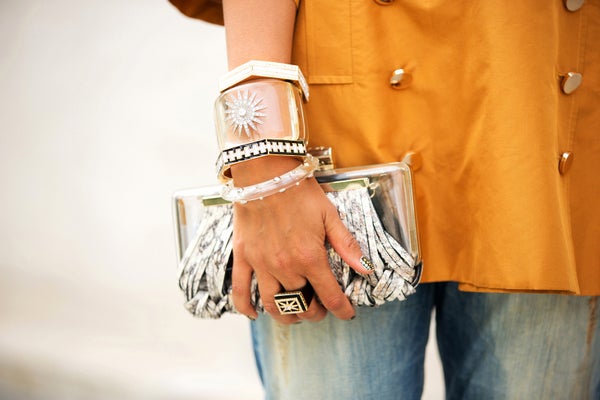 A handbag can also be jewelry. Taye Hansberry proves it.

Amanda Nguyen shows us how rad red can be.

Is it 2-D or 3-D? You decide.

Spotted: a very deer backpack portfolio.

Good things come in small packages.

You just tilted your head to the right, didn't you?

This vintage-style bag is perfect with her ladylike pencil skirt.

Leandra Medine's clutch has got some streetlight-red vibes going on.

It's a party in a pocketbook!

A hot, handled holdall for Taye Hansberry.

What would Fashion Week be without Céline?

Kate Foley goes minimal with a neon pouch.

Grace Yang and Alexander Wang.

Preetma Singh's handbag makes us feel warm and fuzzy.

This wooden-handle number is ready for the chicest picnic Lincoln Center has ever seen.

Go big blue! Ella Catliff FTW.

X marks the spots.

Two zips are better than one.

She deserves a hand for the bag-to-mani coordination.

Um, we want to live in this Céline bag.

We're sensing a trend with red handbags, and we're liking it.

R29 fave Meredith Wendell gets spotted on the streets.

Hold it!

An orange Mulberry bag that foreshadows Halloween.

We call this "the bicep bind."

An all-black look shines thanks to the perfect crossbody.

Who knew purple quilting and orange sequins could play together so well?

A classic Phillip Lim choice that never fails to impress.

Black and blue have never looked so lovely together.

Croc rockin'!

It's not easy being green, but man, is it pretty.

And, finally, a PS1 makes this slideshow complete.
PHOTOGRAPHED BY MARK IANTOSCA.
Click HERE to read more from Refinery29.