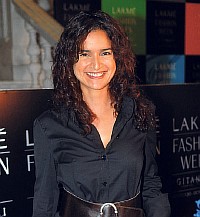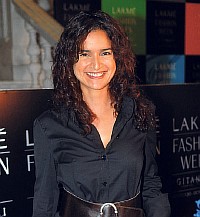 Think Raghavendra Rathore, think ethnic Indian men's wear, especially the bandhgalas.
That's exactly what the audience were treated to at the show of the designer more popular as Raghu on Day 3 of the Gitanjali sponsored Lakme Fashion Week. Raghu's line was inspired by the adventurous male who longs for the great outdoors from dawn to dusk as he moved through his many adventures.
Commenting that he was aiming at bringing back masculinity in men's clothes the designers line had a touch of the 50s fashionable macho man image that made men's wear so very masculine and draper during that era.
He worked expertly to team the Jodhpurs and cargo pants with his trademark bandhgala tops including jackets, shirts, waistcoats and kurtas. The most noticeable garments in the collection were the fishing and the photographers vests. Sticking to a controlled and muted colour pallet, Raghu made abundant use of blacks, whites, beiges, coffee browns and greys on a range of fabrics including linen, cotton, satin cotton and silk blends.
Raghu's showstopper was actress Sameera Reddy who took to the ramp in two tone sari, blowing kisses to sis Sushma seated on the front row. With all that oomph and pouting displayed on the ramp, the actress definitely added a touch of glamour to the all men's wear show.
Commenting on Raghu's line the actress said, "I like a man with a macho look. The Indian man's mardangi was slightly forgotten and with his collection Raghu has worked well to bring it back."
Meanwhile, speaking about his collection the designer said, "I wanted to move away from the very prevelant metrosexual look in men's wear. That's exactly what you will get to see in my line."
For the Glocal male
Designer Zubair Kirmani's line flaunted crisp cotton, lots of textured fabrics a subtle muted colour card at the Gitanjali sponsored Lakme Fashion Week. The collection was titled 'Glocal Male'.
Men's wear takes on some stylish touches on Zubair's drawing board without being overtly fussy.
The palest of grey and beige along with white were the tones that Zubair worked with for jackets with one or two vents which were very closely cut to the body and teamed with skinny pants. The jacket openings varied from one, two and three buttons closure. We were happy to see a breakaway from the male models when a female model too walked in a pretty yellow outfit.
Sport a 'jigsaw'
Opening the show with new comer Bollywood star, Sonakshi Sinha who wore a chic organza layered jacket with stretch cotton shirt, satin slip and black Lycra leggings, designers Dev R Nil showcased an eye catching collection.
Some of the interesting outfits were the taupe hounds tooth overlap jumper with the cube print stretch satin shirt, rib boxers with jacquard jumper, brown lurex pleated waistcoat, a military green cube batik jumper and shorts, a striking embroidered pink collared kurta with trouser and a grey lurex cutwork bomber which continued the theme of the cube pattern.
The Jigsaw line was a interesting, unusual men's wear line, neither too avant garde nor without enough styling directions to get the wearer noticed in a crowd. Sonakshi's parents Shatrughan and Punam Sinha were in the front row cheering for their darling daughter.
Take a morning walk
Designer Digvijay Singh's collection at Lakme Fashion Week for the coming season called 'Morning Mandi' was a stylish blend of the east and west where the designer gave classic traditional men's garments a modern touch.
The cuts and fits were lean and structured, drawn from the rustic regions of India like Gujarat and Rajasthan. Kurtas, shirts, tunics, churidars and pants had the most discreet detailing that required a very high standard of tailoring to achieve the fineness in the garments. Adding a little colour to the neutral palette, he patched the trousers with contrast beige. Hoodies were a great addition in pale olive with tiny orange piping while the cross over rustic tunics with wrap around tie-ups was a comfortable idea for Spring/Summer 2009.
Some sports couture for you
Shades of grey, white and black were the basis of the men's wear Spring/Summer 2009 collection by Troy Costa at Lakme Fashion Week. Called 'Sports Couture', the garments portrayed an easy comfortable style direction.
Jersey proved to be a favourite fabric that Troy used for his sweaters and pants; but he also worked with silk denim and gabardine, satin cotton, poplin, jersey and silk rayon at times weaving in the matt and shining quality of the fabrics cleverly.
Detailing was achieved with zips, studs and buckles for a line that was very structured and body hugging. Ribs were used to edge the hems of fabric blousons and shimmer appeared for some of the party shirts. A solitary waist coat with a collar was stylish and contrast embroidery on a shirt back added a great touch.
The overall look spelt elegance and style for men, who want to dress in the latest trends without overdoing the embellishments.