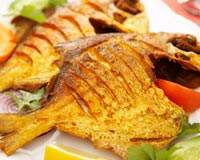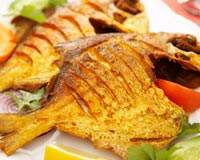 Tandoori Fish
Ingredients :
1 cod fish
2 tbsp lemon juice
1" ginger
7 galic flakes
5 green chillies
1/2 cup curd (yoghurt)
5 drops of red colour
Salt to taste
2 tbsp oil
Make powder of :
1/2 tsp garam masala
1 tsp coriander seeds (roasted)
1 tsp cumin seeds (roasted)
1/2 tsp red chilli powder
2 dry red chillies
1 tsp turmeric powder
Method :
Clean the fish. Remove gills and eyes. Cut slits on both the side of the fish.
Apply salt and lemon juice over the fish. Keep aside for ½ hour.
Grind green chillies, ginger and garlic to a paste. Beat curds thoroughly.
Add ground spices and ginger-garlic paste. Add oil and colour and strain
through fine sieve. Rub the batter all over the fish and well inside the slits.
Keep aside for 5-6 hours. Place the fish in tandoor.
Remove when golden brown. Ready to serve hot.