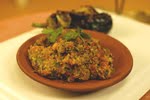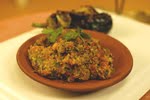 Brinjal Bharta
Ingredients :
1 large-sized brinjal
1 tbsp mustard oil
2 green chillies (finely chopped)
1 medium-sized onion (finely chopped)
salt to taste
Method :
Roast the brinjal over fire till it is nicely cooked.
Cool and remove the skin.
Mash the roasted brinjal.
Mix in the mustard oil, chillies, onion pieces and salt to taste.
Mix well and serve.