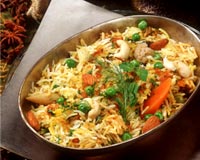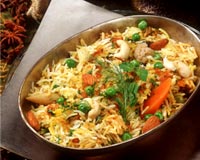 Vegetable Biryani
Ingredients :
4 cups basmati rice
200 gms ginger & garlic paste
6 green chillies
1 onion, finely chopped
2 tomato, finely chopped
10 gms cinnamon
10 gms cloves
10 gms cardamom
4 cups coconut milk (thick)
100 gms cashew nuts
200 gms ghee
carrot & beans, finely chopped
100 gms peas
2 tsp garam Masala powder
3 tsp chilli powder
mint leaves & coriander leaves
½ lemon
Method :
Put ghee in a pan and sauté the onions and tomatoes.
Grind cashew nuts, cloves, cinnamon, cardamom, green chillies mint and coriander leaves.
Put the mixture to the ghee
Put ginger & garlic paste to it
Put garam masala and chilli powder, carrots, peas and beans to it
Put coconut milk to the mixture, and add salt to taste .
Keep the mixture to boil and add the rice
Put the lemon juice to it and allow the rice to cook.