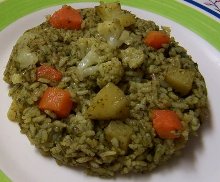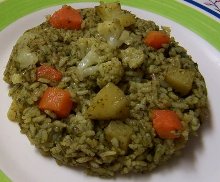 Green pulav
Ingredients:
1 cup basmati rice
1 bunch fresh coriander leaves
¾ cup green peas (frozen or fresh)
2-3 pods garlic
6 green chillies
1 piece ginge
½ medium sized coconut
3 tbsp ghee/oil
Salt to taste
Method :
Boil the rice so that it is cooked but still the grains are separate.
Precook the peas with little salt if it is not frozen peas.
Grate the coconut and grind it along with coriander, garlic, ginger and green chillies into a fine paste.
Heat the ghee/oil in a pan.
Add the masala and fry until oil separates.
Add the cooked or frozen peas and cook for another 5 minutes.
Remove the rice in a flat dish.
Add salt and coat the rice well with the masala.
Ready to serve.Green Pulav.