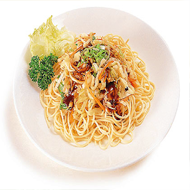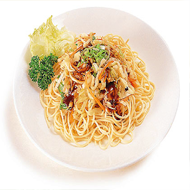 Egg Noodles with Oriental Seasoning
Serves 4
Ingredients:
4 oz. Medium or Wide Egg Noodles, uncooked
1/4 c. water
2 tbsp. low-sodium soy sauce
1 tsp. vinegar
1 tsp. sugar
1 tsp. cornstarch
1 tbsp. vegetable oil
2 scallions, trimmed and thinly sliced
1 clove garlic, finely chopped
1/2 tsp. dried ginger
1/4 lb. snow peas, trimmed
Directions:
Prepare egg noodles according to package directions. While egg noodles are cooking, stir the water, soy sauce, vinegar, sugar and cornstarch together in a small bowl until the sugar and cornstarch are dissolved. Set aside. When noodles are done, drain well.
Heat the vegetable oil in a wok or large, deep skillet over high heat. Add the scallions, garlic and ginger and stir until the garlic and ginger are fragrant, about 15 seconds. Add the snow peas and toss just until they begin to change color, about 10 seconds.
Add noodles and toss with the seasoned oil. Stir in the soy sauce mixture and pour all into the wok. Stir well until the sauce is thickened and the noodles are evenly distributed. Transfer immediately to a serving dish. Serve hot.