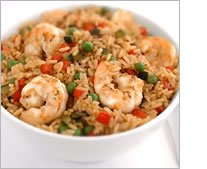 You can publish this article on your website as long as you provide a link back to this page.
This article was last updated on April 16, 2022

Chinese Fried Rice with Shrimp
Serves 4
Ingredients:
4 c. cold cooked rice
2 tbsp. oil
2 onions, chopped
2 c. shrimp, shelled and deveined
1-2 eggs, slightly beaten
1 c. mushrooms, sautéed
1/2 tsp. salt
1/2 tsp. pepper
2 tbsp. soy sauce
Chopped scallions
Directions:
Heat oil in wok. Add onions and lightly brown.
Add shrimp. Add salt and pepper to beaten eggs and pour over shrimp and onions; scramble together.
Add mushrooms, soy sauce and cold rice. Heat until rice is hot, stirring occasionally to keep from sticking. Sprinkle chopped scallions on top.
Note: Ham, chicken or veal may be substituted for shrimp.