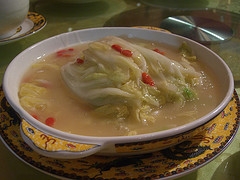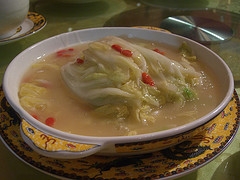 Chinese Cabbage Soup
Ingredients:
2 c. cooked chicken, cut into strips
7 c. chicken broth
6 c. sliced Chinese cabbage
1 tsp. soy sauce
1 tsp. salt
1/4 tsp. pepper
Directions:
Combine chicken and chicken broth, bring to boil.
Stir in remaining ingredients; cook only 3 to 4 minutes or until cabbage is crisp and tender. (Do not overcook.) Lettuce can be used for cabbage, reduce time to 1 minute.