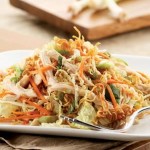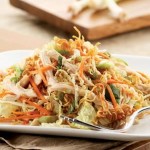 Chinese Cabbage Bean Sprouts Salad
Ingredients:
4 c. shredded Chinese cabbage
1/2 c. (5 oz. can) drained water chestnuts
1/2 c. sliced mushrooms
1/2 c. bean sprouts
1/2 c. snow peas, chopped
Dressing:
1/2 c. mayonnaise
2 tbsp. soy sauce
1 c. chow mein noodles
Directions:
Combine ingredients.
When ready to serve toss with soy dressing and top with chow mein noodles.