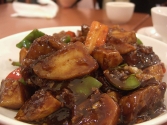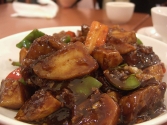 Pork Stew with Eggplant
Ingredients:
2 tbsp Extra Virgin Olive Oil 30 mL
1 lb lean,boneless pork, cubed 500 g
2 onions, sliced
1 can (28 oz/796 mL) San Marzano tomatoes
2 cups cubed peeled eggplant 500 mL
1 cup canned Pitted Olives, 250 mL sliced
salt and pepper
Directions:
1• Preheat oven to 3 0 °F (180 °C).
2• Heat olive oil in a skillet over medium-high heat. Add pork and brown on all sides.Add onions and cook for
3• minutes.Season to taste with salt and pepper.
4• Transfer mixture to a casserole or baking dish with a cover. Stir in tomatoes and eggplant.Bake in oven about 1 hour.
5• Stir in black olives. Bake another 15 minutes and serve immediately. Swiss chard makes a nice accompaniment.
4 servings