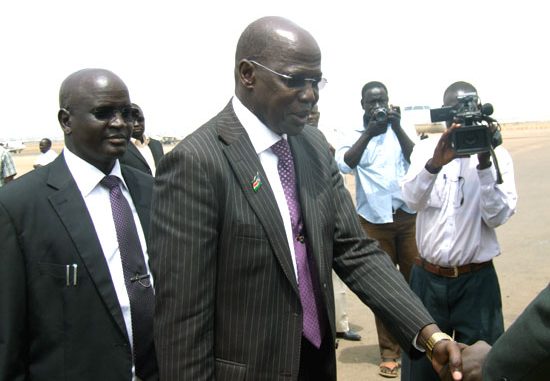 The Upper Nile State Governor Hon. Simon Kun Puoch yesterday said that he had discussed with Chinese companies to construct roads and houses in his State.
He was speaking to the media at Juba International Airport upon his arrival from China. He said that he was invited by the Chinese business community to discuss the possibility of building roads in Upper Nile State.
"I was invited by the Chinese business community because they want to construct roads and houses in Malakal," he said.
On the 10th of this month, Hon. Kun and two of his Ministers left for China to see the work of the Chinese business community on road construction and that he was impressed when he toured Changai, one of the Chinese cities whose roads were built by these companies.
Kun said that the companies will be in his State by March to build upper, medium and lower level type of houses.
He added that there is land already set aside for building the housing units from which the people of Upper Nile State can choose.
The Governor also said that he was able to meet the President of CECESO, a Chinese group of companies who promised to build roads in his State.
While the South Sudanese government has threatened to investigate and expel Chinese oil companies if found to have connived with Khartoum in stealing oil, the Governor said that road construction is a different issue and that the Chinese companies were coerced by Khartoum.
He however said that he had nothing to do with oil and that this is an issue of the national government. Despite the shutting down of the oil, Kun said it will not affect the employment in his State.
He added that the Chinese have interest in working with the South Sudanese.