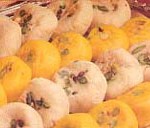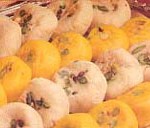 Mava Peda
Ingredients:
For the Mava Peda :
¼ cup powdered sugar
¼ tsp elaichi powder
a few saffron strands
For the Khoya (mava) :
1 litre full fat milk
For garnishing :
2 to 3 slivered pistachios
Method:
For the Khoya (mava) :
Heat the milk in a non-stick pan on a high flame till it comes to boil.
Continue to boil and keep on stirring continuously till it becomes semi-solid.
Allow it to cool
For the Mava Peda :
Mix the khoya and sugar in a heavy bottomed pan and cook on a slow flame. Keep on stirring continuously for 5 to 10 minutes till the sugar gets dissolved and the mixture leaves the sides of the pan.
Take out from the fire, put the cardamom powder and saffron and stir properly. Cool completely.
Divide the mixture into 8 equal parts and shape into even sized rounds.
Decorate with slivered pistachios.