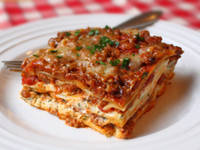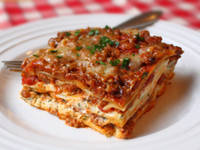 Meat Lasagna
Ingredients:
• 1 tbsp oilive oil
• 1 onion, chopped
• 1 clove garlic
• 1 lb fresh lean ground beef
• 1 lb fresh lean ground pork
• 1 lb fresh lean ground veal
• 1 1/2 tsp each salt and pepper (or to taste)
• 1 can (28 oz/796 mL) whole tomatoes
• 2 cans (28 oz/796 mL) crushed tomatoes
• whole dried red chili pepper
• 1 tsp oregano
• 5 leaves fresh basil
• grated romano or parmesan cheese
• 450 ml ricotta chese (italian style)
• 1 brick mozzarella cheese 500 grams
• 3 eggs
Directions:
Step 1 – The Sauce
1• In a large saucepan, heat olive oil over medium heat. Add onions and garlic; cook until lightly browned
2• Add all three meats, salt and pepper; cook 10 minutes or until meat is cooked through, stirring constantly.
3• Stir in tomatoes, bay leaf, chili pepper, bring to a boil. Reduce heat to low and cook 1 hour, stirring occasionally.
4• Meanwhile, in a large pot of boiling, salted water, cook lasagna pasta 6 minutes (half cooked), al dente. The reason the pasta is half cooked is because in the oven the lasagna will resume cooking.
5• Drain lasagna pasta and set aside.
Step 2 -The Assembly
6• In a large baking pan add some sauce to the bottom of the pan.
7• Add the lasagna one piece at the time and compile them side by side.
8• Now add some sauce on the layer. Add grated cheese and little bit of shredded mozzarella so the layers stay together and firm.
9• On the third layer of lasagna pasta add the sauce and the ricotta, egg mixture . Keep going until you get to the top of the pan. 10• You should have not more than 6 layers. The ricotta mixture should be put on at leat two of the layers.
11• The final addembly is the last layer – lots of mozzarella and grated cheese.
Step 3 -The Cooking Process
12• Now that the lasagna is put together pre-heat oven 350 degrees F. Let cook 25 minutes covered. Uncover and cook an additional 15 minutes. If the top is still now browned – Open top element in oven for a few minutes and monitor the cooking cycle so not to burn the top of the lasagna. Once you have achieved the full cooking process let chill for at least 20 minutes so that the lasagna becomes firm enough to cut into portions without having the lasagna to break apart and be to liquid. The important thing is let it cool.
Ricotta Mixture:
• In a bowl mix ricotta and eggs and whisk until creamy. Add salt and pepper to taste.