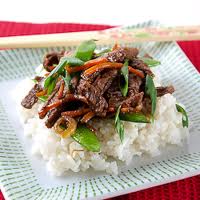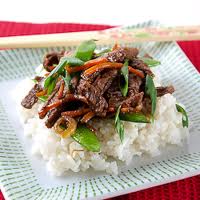 Beef Steak with Snow Peas
Ingredients:
1 tbsp oil
1 lb snow peas
Salt
2 tbsps beef drippings or oil
2 lb sirloin steak, cut into 4 pieces
2 tsps minced garlic
1 tbsp soy sauce
Chinese parsley leaves to garnish
Directions:
Heat the 1 tbsp oil in a pan. Add the snow peas and stir fry for about 1 minute. Add salt to taste. Transfer to a serving plate and keep hot.
Heat the dripping or oil in a heavy pan over moderate heat. Add the steak to the pan and sear for 1 minute or until blood rises on the uncooked surface. Turn and sear the other side for another minute. Remove the steak and cut into ½ inch thick strips.
Return the steak to the pan with the garlic sauce. Reduce the heat and continue cooking until the steak is cooked to your taste. Serve hot with the snow peas, garnished with the Chinese parsley leaves.