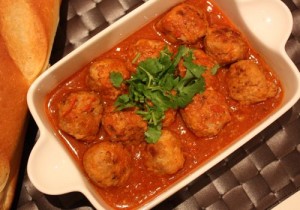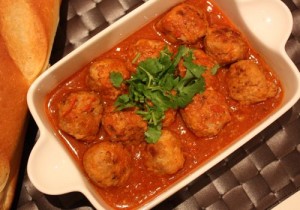 Beef Siu Mai
Ingredients:
Filling:
8 oz (224 g) beef
2 oz (56 g) water chestnuts
1/2 sq. inch tangerine peel
1 spring onion (scallion)
1/2 teaspoon minced ginger
Pastry:
4 oz (112 g) wheat starch
1/4 teaspoon salt
1/2 cup boiling water
1 teaspoon lard
parsley for garnishing
Seasoning:
1 tablespoon light soya sauce
1 teaspoon cornstarch
1 teaspoon sugar
1 teaspoon wine
1/8 teaspoon pepper
1/2 cup water
1 tablespoon oil
Directions:
Filling:
Wash and dry the beef then cut into chunks. Peel and dice the water chestnuts. Soak the tangerine peel in the hot water till soft and mince. Chop the spring onion. Put all the above ingredients with the ginger into a food processor to mince into a puree.
Place all the seasoning in a bowl and stir till dissolves. Stream into the beef to mix well. Marinate for 30 minutes.
Put the beef puree in the mixing bowl to pound until firm.
Pastry:
Sift the wheat starch and salt in a mixing bowl. Pour in the boiling water and stir vigorously. Cover for 1 minute then add the lard to knead well.
To Complete:
Roll the dough into a thin long cylinder. Divide into 40 equal portions. Roll each into a small thin round to put in the filling. Press in the edges to shape like a basket. Flatten the top with a knife then garnish with the parsley.
Put in a greased steamer to cook over high heat for 5 minutes