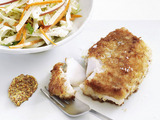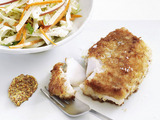 Cod (salted) Pan Fried
Ingredients:
• 2 lbs. of salted cod
• flour
• 1/2 cup of olive oil
• lemon juice (2)
• pepper
• flour
Directions:
Traditional Recipe
1• Add baccala in a pot of cold water for two days to reduce the salt content. Replace water at least 3 times a day to make sure the salt is removed properly.
2• When ready heat 1 inch of oil in a deep skillet/dip baccala in flour, and shake off excess flour and then fry until golden, drain on paper towels, and serve with lemon wedges