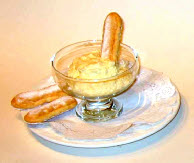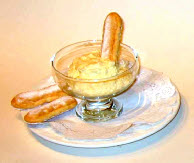 Mascarpone Cream
Ingredients:
• 3 1/2 oz. mascarpone cheese
• 2 eggs, separate the whites from the yolks
• 1 tbsp. Rum
• 1/2 oz. sugar
Directions:
1• In a bowl mix the egg yolks and sugar together with a hand blender.
2• Add the mascarpone and combine well using a wooden spoon.
3• Add the rum and mix in.
4• In another bowl whip the egg whites until they start to foam.
5• Add the egg whites to the mascarpone, a bit at a time, folding them in gently with a spoon, making movements from bottom to top.
6• Chill for one hour or until cold. Serve in a 8 onz. glass bowl or in single cups with dry biscuits. Serves 4