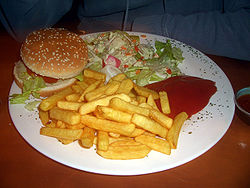 You can publish this article on your website as long as you provide a link back to this page.
This article was last updated on April 16, 2022

Vegetable Burger
Ingredients :
4 any vegetable cutlet of your choice
2 tsp tomato ketchup
4 sliced buns
1 onion, cut into thin round slices
1 tomato, cut into thin round slices
1 carrot, cut into thin round slices
4 cabbage leaves
¼ tsp turmeric powder
2 tsp butter
2 tsp dalda
salt to taste
Method :
Boil water in a pan add turmeric & salt to it. Turn off the heat.
Put the cabbage leaves & carrots in that hot water and leave it for 10 minutes.
Remove the vegetables from the water and drain on paper towels.
Heat dalda in a pan and toast the buns.
Then apply butter & little ketchup to the inner sides of the buns.
Keep 1 cabbage leaf, 1 tomato slice, 1 vegetable cutlet, 1 onion slice, 1 carrot slice in between two slices of a bun.
Repeat the same procedure for the remaining buns.