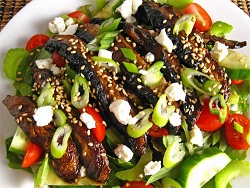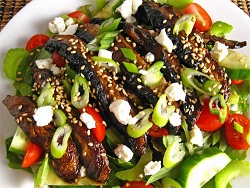 Dried Mushrooms Salad
Serves 4
Ingredients:
1 oz. Chinese dried mushrooms
1 tsp. rice wine
2 tsps. Soy sauce
Pinch of sugar and MSG to taste
1/2 tsp. sesame oil
Directions:
1. Wash the mushrooms carefully and soak in 1 cup hot water for 30 minutes. Reserve the water.
2. Cut out the hard stems of the mushrooms, leaving the caps whole. Replace in the reserved water, add the other ingredients and steam for 30 minutes. Leave to go cold before serving.