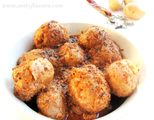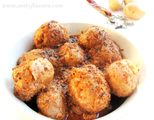 Shahi Dum Aloo
Ingredients :
8 nos baby potatoes
1 onion
6 tbsp tomato puree
Ginger a small cube
6 pods garlic
2-3 nos green chilli
2 tbsp cream (fresh or frozen )
¼ cup milk
½ cup water
Sugar a pinch
Salt to taste
10-12 nos cashews halves
½ tsp chilli powder
½ tsp coriander powder
¼ tsp turmeric powder
¼ tsp garam masala
Oil to cook and deep fry
Method :
Peel the baby potatoes and keep aside
Take onion, chillies, ginger garlic and puree them in the mixer.
Heat oil and deep fry the potatoes till golden brown
Take about 2-3 tbsp of oil in a wok and to this add cumin seeds and finally add the onion garlic paste to this and keep frying till golden brown in colour.
Once the oil starts to leave the wok add tomato sauce to this and keep frying till the oil leaves the sides of the work.
To this add chilli powder, coriander powder, turmeric and stir well.
Add a little cream to it and add garam masala.
Finally add milk and keep stirring till it begins to boil.
This is important because if not stirred well then the milk might cuddle.
Add water to this and salt sugar and finally add the fried potatoes and let simmer for about 15-20 minutes.
Check tenderness of potatoes with a fork and finally add cashews to this.