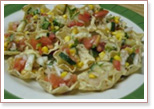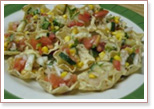 Bhel Makai Ka
Ingredients :
3 teacups cooked corn
4 boiled potatoes
2 onions, chopped
2 tomatoes, chopped
6 green chillies, chopped
1 tsp jeera
4 tbsp coriander, chopped
a pinch asafoetida
juice of 2 lemons
6 tbsp oil
4 tsp sugar
salt to taste
For decoration :
1 teacup sev,
4 tbsp chopped coriander
½ grated fresh coconut
Method :
Boil the corncobs in a pressure cooker until the corn becomes tender.
Take out the corn from the cobs using a sharp knife.
Chop the potatoes into small cubes.
In a broad vessel, heat the oil and jeera.
Put the onions, tomatoes and asafoetida and sauté for a few minutes.
Put the corn, potatoes, green chillies, coriander, lemon juice, sugar and salt. Cook for a few minutes.
How to serve :
Spread the bhel in a serving dish.
Decorate with the sev, coriander and grated coconut.
Ready to serve hot.