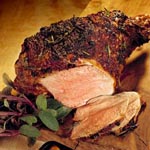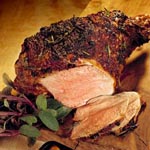 Leg of Beef in Fruit Sauce
Serves 6 to 8
Ingredients:
2 tbsp vegetable oil
1 medium onion, thinly sliced
2 garlic cloves, crushed
1 inch piece fresh root ginger, peeled and finely chopped
3 lbs boned leg (shin) of beef, cubed
Juice of 1 lemon
Juice of 2 oranges
4 tbsp soy sauce
1 ¼ cup dry red wine
2 ½ cups water
Salt and pepper to taste
Directions:
Preheat the oven to cool 150°C (Gas Mark 2, 300°F).
Heat the oil in a large flameproof casserole. Add the onion, garlic and ginger and stir fry for 1 minute.
Add the beef and fry until it is evenly browned.
Stir in the remaining ingredients and bring to the boil.
Transfer the casserole to the oven and bake for 4 hours, stirring three to four times during the cooking period.
Remove from the oven and serve at once.