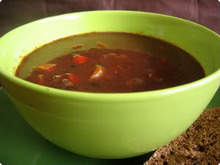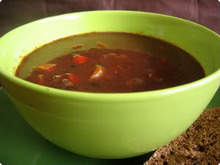 Black Bean Soup
Ingredients:
1 lb black beans
2 stalks celery , minced
1 large carrot , peeled and diced
1 medium onion , diced
4 1/2 cups water
1/4 lb bacon
5 garlic cloves , minced
1 tablespoon chili powder
2 teaspoons cumin
1/2-1 teaspoon cayenne pepper
1/2-3/4 teaspoon ground pepper
1 jalapeno pepper , seeded and minced
1 bay leaf
8 cups chicken broth or 8 cups beef broth
salt
Preparation:
Soak beans overnight in the water OR bring to boil then let stand for 1 hour; drain. Cook bacon in heavy, large pot over medium heat until golden brown and crisp, stirring frequently, about 5 minutes. Mix in garlic, celery, carrot, onion, jalapeño and bay leaf. Cook until vegetables are tender, stirring occasionally, about 10 minutes. Add chili powder, cumin, cayenne and pepper. Stir until aromatic, about 1 minute. Add beans and broth. Cook at a slow boil until beans are tender and most of the liquid is absorbed, stirring occasionally, about 1 1/2 to 2 hours. I have used more broth to make it a soup. Season with salt. Mustard's serves these beans topped with chopped red onions, a dollop of sour cream and chopped chives.