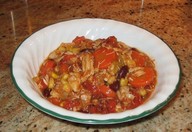 You can publish this article on your website as long as you provide a link back to this page.
This article was last updated on April 16, 2022

Addictive Mexican Stew
Ingredients:
2 (14 1/2 ounce) cans ready-cut diced tomatoes, undrained
1 -2 garlic clove, finely chopped
1 tablespoon olive oil
1 (1 1/4 ounce) package taco seasoning mix
1 (15 ounce) can black beans or 1 (15 ounce) can kidney beans, drained
1 (8 3/4 ounce) can whole kernel corn, drained
3 cups cooked chicken or 3 cups cooked turkey, diced or shredded
1 (4 ounce) can diced green chilies, drained
1 cup chicken broth
1/2 tablespoon cornstarch
1 cup diced onion
Preparation:
Cook onion and garlic in oil in large saucepan until tender. Add cooked chicken, taco seasoning, tomatoes, beans, corn and chilies. Blend broth and cornstarch; add to saucepan. Bring to a boil; reduce heat and simmer 15 minutes; stirring occasionally. Serve with cornbread for a hearty meal.