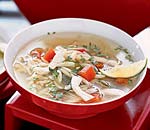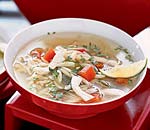 Yacatan Style Chicken Lime and Orzo Soup
Ingredients:
1 1/2 tablespoons olive oil
3/4 cup orzo pasta (rice-shaped pasta)
3/4 lb boneless skinless chicken breast , cut into matchstick-size strips
1 medium white onion , thinly sliced
6 garlic cloves , thinly sliced
2 jalapeno chiles , thinly sliced
1/4 cup fresh lime juice
1 large tomato , seeded, chopped
1/4 cup chopped fresh cilantro
5 cups low sodium chicken broth
fresh cilantro (to garnish)
Preparation:
Cook orzo in pot of boiling salted water until just tender. Drain well. Heat oil in large saucepan over medium heat. Add onion, garlic, and chiles. Sauté until onion begins to brown, about 4 minutes. Add chicken; sauté 1 minute. Add broth, lime juice, and tomato. Simmer until chicken is cooked through, about 3 minutes. Mix in orzo, then chopped cilantro. Season soup with salt and pepper. Ladle soup into 4 bowls. Garnish with cilantro sprigs.