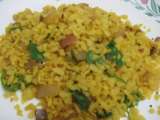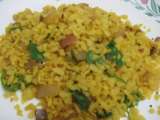 Aval Uppma
Ingredients :
2 cups aval
¾ tsp imli paste
4 red chillies
¼ tsp mustard
1 tsp urad dal
1 tsp channa dal
¼ tsp methi
a small pinch hing
a small pinch haldi
a few curry leaves
3 to 4 tsp cooking oil
½ tsp salt
Method :
Soak aval, salt, and turmeric for 10 minutes in little water.
Sauté mustard, hing, red chillies, channa dal, urad dal, and curry leaves in oil. Add 1 cup of water, little salt, and imli paste to the above and allow it to boil for a few minutes.
Now add the soaked aval to this and simmer the stove, and stir it well for just 5 minutes.
Dry roast methi and powder it and add it to the uppma.