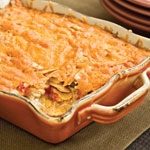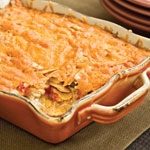 King Ranch Chicken
Ingredients :
3-4 cups cooked chicken, diced
1 pkg. (10-12) flour tortillas
1 med. onion, chopped
2 (10 oz.) cans cream of chicken soup
1 can tomatoes with green chilies
4 tbsp quick cooking tapioca
4 cups grated Cheddar cheese
Method :
In a large bowl mix chicken, soup, tomatoes, chilies and tapioca.
Rip 2 to 3 tortillas into pieces and line the bottom of a 5 quart slow cooker or crockpot. Add 1/3 of the chicken mixture; top with 1/3 of the onion and cheese.
Repeat layers of tortillas, chicken mixture, onion and cheese two more times.
Cover; cook on low for 6-8 hours or on high for 3 hours.
For a smaller 3 quart slow cooker or crockpot makes 1/2 recipe.
This is a good take-in dish or potluck.