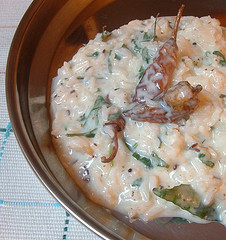 You can publish this article on your website as long as you provide a link back to this page.
This article was last updated on April 16, 2022

Dhai Bhaath
Ingredients :
½ pav rice
4 green chillies
1 tsp table salt
1 small piece ginger
2 tsp ghee
a few coriander leaves
2½ cups curds
1 tsp chana dal
1 tsp black gram dal
½ tsp mustard seeds
1 sprig curry leaves
Method :
Wash rice and cook. Keep aside.
Put chopped green chillies, minced ginger and salt in the curds..
Mix cooked rice with the curds and turn over gently.
Season with mustard, black gram dal, chana dal and curry leaves in ghee, using a ladle.
Put chopped coriander leaves. Turn over and serve.