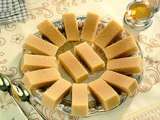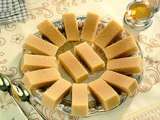 Mysore Paak
Ingredients :
1 cup besan
1 cup sugar
2½ cups ghee
½ tsp cardamom powder
Method :
Heat half the quantity of ghee in a vessel.
Roast besan, previously sieved for 2 to 3 minutes with it.
In another vessel put a cup of water to sugar and cook till a sticky syrup is formed.
Combine the roasted flour with it and stir constantly.
In the meanwhile, hot ghee should be ready in another vessel, placed on flame.
While stirring the besan mixture with the right hand constantly, put heated ghee in a stream with the left hand.
when the paak is ready, the blend turns light brown and becomes porous and spongy like a bread slice.
Sprinkle cardamom powder over the blend, turn it over and quickly transfer to a thali.
The paak sets within a minute.
Slice into pieces with a sharp knife at once.