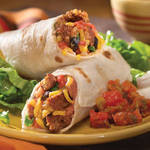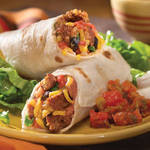 Meat Burritos
Ingredients:
1 lb dried pinto bean (do not presoak)
1 (3 lb) boneless pork roast , well trimmed of fat
2 tablespoons cumin seeds
2 tablespoons chili powder
4 cups water
3 garlic cloves , minced
1 teaspoon ground coriander
1/2-1 teaspoon cayenne pepper
5 teaspoons dried oregano
1 (7 ounce) can diced green chilies
1 tablespoon salt
1/2 teaspoon black pepper
24 -36 flour tortillas , warmed
1 (28 ounce) can whole tomatoes , with juice
Condiments
chopped onion
olive
grated cheese
sour cream
guacamole
salsa
chopped lettuce
tomato
Preparation:
Preheat oven to 250°F. Place pork roast in a large Dutch oven. Add remaining ingredients and stir to mix well. Cover and bake in the oven for 7-8 hours or until beans are tender. I usually put it in the night before and cook overnight. Sometimes it takes a bit longer the next day, depending on how cold the ingredients are and how old the beans are. (Check from time to time and add more water if mixture gets too dry). When done, remove the meat from the pan and shred in bite-size pieces. (I find just stirring it well when it is done breaks up the meat sufficiently). Return meat to pan and stir. This should be the consistency of chili. Season to taste. To assemble, place a warm tortilla on a plate, top with Mexicali meat. Top with choices of condiments, fold in edges, and roll loosely.