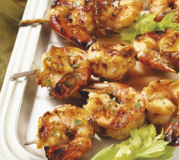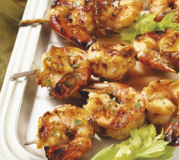 Sweet and Spicy Shrimp Kabobs
Ingredients:
1 tablespoon minced canned chipotle chile in adobo
2 garlic cloves , minced
1/4 cup honey
1 lb large shrimp , shelled and deveined
2 tablespoons minced fresh cilantro
1/2 teaspoon kosher salt
Preparation:
In a large bowl, combine the honey, chile pepper, garlic and salt. Add the shrimp and toss to coat. Cover and marinate at room temperature for 20 minutes or in the refrigerator for 1 hour. Remove from the marinade and discard any remaining marinade. Thread the shrimp through the tail and head (2 or 3 per skewer) onto small metal skewers or soaked wooden skewers. Strong rosemary stems are good to use as skewers. Grill over Direct High heat for 2 to 4 minutes, turning once halfway through grilling time. Arrange skewers on a serving dish and sprinkle with the cilantro.