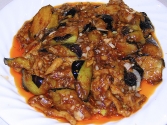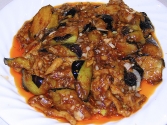 Spicy Chinese_Style Pork
Ingredients:
1 lb. lean, cubed pork
6 tbsp. light soy sauce, divided
4 tbsp. lemon juice
2 tsp. cornstarch
4 tbsp. granulated sugar
1/8 tsp. red pepper hot sauce
1/2 cup water
2 cloves minced garlic
1 red ell pepper, sliced in strips
1 sm. onion, chopped
1/3 c. dry roasted peanuts
2 tbsps. oil for stir frying
Directions:
Marinate pork cubes in 2 tbsps. soy sauce for 1/2 hour.
Mix together remaining soy sauce, lemon juice, cornstarch, sugar, hot sauce and 1/2 cup water. Set aside.
Stir fry pork and garlic in 2 tbsps. hot oil until brown; add pepper and onion, cook 3 minutes more.
Add cornstarch mixture, cook until thick and bubbly. Ready to serve.