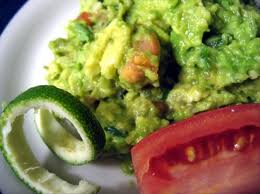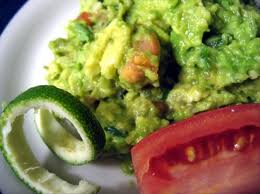 Chunky Guacamole
Ingredients:
2 -3 serrano peppers , stemmed, seeded and very finely chopped
1/2 medium white onion , very finely chopped
1 garlic clove , peeled and very finely chopped
10 sprigs fresh cilantro , chopped
1 large tomato , cored and very finely chopped
1/2 teaspoon salt
1/2 lime, juice of
3 medium avocados (preferable Haas)
Directions
Preparation:
In a medium-size bowl, mix the finely chopped onion, tomato, chiles, garlic and cilantro. Close to the time you are going to serve, halve the avocados lengthwise by cutting from the stem to flower ends, around the pits. Twist the avocado halves in opposite directions to loosen the meat from the pits, then scoop out the pits. Scrape the avocado pulp from the skins and add it to the bowl. Using your hand, a fork or a spoon, roughly mash the avocado while mixing in the other ingredients, making a coarse, thick mass. Flavor with salt, then enough lime juice to add a little zing.