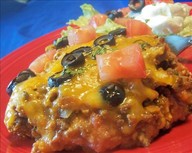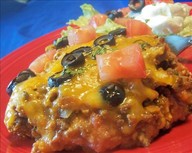 Fantastic Taco Casserole
Ingredients:
1 (1 1/4 ounce) package taco seasoning
2 cups corn chips (coarsely crushed or chopped)
1 (15 ounce) can refried beans
2 cups monterey jack cheese, divided (or mixed cheddar, jack etc.)
1 lb ground beef
1 cup salsa (I prefer mild, but if you would like to kick it up a notch, go for it)
2 green onions, chopped
1 tomato, chopped
1 (2 1/3 ounce) can sliced black olives
Preparation:
Brown ground beef and drain. Add taco seasoning and cook according to package directions, adding proper amount of water. Put corn chips on bottom of 8×8″ dish. Cook refried beans on stove until hot. Add 1 cup cheese and 1 cup salsa. Stir until combined.
Pour beans over corn chips in dish. Add beef to top of beans. Sprinkle remaining cheese over top. Sprinkle green onions and black olives over cheese. Bake in a 375 degree oven until the cheese is sufficiently melted. Take out of oven and sprinkle chopped tomatoes on top. Wait 1-2 minutes and then serve.