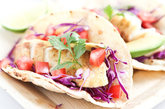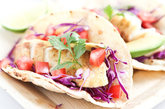 Fish Tacos
Ingredients:
1/2 cup sour cream
2 tablespoons vegetable oil
1/2 cup mayonnaise
1 package taco seasoning mix, divided
1 lb cod or 1 lb white fish fillet, cut into 1 inch pieces (about 4)
1 (12 count) packagetaco shells, warmed or 1 (12 count) packageflour tortillas
2 tablespoons lemon juice
1/4 cup chopped fresh cilantro
Toppings
chopped tomato
taco sauce
lime juice
shredded cabbage
Preparation:
Combine sour cream, mayonnaise, cilantro and 2 tablespoons seasoning mix in small bowl. Combine fish, vegetable oil, lemon juice and remaining seasoning mix in medium bowl; pour into large skillet. Cook, stirring constantly, over medium-high heat for 4 to 5 minutes or until cod flakes easily when tested with a fork. Fill taco shells with fish mixture. Top with toppings.